SUBSCRIBE TODAY
Power Equipment Trade offers six dynamic issues per year with industry news, new products, dealer focused selling strategies and more. When you combine the hard copy with our PETnet e-newsletter, we've got the industry covered from top to bottom. The best part? Subscriptions are free to those who qualify.
PETnet Online Newsletter: Monthly e-newsletter of Power Equipment Trade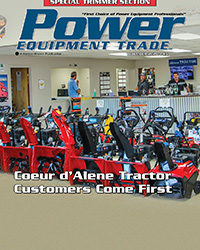 COVER STORY- Coeur d'Alene Tractor Customers Come First - COEUR D'ALENE, Idaho – Matt Adams grew up around tractors. Tractor sales and service, after all, is his family's business, started by his great-grandfather Don Adams in the late 1920s in Spokane, Washington.  ...