SUBSCRIBE TODAY
Power Equipment Trade offers six dynamic issues per year with industry news, new products, dealer focused selling strategies and more. When you combine the hard copy with our PETnet e-newsletter, we've got the industry covered from top to bottom. The best part? Subscriptions are free to those who qualify.
PETnet Online Newsletter: Monthly e-newsletter of Power Equipment Trade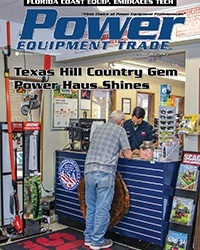 COVER STORY- Texas Hill Country Gem Power Haus Shines - SAN MARCOS, Texas – Michael Melton isn't your typical dealer – he's in his early 30s, and he's got a boundless energy that seems to radiate off of him. He makes a point to speak to every single soul that crosses...