Call it a Facebook assist: After the owners of Messick's Farm Equipment in Elizabethtown, Pa. posted clear video of thieves stealing a compact track loader from the dealership's Bendersville, Pa. branch in…
Kawasaki Motors Corp., U.S.A. Engines Division has announced the promotion of Todd Sytsma to manager, OEM department. Sytsma, a Grand Rapids native, has worked as an OEM sales manager at…
Deere & Co. has announced further commitment to Farm Rescue, a nonprofit partner, by hosting a virtual country music benefit on Dec. 9 at 8 p.m. EST. Since its inception in 2005, Farm…
Dealers in Iowa are still trying to recover from the epic and rare "derecho" wind storm that hammered much of the state and Midwest on August 10 as the rare confluence of thunderstorms across a broad straight line front led to sustained 70-110 MPH winds in the disaster zone…
For the Spring 2021 season, Ferris is introducing the brand's largest and most powerful zero-turn mower yet. The IS 6200 is bringing Ferris back into the high horsepower diesel market. Powered…
For 2020, Gravely is unveiling five new mowers across commercial and residential…
Rotary's new 2021 master catalog features the industry's most complete line of power…
SUBSCRIBE TODAY
Power Equipment Trade offers six dynamic issues per year with industry news, new products, dealer focused selling strategies and more. When you combine the hard copy with our PETnet e-newsletter, we've got the industry covered from top to bottom. The best part? Subscriptions are free to those who qualify.
PETnet Online Newsletter: Monthly e-newsletter of Power Equipment Trade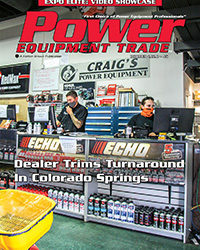 COVER STORY- Dealer Trims Turnaround In Colorado Springs - COLORADO SPRINGS, Colorado – Craig's Power Equipment is led by owner Craig Eldridge, office manager Vicky Regan and Craig's son Griffin, 27, general manager. Craig's other son, Alec, 29 is a service writer and...