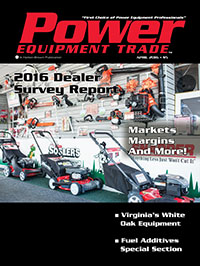 Power Equipment Trade magazine's April 2016 issue highlights the results of PET's 2016 Dealer Survey, which has dealers looking up towards new and better business prospects. A special section features the latest in Fuel Additives. An article features Suffolk, Virginia's White Oak Equipment, Inc. and their growth into new lines and a new location. Other articles cover the latest industry news, preventing theft at your dealership, and the latest new products.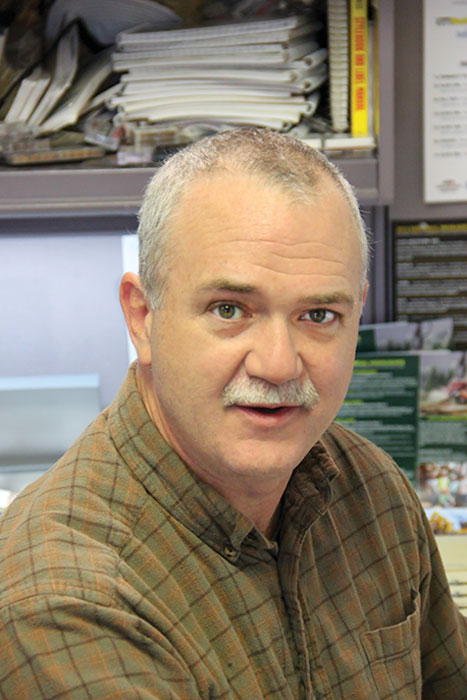 In the April 2016 edition of PowerLines, Power Equipment Trade Editorial Adviser Dan Shell discusses PET's 2016 Dealer Survey. Shell writes, "A favorite part of the PET Dealer Survey is the open- ended "give us your thoughts about industry and its future" question that always draws a wide range of material, from pithy dealer insights to borderline NSFW stuff. This year, 127 dealers took us up on the offer and gave us their thoughts. Citing solid service as a key, Tim Baum, owner of Brodner Equipment in Rochester, NY, is looking forward to "solid 10% annual growth because of offering the right products with and advanced service department. Our shop has two laptops just for techs, and we have five techs, one service manger and one service writer. I see other shops falling behind and unable to service EFI and newer technology drive and electrical systems. We have positioned my dealership for the future with propane/battery/robotic products although they are not yet in demand."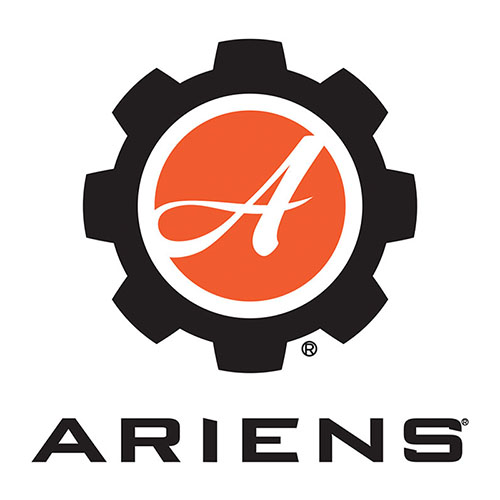 Ariens Introduces New Logo For Ariens Brand; Stellex Capital Mgmt. Acquires Morbark; Country Clipper Adds Utah Distributor; SSBC Names Echo Preferred Supplier; OPEAA Announces 2016-17 Leaders; Stihl Names New VP; UTV Education At GIE+EXPO; Kohler Releases New Software; Two Dealer Groups Merge; Efco Announces New Distributors; OPEI's First 2016 Board Meeting; Power Distributors Acquires MWE; Kawasaki Engines Expands Distribution; TurfMutt Announces Materials, Grant Contest; Excel Issues Statement Following Tragedy; Lail To Lead Stihl Southeast; Exmark Wins Engineering Award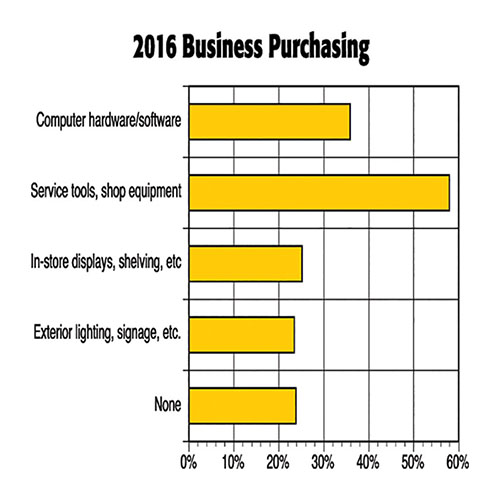 Power Equipment Trade magazine Editorial Adviser Dan Shell reports on PET's 2016 Dealer Survey. Always seeking to inform readers about the industry they're in, Power Equipment Trade is proud to present results from the 2016 Dealer Survey. We've surveyed dealers every other year since 1992, including a dozen or so "base questions" about dealership size, sales and practices, plus questions that evolve or fall away as issues come and go. This year 331 dealers responded to the survey, everyone from those grossing more than $2 million (22%) to dealers turning less than $100,000 annually (17%). Special thanks goes out to those who took the time to take the survey that provides a collective picture of industry's dealer base that yields both positives and negatives. There's no doubt the power equipment industry's dealer base continues to add a shade or two of gray with each new PET Dealer Survey, as the typical lawn and garden power equipment dealer continues to get older.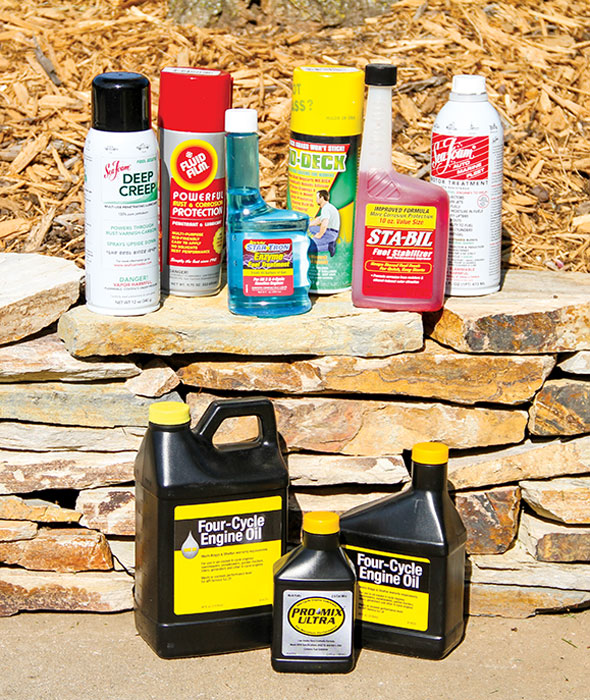 Star Tron Improves Fuel To Wake Up Engines; True Pros Use Trufuel, The Original Engineered Fuel; Sunbelt Offers Top Quality Additives; Just In Time For Spring, B3C Fuel Offers Full Line Of Solutions; Rotary Offers Variety Of Fuel Stabilizers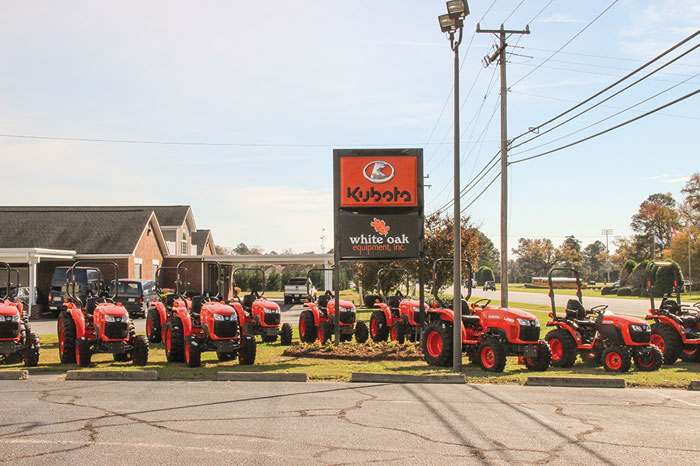 Power Equipment Trade magazine Managing Editor Jessica Johnson travels to Suffolk, Virginia to visit White Oak Equipment, Inc. In the year 2008, many equipment dealers were thinking it might be time to hang up the hat, so-to-speak. But for Virginia-based White Oak Equipment, it was the time they wanted to take on more lines. The four-location dealership, which began in 1970 and is headquartered in Fredericksburg, Va., actually was focused on construction equipment and didn't sell any lawn and garden power equipment. "We knew the Stihl product line from what we had seen our customers using," White Oak's Suffolk Branch Manager Dorsey Ficklin says. "We had also seen the Kubota ag and turf line, knew it was a quality product—those were the areas and markets we wanted to be a part of." So, after watching the construction market in their area fall to 10% of what it had been two years prior, White Oak decided diversifying to two well respected lawn and garden lines was the right strategic move.

Power Equipment Trade magazine's April 2016 Industry Voices column is provided by Juan Torres, Founder of Next Step Solutions and President of the National Hispanic Landscape Alliance. Torres writes, "Brand and marketing investment to capture the increasingly influential Hispanic market in the U.S. has grown significantly over the last 10 years and it doesn't show signs of slowing down. According to the Advertising Age 2015 Hispanic Fact Pack, ad spending for the U.S. Hispanic media market alone has grown by 12% versus the estimated 5% growth for the U.S. overall. Due to the large role that the Hispanic American population plays in landscaping, these trends are likely to be reflected in this industry as well. To understand this, we must first take a look at the influence that Hispanic Americans have on the landscape industry. Consider that they make up 35% of the industry's workforce—more than half a million people—and over 16% of the landscape industry's business owners are Hispanic Americans, or twice the national average."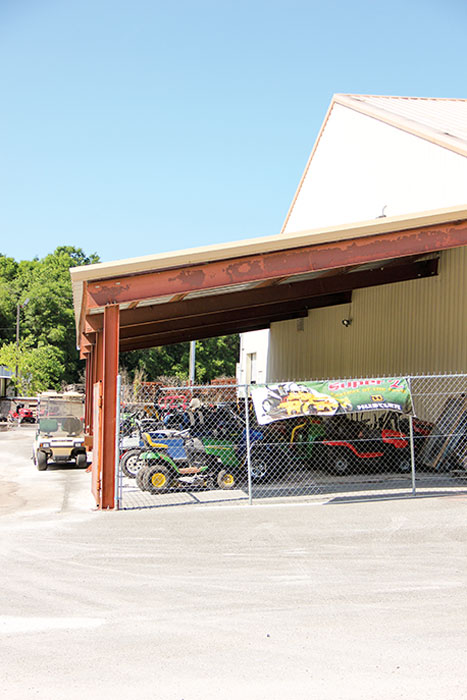 More than any other crime, theft is a crime of opportunity. The simplest targets attract thieves. And, just because you haven't had a theft yet doesn't mean your dealership is theft proof. Thieves follow the path of least resistance. They watch for easy access to your valuable equipment. You can assess security at your dealership by looking at some key areas—open lot security, building security and other possible exposures. Strong doors, cylinder locks, fences, barriers and proper lighting all have value, depending on your specific circumstances. (This article submitted by Federated Mutual Insurance Co.)
Awareness and knowledge of how to use high ethanol fuel blends remains relatively unchanged among consumers over the last few years, according to a recent national poll conducted online by Harris Poll on behalf of the Outdoor Power Equipment Institute (OPEI). According to poll results, price continues to drive decisions at the pump and consumers do not pay much attention to pump warning labels. OPEI conducted similar research in 2013 and 2015. The 2016 poll results show that almost two-thirds (64%) of American adults 18 or over who own power equipment say they either are not sure (42%) or do not pay any attention (22%) to what type of fuel they are using. In 2015, almost half (45%) were not sure what type of fuel they used and one in five (20%) did not pay any attention to the type of fuel used. (The March 2016 survey was conducted online within the U.S. by Harris Poll via its Quick Query omnibus product on behalf of OPEI)
Power Equipment Trade magazine's April 2016 Dealer Voices column is provided by Sam Stearns, owner of Mr. Mowerman in Scottsburg, Indiana. Stearns writes, "When I first started my power equipment repair business, I was a big cheat, with a capital "C." In the beginning years, if you were to look up "cheat" in the dictionary, you may very well have seen my picture there. As you can imagine, I had very few customers doing business with me. After all, who wants to do business with a cheat? But people started to call me on it. Sometimes these people were other dealers, sometimes they were customers, and sometimes they were concerned family and friends. And I began to understand that to survive in business, I had to stop being a cheat. That should be a no-brainer, right? With each passing year, I've been slowly putting my cheating ways behind me."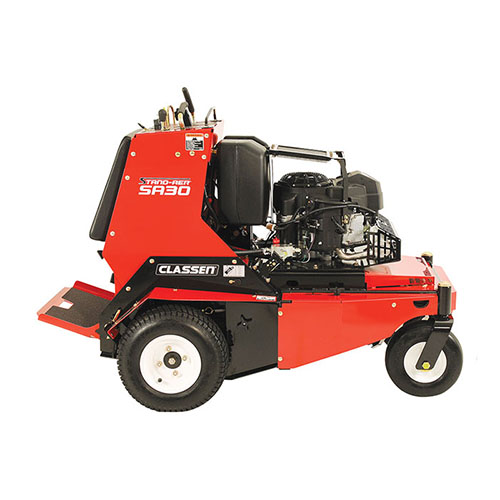 Shindaiwa Professional Grade Cordless Line; Grasshopper 100V Series Mowers; John Deere ZTrak Mowers; Efco Powerline Trimmer Line; Stihl BGA 100 Blower; Briggs & Stratton P2200 Generator; Classen Stand-On Aerator

New Way To Think Of Leads; Why Online Reviews Matter