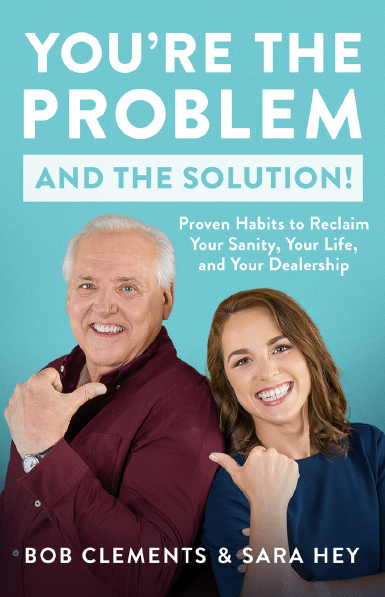 Bob Clements New Book Available
Bob Clements International (BCI), the leader in dealership training and development, has recently announced a new book, written by Bob Clements and Sara Hey: You're the Problem (and the Solution!). Through this book, Clements and Hey share proven habits that they have seen allow owners and managers to reclaim their life, their sanity and their dealership.
You're the Problem (and the Solution!) is available now for pre-order online and will be released on October 15, 2020. This book shares real dealership stories along with practical and applicable information on how dealership owners and managers can implement some of Bob Clements International's world-renowned best practices. 
"Over the years that I have been involved in the dealership world, I discovered something. I found that some dealers were in a never-ending, all-consuming stream of struggle, day after day, while others seemed to be successful regardless of what happened to them or their dealership. It made me wonder, what separated the thousands of successful dealers we have worked with from the ones that could never get ahead?" says Sara Hey, VP of Business Development and Speaker for BCI.  "Our team spent a year, taking an in-depth look at this, and what we found were seven proven habits that all of these dealers exhibited. We knew that we had to find a way to share these with any dealer who was willing to put in the work."
To pre-order You're the Problem (and the Solution!), visit bobclements.com.
Walbro, LLC has announced an organizational restructuring build around three autonomous business units—each business unit will have its own operations, engineering, finance, sales, program…
Makita is continuing its commitment to future growth in the U.S. market with the purchase of 80 acres in Georgia. The land, located northeast of Atlanta in Hall County, is the target for…
VP Racing Fuels, Inc., a global leader in performance fuels, lubricants and additives, has announced the appointment of James McVey to Business Development to focus on the OEM business. "James…