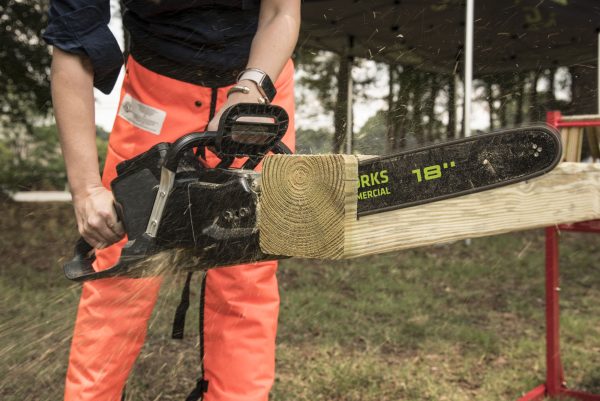 Nestled just outside of Charlotte, NC Greenworks Tools North American headquarters is impressive. Mooresville, NC provides the perfect backdrop for industry veterans that fill the converted historic cotton gin-turned battery-powered think tank. The move to the new space, complete with a state-of-the-art video conferencing room, happened in 2016 when the Greenworks Group made the decision to condense the majority of its North American operations into one vertically integrated 44,000 sq. ft. space, including sales and marketing, product development, industrial design, quality control and engineering.
As emission standards get tougher, and dealers find themselves trying to find ways to market to an ever-evolving market. Consumers are frustrated by the issues ethanol has on equipment, and pros in one of the 500+ cities across the U.S. are battling against noise ordinances, pollution ordinances and time restrictions with gas powered products. Greenworks believes its 40V product line for consumers and 82V line designed for pros, both of which are independent dealer exclusive, will help dealers stock solutions to those needs. The lines include a pole saw, chain saw, blower, stick edger, hedge trimmer and string trimmer, with multiple models in each category.
One of the biggest concerns dealers often express when considering pushing a landscaper toward battery is the up front cost. Yes, battery-powered equipment costs more, period. But is it worth extra cost if you can work earlier in the morning or in areas where gas tools are strictly forbidden?
Yes, battery powered tools also mean a dealer's opportunity for service shrinks significantly compared to traditional gas engines. Consider this; however, the $4-5,000 the average mow-and-blow landscaper spends on fuel at its local station has been transferred to the dealer via battery and charger sales.
Greenworks believes so heavily that battery power is here to stay in lawn and garden equipment it has launched two options for battery powered lawnmowers—with more riding options being teased for 2019 and beyond. The Greenworks Commercial Lithium Z family features the first and only lithium-ion battery powered commercial grade mowers to be independently UL-certified for safety. The same battery cells in Greenworks products are those that are powering Tesla cars.
At the outset, the Lithium Z family will feature both a 48-in. stand-on mower and a 60-in. ride-on mower, both offering users the best of both worlds, zero-turn radius maneuverability with zero gas and zero emissions. Both models are powered by an 82-volt 13.8kW lithium-ion battery and feature three 1.5KW brushless blade motors and two 1.7KW brushless drive motors, delivering pro-level cutting speed and power, offering a true gas replacement.
Selling these mowers means putting an effort on wholegoods sales over service, which in itself creates a huge opportunity for dealers. Some education will have to be done upfront, but by eliminating the gas cost, the higher up front cost is funneled to the dealer—as batteries and chargers can only be purchased through the dealer channel.
Battery also gives dealers a chance to educate customers on the benefits of battery, and specifically the benefits of a Greenworks "smart" battery, which provides a robust amount of data that is shared between the user and the dealer. This game changing amount of data, delivered via Bluetooth is standard on all Greenworks smart batteries, gives a service department the ability to access and diagnose problems from the dealership's computer, gather needed parts and put a mechanic on the road to the landscaper seamlessly.
As traditional wrench turning continues to evolve, and more and more regulations on noise, fuel blends, and pollution continue to hit the cities and towns of North America, Greenworks believes it has the ability to propel dealerships forward.