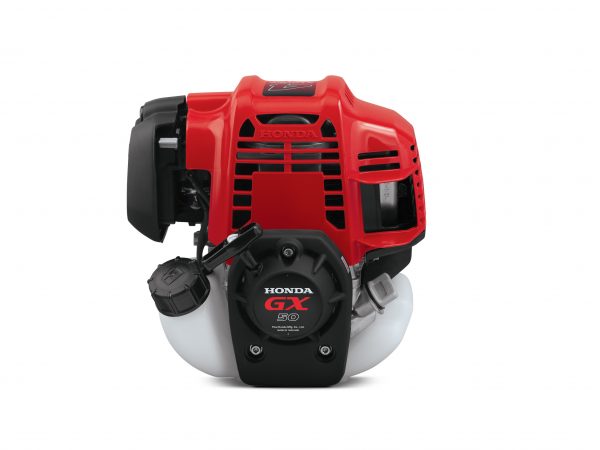 The all-new Honda GX50 general-purpose engine expands the company's mini-four stroke lineup with a model that offers high output and is light weight—extending into more demanding commercial and rental applications with excellent fuel efficiency. Joining the Honda GX25 and Honda GX35 mini-four stroke models, the new GX50 incorporates a higher displacement, making it an ideal power match for demanding rental, industrial, construction and professional landscape applications.
With valvetrain parts installed inside the oil chamber, low noise and low vibration, the all-new Honda GX50 can power even more applications in the handheld market. The all-new Honda GX50 engine integrates a number of features that add up to high performance combined with an improved user experience. With a maximum output of 1.47kW (1.97 HP) and weight of 4.72 kg (10.4 lbs.), the power-to-weight ratio of the Honda GX50 is equal to a comparable two-stroke engine; however, the GX50 produces lower emissions while being more fuel efficient. With low emissions and excellent fuel efficiency, the Honda GX50 complies with the most stringent environmental regulations, including EPA Phase III/CARB tier III/EU Stage 5.
An automatic decompressor reduces the pulling force on the recoil rope, making the GX50 easy to start. Rounding out the engine's footprint and benefits that customers will appreciate, the Honda GX50 features a condensed, compact design with long, vertical lines, and its attachments and connectors share an integrated, slanted shape. Equally important, the all-new GX50 is 360° inclinable, allowing it to be operated and stored in any position. Further, the engine integrates a wide, scratch-resistant area with protruding edges that provides stability and serves to protect the engine cowling in upside down positions during maintenance intervals.
For commercial and rental use, all models carry a one-year warranty, and for residential use, a two-year warranty applies.
Visit engines.honda.com