Independent We Stand, an initiative sponsored by Stihl, invites both the public and business owners to help promote the importance and strong economic benefits of "buying local" through the 9th annual Indie Award. The contest provides a chance for the winning independent business to reinvest in themselves through a branding, advertising and public relations makeover valued at $25,000.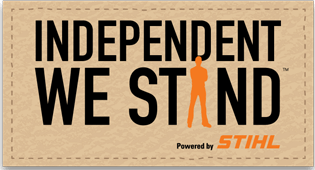 The web-driven small business of the year award also gives supporters the opportunity to acknowledge businesses that exceed customer service expectations and grow their local economies.
Anyone can nominate a small business online. Voting begins as soon as a business is nominated. Consumers can vote a maximum of 25 times per 24-hour period from the same IP address. Any locally owned and operated business in the U.S. is eligible to enter the contest. The nomination phase and initial voting runs through Oct. 20.
The winner of the 2019 Indie Award will receive:
·      Branding, advertising and public relations makeover from independent advertising agency — The Meridian Group — valued at $25,000
· $1,000 STIHL equipment certificate
· Plaque to display at winner's business
· Public relations and social media recognition
· Quarterfinalists receive a lifetime Independent We Stand premium membership
The quarterfinalist announcement is Oct. 28; followed by semifinalist voting through Nov. 17. The announcement of the Indie Award winner is on Nov. 25, 2019, ahead of Small Business Saturday.
To nominate a business and vote, visit IndieBizAward.com.