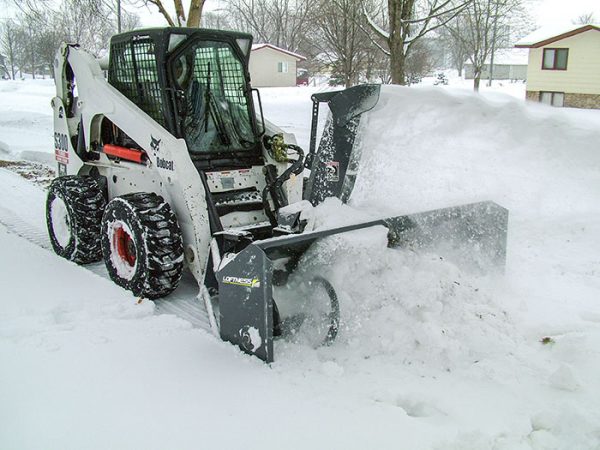 The heay-built line of Loftness snow blowers accommodates a variety of skid steer and tractor makes and models. Skid steer snow blowers are offered for a wide variety of flow rates, starting as low as 15 GPM, with seven models are available in 72- to 84-in. widths. They come with a universal coupler, a single motor design and an electric spout rotator.
A total of 11 rear-mount, PTO-driven tractor models are also offered with one-, two- or three-auger configurations. Available in 60- to 108-in. widths, they accommodate tractors with 540- or 1,000-RPM PTO drives and 16- to 200-PTO HP. The units feature two-stage designs for highly efficient operation.
All components feature heavy-duty construction, including the auger, impeller, spout, gearbox and chain drive. Other standard features include adjustable skid shoes, reinforced body braces and shear bolt protection.
Loftness manufactures the SnowLogix line of snow blower attachments, the VMLogix line of vegetation management equipment, the GrainLogix line of grain-bagging equipment and the CropLogix line of crop shredders.
Visit loftness.com.