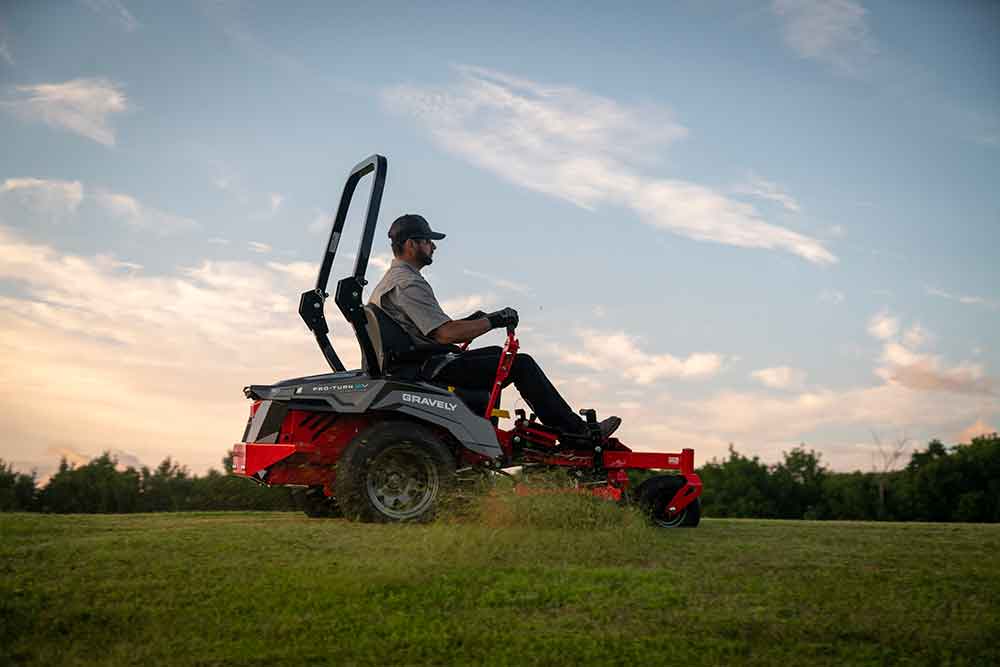 Update From Gravely: Pro-Turn EV Mower
At GIE+EXPO 2021, Gravely rolled out new enhancements for the Pro-Turn EV that increase its grass cutting power and diagnostic abilities. FusionCore, Gravely's new battery technology for electric-powered equipment, was fundamental to the Pro-Turn EV's adoption. Quik Swap, a system of compact, swappable batteries that work together to generate enough energy to power commercial-grade equipment, enabled landscapers to power the mower no matter how long the workday lasts.
The most notable update to the Pro-Turn EV is the new X-Factor 3-deck design that enables more grass to be cut at a higher speed and is easy to maintain. It has a 5/8 in. reinforced leading edge that is sloped and an all-new baffle design. An optimized, larger discharge opening and flip-up chute allows for more uniform dispersion.
The X-Factor 3-deck also brings ease-of-maintenance enhancements. A tool-less belt cover enables easy mower deck cleaning and serviceability. Self-adjusting belt tension technology keeps belt tension constant, which maximizes belt life, minimizes wear and maintains a consistent, quality cut. The new deck comes in three sizes, all of which are rated 7 Ga for durability and performance over time: 48-in. X-Factor 3-side discharge and rear discharge; 52-in. X-Factor 3-side discharge and rear discharge, and 60-in. 3-side discharge, with new deck geometry.
The Pro-Turn EV's diagnostic screen was also updated to include several new data points to help crew leaders and operators monitor the mower's performance—and in doing so, manage the day's operations with more accuracy. This readily viewable information includes vehicle control module inputs; live to drive inputs​; loss of communication, PTO switch (power take off) and charge input icons; speed input​; battery serial and state-of-health status bar; home screen​, and temperature alerts.
Visit gravely.com.
The StaCool Vest core body cooling system is made of micro-thin, highly breathable materials that are easy to care for, providing wearers unsurpassed cooling comfort without compromising…
Just in time for spring, Echo Inc. has launched a new lineup of four commercial-grade manual sprayers that allow users to distribute cleaning and agricultural solutions quickly and…
Synthetic blend 2-cycle oil and premium SAE 4-cycle oil from Champion are among over 350 new items in Rotary's 2022 master catalog for servicing dealers and distributors. The 2-cycle oil is a…