Learn valuable tips from the Bob Clements team as well as experts from the Equipment Dealers Association and United Equipment Dealers Association.
8:00 – 8:50 AM
How to Close More Sales and Make More Money
Bob Clements
In today's dealerships it is critical to maximize the profit out of every customer that walks through your doors. This requires a plan that allows you to take advantage of every selling opportunity. Bob Clements will walk dealers through the six keys to improving your selling process and show you how to overcome most price objections, the importance of using parts and service to negotiate and two simple techniques that will help you close more sales with better margins.
9:00 – 9:50 AM
Six Revenue-Generating and Time-Saving Benefits of Using Two-Way Texting from Kenect
Kenect 
Did you know 89% of your customers and prospects would rather communicate with you via text message than phone call? The way we communicate with our customers is changing daily, and many of the industries we do business with have been using text messaging for years. Learn about how business texting can impact your dealership.
Attract and convert more customers via text messaging from your website, Google and more
Text from your existing business line instead of personal cell phones
Reduce phone traffic by up to 35% and eliminate customer wait times
Generate dozens of 5-star reviews each month to help you convert more prospects and sell more units
Schedule service appointments and send text reminders to reduce no-shows
Send photos, attachments and service updates via text message
10:00 – 10:50 AM
You're the Problem (and the Solution!)
Sara Hey
Have you ever wondered why some dealers are on a never-ending bumper car ride, where the only thing that was ever produced was minor whiplash, and why others succeed despite it seeming like everything is stacked against them? Sara Hey will walk you through what the BCI team spent over a year discovering about the seven habits that set the dealers who are constantly successful apart from those who can never get ahead. She will share stories of dealers who exhibit these characteristics along with tips for reclaiming your sanity, your life and your dealership.
12:00 – 12:50 PM
Dealer Roundtable – Trailer Dealers and Dealers thinking about Selling Trailers
Are you a dealer who is currently selling – or thinking about selling – trailers at your dealership? Bob Clements and Sara Hey will lead this dealer roundtable covering all things trailers.
8:00 – 8:50 AM
Fine-Tuning Your Cash Flow Strategy
Bob Clements
Cash is king in your dealership, and finding opportunities to maximize cashflow is critical as you move into the slow time of year. In this fun and fast-paced workshop, Bob Clements will walk you and your team through four simple steps that can add cash to your bottom line while improving the experience your customers have at your dealership.
9:00 – 9:50 AM
Legislative & Regulatory Issues to Keep an Eye On in 2021
Josh Evans
Josh Evans, VP of Government Relations and General Counsel for the Equipment Dealers Association, will highlight a few of the most important legislative and regulatory decisions for 2021. Evans will provide a summary and analysis for each, noting implications for small businesses, specifically outdoor power equipment dealerships.
10:00 – 10:50 AM
Creating Recurring Revenue in Every Department
Sara Hey
Netflix, your gym, utility bills and more come out of your bank account like clockwork every single month. What is it that many of these companies know about recurring revenue? And, how can you transform your dealership into a business that has consistent revenue every single month? Sara Hey will share specific strategies to help create recurring revenue in every department of your dealership.
12:00 – 12:50 PM
Dealer Roundtable – Maximizing Rental Income in Your Dealership
Rental income in a dealership can be an incredible income stream if managed properly. Bob Clements and Sara Hey will lead a roundtable discussion about maximizing rental income in your dealership. Learn from other dealers as they share what has been successful and mistakes they would avoid if they were to start their rental departments all over again.
1:00 – 4:40 PM
Hourly Dealer Software Discussions
Sit in on one or all four.
Are you considering implementing software in your dealership or making a change but don't know where to start? Take an in-depth look at four options. The Bob Clements International team will walk you through a series of questions to help you find the right software to take your dealership to the next level, and you'll have the opportunity to ask the providers questions.
1:00 – BlackPurl
2:00 – Lizzy Software
3:00 – Ormandy Software
4:00 – Ideal Computer Systems
8:00 – 9:00 AM
Roundtable – Bulletproofing Your Business
Can your business withstand anything that might come your way? This is a question that keeps many business owners and managers up at night. There are a number of things you can do to make a dealership bulletproof. Bob Clements and Sara Hey will lead a discussion with other green industry businesses about how we can bulletproof our businesses as we move into the new year.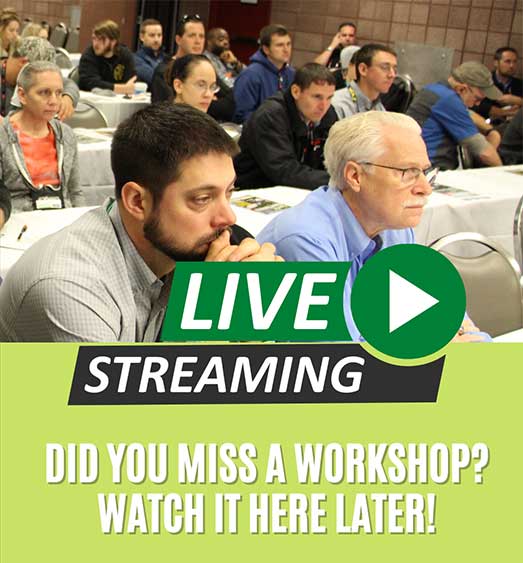 2021 GIE+EXPO DEALER WORKSHOPS
DID YOU MISS THE 2019 DEALER WORKSHOPS? CHECK THEM OUT HERE.