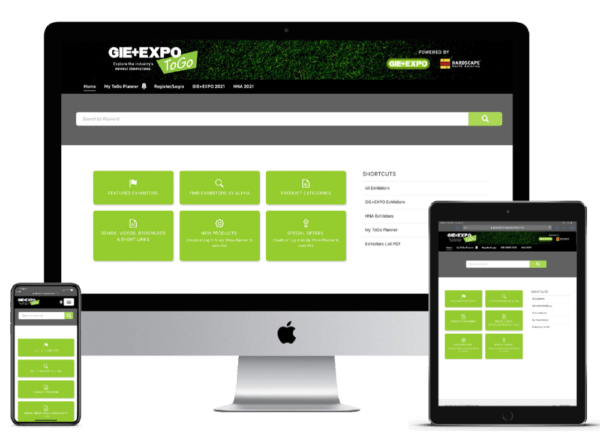 GIE+EXPO ToGo Extended
UPDATED: GIE+EXPO ToGo has been extended to February 1, 2021.
GIE+EXPO ToGo puts new products, special discounts and free education at your fingertips – access it all now. The products and on-demand education are available until February 1.
GIE+EXPO ToGo Launches
Show organizers have launched GIE+EXPO ToGo, a free online portal that will connect industry members to the new innovations they would have found at the show. It can be accessed via gieexpotogo.com now and will remain active through the end of 2020.
On the portal, visitors will find:
Dynamic exhibitor profiles for both GIE+EXPO and Hardscape North America that can be searched by name or product type
A new product spotlight where exhibitors will launch their latest innovations
Resources such as product specs, demo videos, special event links, brochures and more
Exclusive special offersVisitors are encouraged to register for a free My ToGo Planner, which will allow them to save exhibitor listings, links and product information. It also provides access to show specials and discounts. Creating a My ToGo Planner will give attendees the ability to compile a must-connect-with list of exhibitors and to share saved exhibitors, products and contacts with others.
Make sure to visit Power Equipment Trade's enhanced listing to renew your subscription, check out a video summary of the latest issue and register to win a prize pack from PET!
The Kohler Co. Board of Directors has elected President and CEO David Kohler to the additional role of Chair of the Board, following the passing of Executive Chairman Herbert V. Kohler, Jr….
The Outdoor Power Equipment Institute (OPEI)'s TurfMutt Foundation has announced a renewed partnership with Mission Unstoppable and Lucky Dog on CBS. Both shows are produced by Hearst Media…
Melody Doleman has been named Vice President Human Resources of Stihl Inc. and assumes her position on Sept. 6, 2022, responsible for overall strategic management of human resources for the…