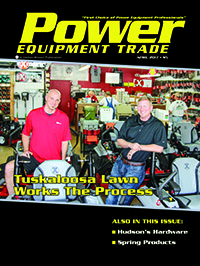 Power Equipment Trade magazine's April 2017 issue features Northport, Alabama's Tuskaloosa Lawn Equipment and their proven process for quality. Also featured is Clayton, North Carolina's Hudson's Hardware and their recent expansion. A special section highlights Spring Products and the Dealer Spotlight discusses successful open houses. Other articles cover the latest industry news and new products.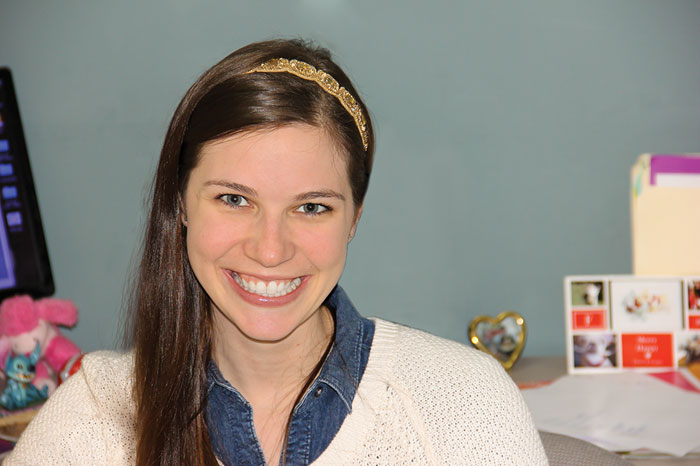 In the April 2017 edition of PowerLines, Power Equipment Trade Managing Editor Jessica Johnson discusses innovations in the power equipment industry. Johnson writes, "A few weeks ago I participated in an event presented by Husqvarna called "Silent City North America," aimed at discussing the findings of a recent survey on the future of maintaining urban green spaces and the role equipment will play in that future. 533 landscape architecture students across the globe participated in the survey, and the results were astounding. These students, who are the future of urban green spaces, believe the use of drones, robots and other futuristic technology isn't going to just be reserved for the movies. No, these students believe it will be part of our daily lives. Moreover, 64% believe that by 2030 community volunteers will be involved in park maintenance."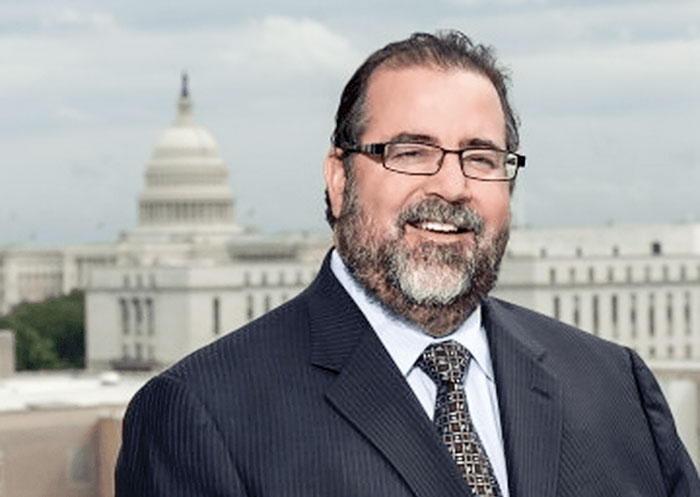 Trump Ethanol Policy? Here's One; MacKissic Announces Virginia Distribution; Stihl Supplier Builds New Virginia HQ; Toro Inks 12 Year Deal With Calif. Golf Course; New Study Says More Considering Propane; Altoz Expands Southern Sales; Rotary Adds To Sales Force; Jacto Inc. Holds Distributor Meeting; Kohler Acquires UK-based Clarke Energy; Husqvarna Ramps Up Robotic Production; New Facility Boosts Power Equip. Systems Growth, Service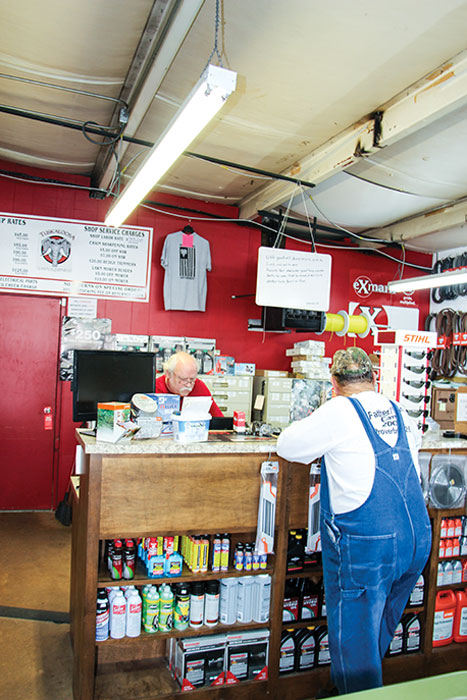 Power Equipment Trade magazine Managing Editor Jessica Johnson travels to Northport, Alabama to visit Tuskaloosa Lawn Equipment. Just across the bridge from one of the most recognizable colleges in the South, and home to the most recognizable college football coach in the country, dealers Russell Latner and Mark Tunnell own and operate Tuskaloosa Lawn Equipment. Not unlike Coach Nick Saban, Latner and Tunnell started their venture in the charming Southern town in 2011—right before a devastating EF-4 tornado would rip a gash straight through it. Latner and Tunnell, both City of Tuscaloosa firefighters, say that late April 2011 was one of the toughest times to have opened the dealership. They spent 14 days straight at their firehouse helping to rescue, clean up and repair the broken city as an estimated $2.4 billion in damages would rip through Tuscaloosa, Birmingham and the surrounding rural communities, claiming 64 lives.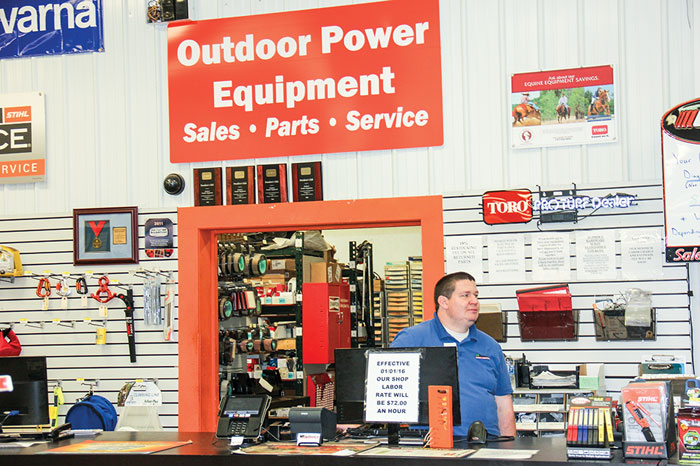 Power Equipment Trade magazine Associate Editor Jay Donnell has the opportunity to visit Hudson's Hardware in Clayton, North Carolina. Hudson's Hardware has been a staple in North Carolina for more than 50 years. Sam and Anna Hudson opened their first location in Garner, NC in 1958. The store started out as a hardware and grocery store and eventually evolved into an outdoor power business. Sam and Anna's sons, Leigh and Howard, started working for the business full-time in 1976. Nearly a decade later the Hudsons opened a second location in Clayton. With the opening of the second store, the Hudsons decided to take on the outdoor power business in a much larger way. They had always sold a small amount of power equipment with their first line being Echo, but in the 1980s they took on Toro, Stihl and eventually Husqvarna. In 2000, Leigh bought Howard's share of the business and has run the company ever since.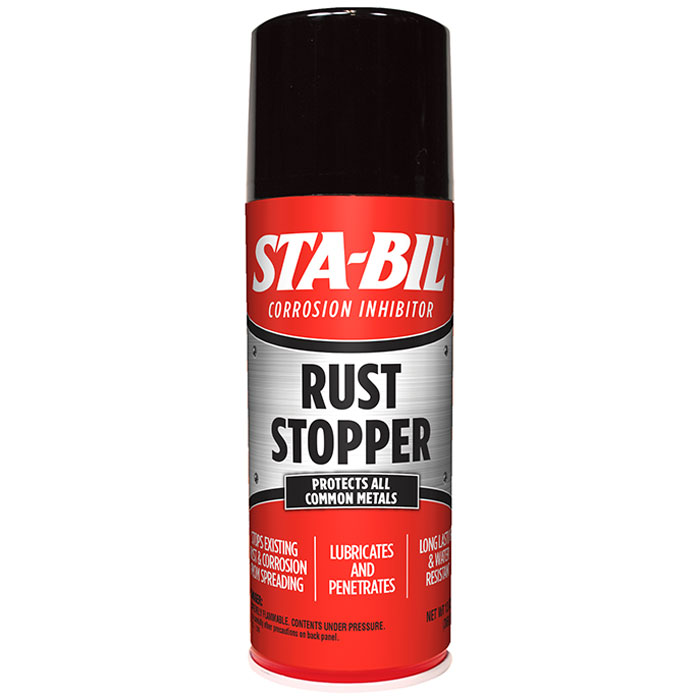 Ahlborn Equipment Hi-Vis Apparel; Honda VersAttach System; Sarlo Power Mowers Dirt Donkey; Sta-Bil Rust Stopper; Stihl MotoMix; Turfco TurnAer XT8; Walbro Special Formulated Cleaner; Yardmax Power Wheelbarrow
Power Equipment Trade magazine's April 2017 Dealer Voices column is provided by Sam Stearns, owner of Mr. Mowerman in Scottsburg, Indiana. Stearns writes, "Dale Stotts' column in the December issue of PET really got my attention. You know, the one where he told the story of the dealer who had to pay $77.70 for $3.30 worth of backordered parts? How terrible! But I had to pause to give it some more thought. I have come to the conclusion that the issue Dale brought up four months ago needs a little more attention, a different viewpoint, which is what this column is all about, right? In order to do this, I thought I'd briefly share with PET readers what my experience has been with backorder freight policies. My suppliers are all very reasonable. I use Oscar Wilson out of Missouri quite a bit. Their freight on backordered items is free. Hard to complain about that!"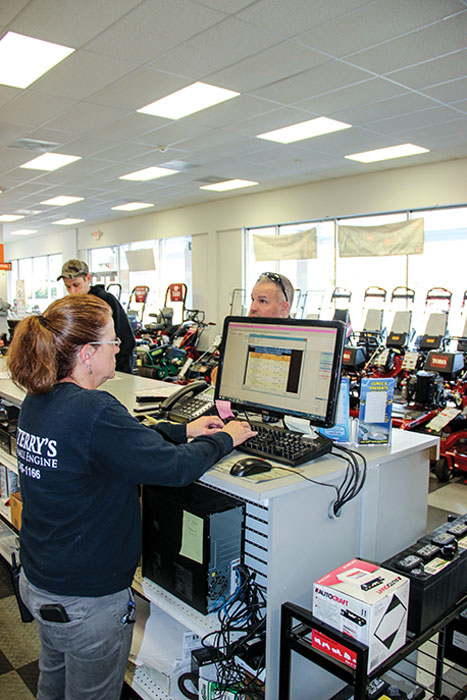 Power Equipment Trade magazine's April 2017 Industry Voices column is provided by Dan Gundacker, Tactical Marketing Planner with John Deere Financial. Gundacker writes, "As weather begins to warm up across the country, professional landscape contractors are gearing up for the mowing season. As landscapers evaluate their fleets, they will be relying on dealers to help them navigate the equipment selection and purchasing process. This is especially true when it comes to determining the payment process for new equipment. There are many financing options for landscapers, and it can easily become overwhelming when trying to select the best option for their business. From paying for a machine outright in cash to spreading payments over time with a loan or lease, each option has unique pros and cons depending on the business."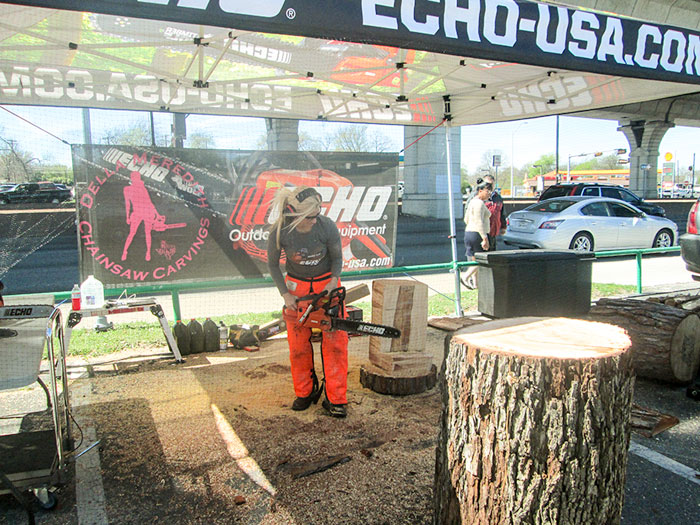 During early spring, across the nation lawn and garden dealers are gearing up for a new sales and service season and many are hosting customer appreciation days and open house-type events with everything from catered food, door prizes and entertainment to special pre-season deals, factory reps on site and more. An open house can be a major sales event or time of networking and appreciation, but all have one thing in common: getting closer to the customer. Out in Austin, Tex., Richard Blake, Vice President of McCoy's Lawn & Garden, says they've been holding open houses for 23 years now, and this year's event held March 3-4 is the second-best ever in terms sales during the open house. The dealership begins early in the year letting its customer database know about the open house, though many of the regulars know to look for it each year at the same time, Blake says.
TriLink 3/8 in. LP Full Chisel Saw Chain; Solo 451 Backpack Mist Blower; Pferd ALU/NF Cut Burs; Stens Lubricant Line; Gravely Attachments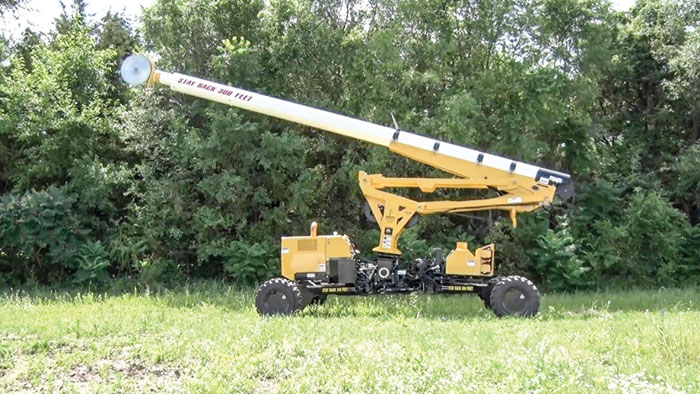 Encouraging Under Performers; Jarraff's New Mini-Jarraff Web Site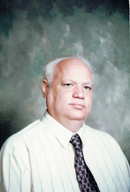 Dale Stotts, owner and operator of Stotts Engine Service in Monett, Missouri, discusses annual dealer education. Stotts writes, "In December I attended the all time strangest location and the worse food of any of those I've attended during my 50 plus years of these. Now your first thought could be, "Dale is getting old and isn't in tune with the new ways of doing things." This might be, but after attending this particular one, other dealers have voiced the same opinion as mine. My first issue was the location of this meeting for an engine manufacturer's educational seminar: It wasn't held in the normal distributor's building, or at a local vo-tech school; nor at a restaurant's meeting room or one of the local hotels. Instead this was held at in the lower level meeting room at a Harley Davidson dealership."