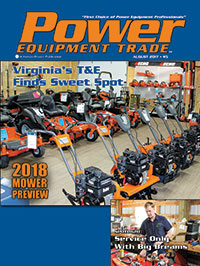 Power Equipment Trade magazine's August 2017 issue features Floyd, Virginia's T&E Small Engine and their successful venture into operating a dealership. A special article highlights Duramatic Products 'Made In The U.S.A.' mower blades. The annual Mower Preview showcases the latest in wholegoods, parts and accessories. Also featured is Corvallis, Oregon's Mower Repair Guy Small Engine Repair and the small business's transition from service-only to wholegood sales. Other articles cover the latest industry news and new products.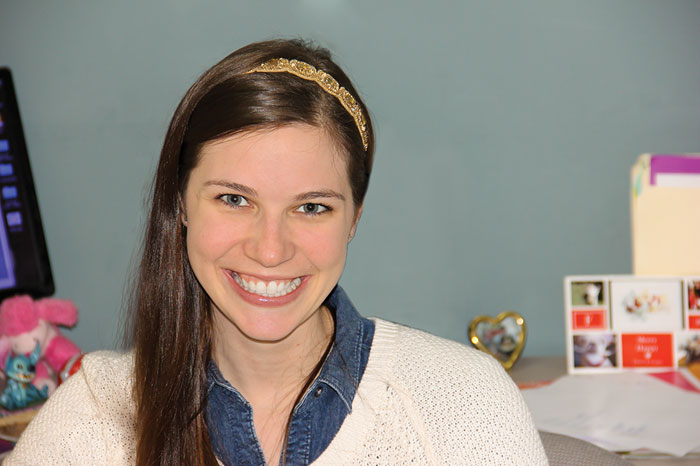 In the August 2017 edition of PowerLines, Power Equipment Trade Managing Editor Jessica Johnson talks about the busyness of summer. Johnson writes, "This month, in the heart of the Deep South summer where the humidity is so thick you could use my toddler's plastic spoon to cut it, my neighborhood is aflutter with commercial cutters and weekend warriors, trying to get a mow in before another round of rain. My own husband has been known to be trimming by porch light trying to get a handle on the jungle our backyard has become, because during the busy time of summer, it's all hands on deck trying to get everything done. I feel like that's what this month's Power Equipment Trade is—so many great things in this issue, it's packed out."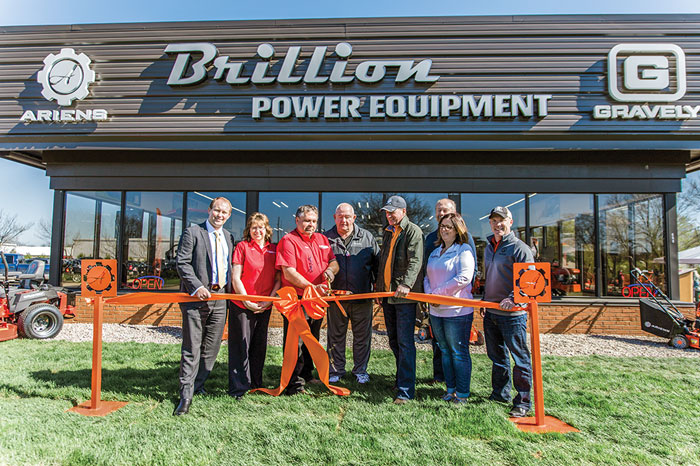 Industry Loses Leader In Death Of Fred Whyte; Country Clipper Chooses ARI Dealer Web Services; OPEI Meets, Announces 2017-18 Board; New VP Named At Kawasaki Engines; Ariens Concept Store Hosts Ribbon Cutting, Grand Opening
Power Equipment Trade magazine Managing Editor Jessica Johnson travels to Floyd, Virginia to visit T&E Small Engine. John and Kelli Higgs are unlikely power equipment dealers—having done a myriad of other things before opening their dealership in 2004. John worked maintenance at a local foundry and Kelli was an assistant head grower at an outdoor nursery. When the foundry shuttered, the couple found they needed a new way to support their family. Always interested in tinkering with engines, and recognizing their small town of Floyd, Va. had been lacking a small engine service shop in the years prior, the Higgs decided to open a service shop out of the garage of their home thanks to a small family loan. Since that humble garage beginning, their project, T&E Small Engine, has grown in size each year, leading ultimately to the dealership commanding the need for a 6,000 sq. ft. building and two full time mechanics, as well as four family members (John, Kelli, their son Anthony and his wife Sasha).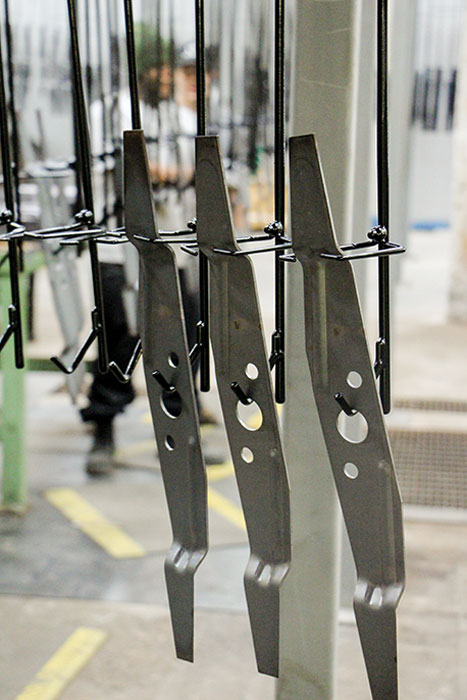 Just steps away from the shipping headquarters and corporate offices of parent company Rotary Corp. in Glennville, Georgia, Duramatic Products operates a state-of-the-art blade manufacturing facility tooled up for as many as 1,200 different models of blades. A recent expansion to the facility has allowed Duramatic to upgrade its key areas of powder coating, helping to streamline processes, while also upping production. From an estimated 16 million pounds of steel annually, Duramatic cranks out as many as 50,000 parts per day—everything from powder coated, heat-treated OSM blades to rough, use and abuse edger blades. Parent company Rotary Corp. is Duramatic's biggest customer, with 90% of production being sold through their networks, however, Duramatic does produce OEM blades for certain regional and smaller manufacturers.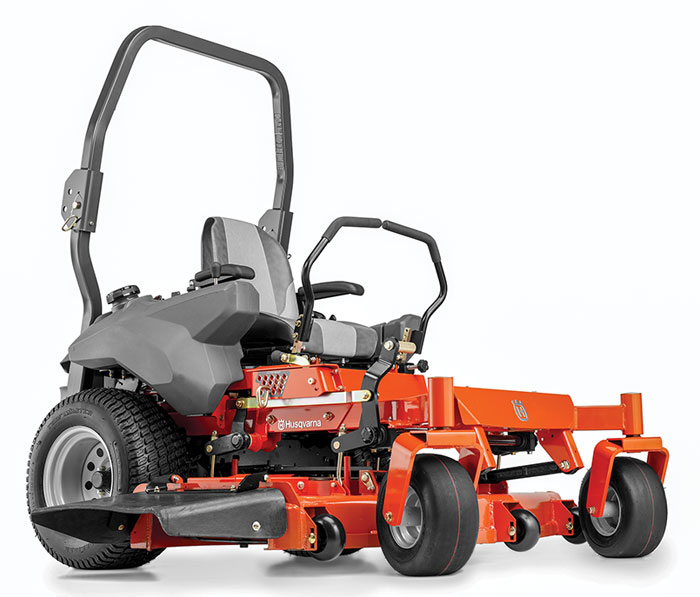 Husqvarna Offers The Full Package: Commercial Zero-Turn Mowers; Honda HRR Lawn Mowers Features, Performance Meet Great Value; Rotary Offers Huge Selection Of Mower Parts; Lawn Mower Running Poorly? Fit-It-Fuel Saves Equipment; Masport Tradition Builds Quality; Spotlight On Quality, Spotlight On Sunbelt; Heftee 4000 Mower Lift; Success When Storing Mowers, Equipment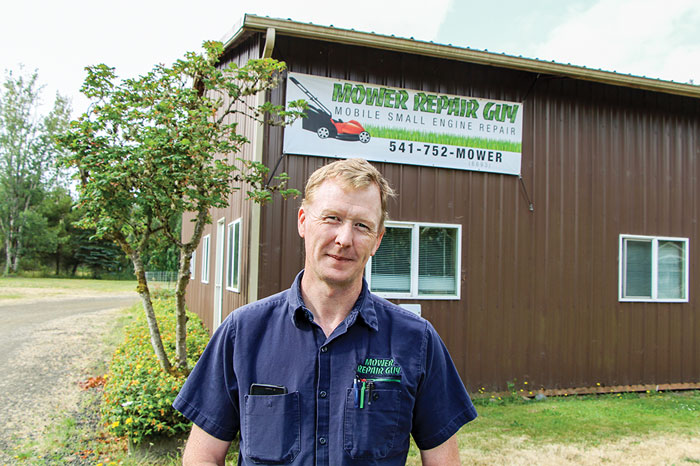 Power Equipment Trade magazine Editorial Adviser Dan Shell highlights Corvallis, Oregon's Mower Repair Guy Small Engine Repair. Shell Writes, "Sometimes you never know just how or where you'll end up, and for "Mower Repair Guy" Derek Cropp, he's found himself at the crossroads of a business dream some 16 years after he set foot in the U.S. as an agricultural trainee. After several job starts and finally nurturing his interest and skill in servicing and repairing small engines in several capacities, he's now arrived at a place where it's becoming possible to take his service-only business—Mower Repair Guy Small Engine Repair—into whole good sales. Of course, Cropp was nowhere near his crossroads in 2001, when he sold off a small dairy farming operation in New Zealand after a big downturn in the market. Looking to stay in the agricultural industry, he headed to Oregon State University in Corvallis for a training program, then worked several years for grass seed and row crop operations in the Willamette Valley."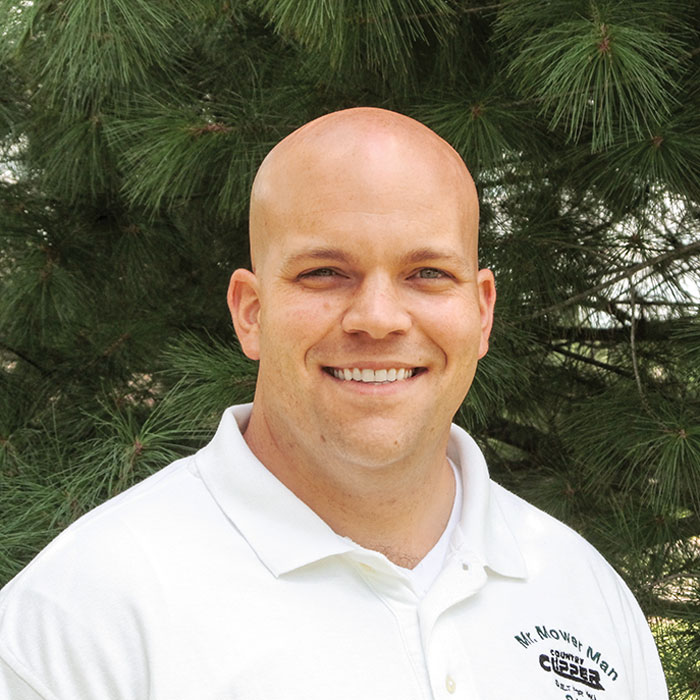 Power Equipment Trade magazine's August 2017 Dealer Voices column is provided by Sam Stearns, owner of Mr. Mower Man in Scottsburg, Indiana. Stearns writes, "I thought it might be interesting to tell the story of two different customers I encountered on the same day, one right after the other. I expect all you dealers can relate: One customer was of the kind that just makes you want to quit, and the other was of the type that keeps you going, happy that you're in business. The first customer had a lawn tractor that lost spark on one cylinder, resulting in low power. When I picked up the mower, I brought him a loaner so he could continue mowing while I had his mower for a few days. I normally don't do this. However, this customer was instrumental in my acquisition of the property I bought a few months ago to relocate and expand the business, so I like to take the opportunity to treat him especially well in order to show my appreciation."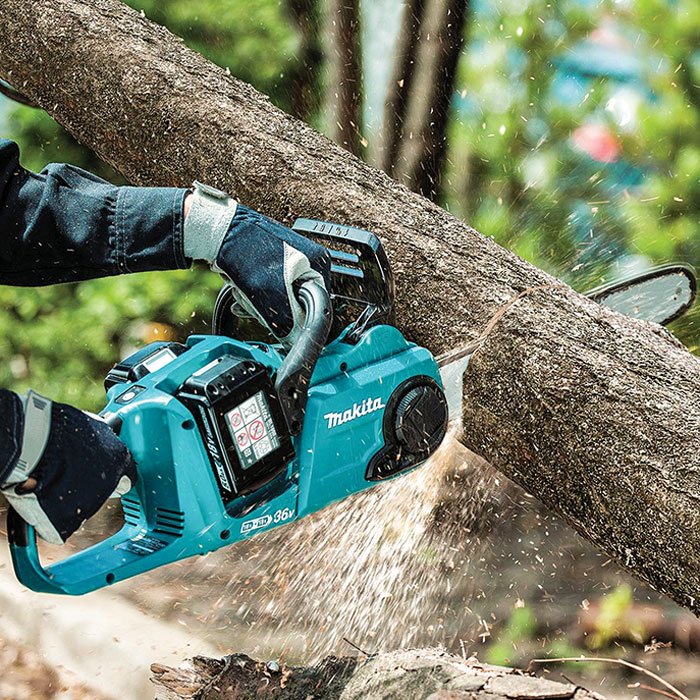 Makita XCU03Z Chain Saw; Hyndsight Capture System; Efco DS 2400 S GSL Trimmer; Stihl HL 91 K Hedge Trimmer; Billy Goat Next Gen Sod Cutter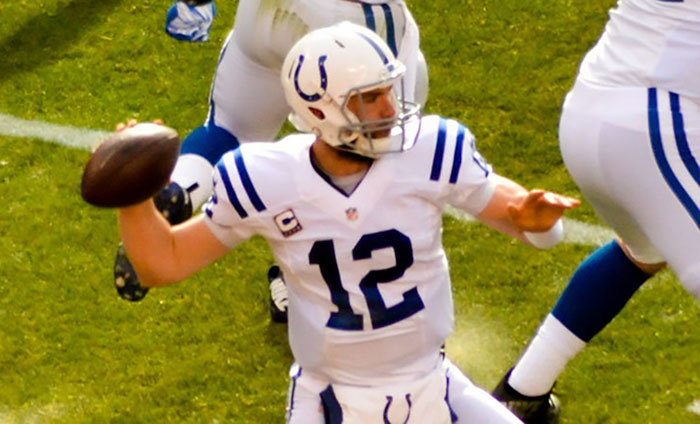 Approach Marketing Like A Quarterback
Greg German, President of German-Bliss Equipment Inc. in Princeville, Illinois discusses the importance of making decisions and sticking with them. German writes, "Having now my fourth son who has entered his teenage years, I have come to clearly understand that God creates them all distinctly different. Their personalities, interests and how they interact with the world is varied. But one activity has repeated itself thousands of times over in our household throughout this stage of their development; I'll call it the "the refrigerator stare." Any parent of boys knows what I am talking about. Multiple times a day, I will see one of my sons walk over to the refrigerator doors, open them up, and stare into the vastness beyond. They have somehow been trained to believe that if they do this often enough that at some point, the perfect morsel of three-day old pizza or leftovers from last night's roast beef dinner will satisfy all of their cravings."