Article by
Patrick Dunning, Associate Editor, Power Equipment Trade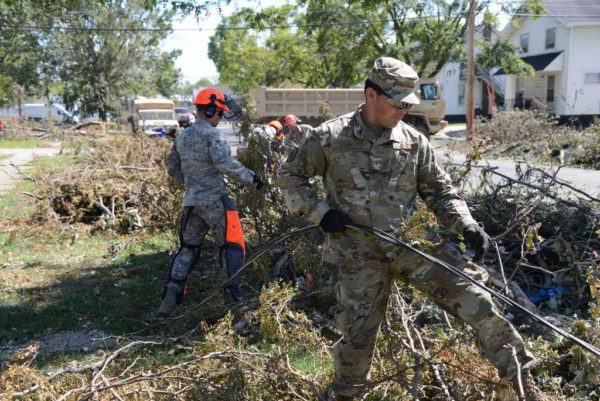 Iowa Dealers Recovering From 'Derecho' Impact
Dealers in Iowa are still trying to recover from the epic and rare "derecho" wind storm that hammered much of the state and Midwest on August 10 as the rare confluence of thunderstorms across a broad straight line front led to sustained 70-110 MPH winds in the disaster zone. Video of the storm hitting Cedar Rapids looks just like a powerful hurricane hitting Florida.
At major construction equipment dealer Capital City Equipment in Des Moines, Brian Jansen, Operations Manager, says, "Our rental division was inundated. We were having an above average year for rentals, without the storm, we still would have finished all right. But, I will tell you, from when it happened till now, it looks to me like 90% of our rentals are out on rent." He adds that includes all the company's light towers and generators as well.
Jansen notes that the dealership was out of power 48 hours. "Even longer for the internet to be back up. In today's age, it's hard to operate a company without any internet."
He adds that one of the biggest impacts—that U.S. consumers may see in the near future—is the crop losses. There is no corn left to speak of," he says. "There is no recovery for the corn. That's a loss for this year."
He notes that there are always mixed feelings when a disaster benefits business revenues because people are truly inconvenienced and hurting , but the dealership is "Having a better-than-last-year year for sure."
Image Courtesy of U.S. Air National Guard, Members of the 185th Air Refueling Wing Civil Engineering Squadron, Iowa Air National Guard move branches in order to untangle downed power lines in Cedar Rapids, Iowa on August 18, 2020. High winds uprooted trees, caused wide spread structural damage and power outages throughout Southeast Iowa. Senior Master Sgt. Vincent De Groot
You have all experienced it before. You are working away in your office, simply minding your own business when there is a knock at the door. In walks one of your dependable and proven staff and they ask the question, "Can we talk?"…
Although our work through the dealer association typically involves issues that impact the industry as a whole, I frequently get reminded that dealers are also competitors focused on taking action for the purpose of improving their business prospects.
GREENVILLE, Ala. – Operating Butler County's longest continuously operated small engine sales and service center, partners Thomas Phelps and Ricky Whiddon are currently working through the winter as Greenville…