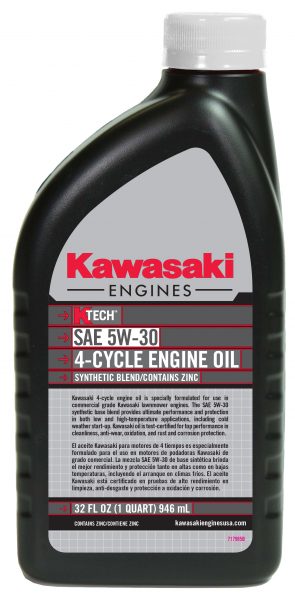 Rounding out the KTech branded oil lineup, Kawasaki Motors Corp., U.S.A. Engines Division has introduced two new engine oil formulations: the 5W-30 and 15W-50.
The new 5W-30 and 15W-50 4-cycle viscosity KTech oils meet or exceed API Service SL and JASO MA qualifications. The 5W-30 oil contains a zinc additive to protect against excessive wear on engine parts and is a synthetic blend that provides exceptional performance in low-temperature applications. It will be available in 1 qt. bottles. The 15W-50 KTech oil is a full synthetic composition that also contains zinc. It will be available for purchase in either 1 qt. or 5 qt. bottles.
Both of the new oils, like others from Kawasaki, contain anti-foaming and anti-shear agents and provide superior performance for both the commercial and residential user, with a focus on oil consumption control for heavy-duty service.
Visit kawasakienginesusa.com.