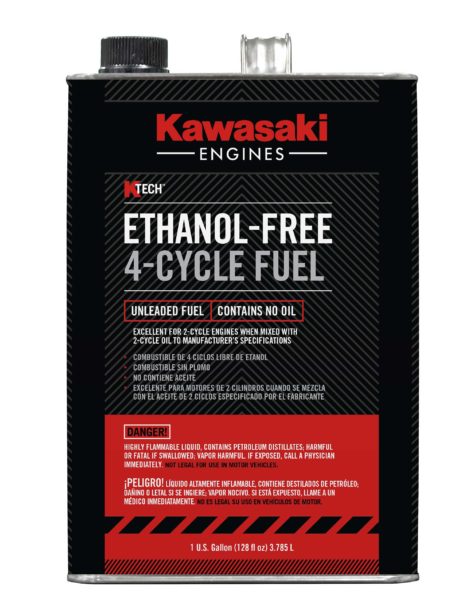 New From Kawasaki: Ethanol-Free KTECH Products
Kawasaki Motors Corp., U.S.A. Engines Division is launching two rigorously tested, ethanol-free, fuel products specifically optimized for power equipment applications. The introduction of these two additions to Kawasaki's Signature Series family of products includes KTECH Blend Pre-Mixed 2-Cycle Fuel + Oil and KTECH Ethanol-Free 4-Cycle Fuel.
The KTECH Pre-Mixed 2-Cycle Fuel + Oil product, engineered to avoid the inherent issues attached to pump fuel that is formulated for the transportation industry. It is available in qt., one and five gal. cans, as well as 54-gal. drums.
This new entry in the KTECH product line provides easy starts, lower maintenance, and takes all the guesswork out of the oil and fuel mix for two-cycle equipment. Kawasaki's KTECH development and engineering teams have focused on delivering a stable mixture that will last two years in a tank and five years in a sealed container. Formulated specifically for small engines, it employs 93 octane ethanol and the highest quality 100% synthetic blend FD certified oil. The premix offers better starting and more efficient operating characteristics.
Tests conducted during the development procedure yielded results that indicate the superiority of the KTECH product in numerous attribute categories, among them: engine cleanliness, carbon build-up, port blockage and ring wear.
The new unleaded KTECH Ethanol-Free 4-Cycle Fuel is formulated for long life durability of 4-cycle small engines, and 2-cycle when mixed with oil to engine manufacturer specifications. Like the 2-cycle pre-mix product, the 4-cycle fuel earned 93 minimum octane rating via the (R+M)/2 Method.
An added benefit to these new offerings from Kawasaki's KTECH is the relative actual size of their one-gallon containers—Kawasaki's measures a full 128oz capacity while many others now market one-gallon containers that have only 110oz of liquid. Like the other fuel, this one is also available in one qt. and five-gal. cans as well as a 54-gal. drum.
Visit kawasakienginesUSA.com.
Maintenance kits for mowers and other small engines are among more than 300 new items in Rotary's 2021 catalog. Available in 30 different assortments for many popular brands including Briggs…
New for the upcoming winter season, SnowEx Products has announced three new additions to its line of off-road vehicle equipment: the SnowEx UTV Mid-Duty straight blade plow and the Drop Pro…
Kubota Tractor Corp. has announced a new line of attachments now available for its SCL1000 stand-on track loader that hit the market earlier this year. The SCL1000 come equipped with wide…