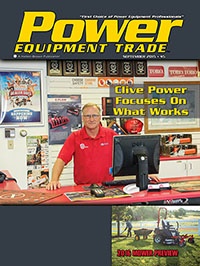 Power Equipment Trade magazine's September 2015 issue highlights the recent Honda Dream Garage event, held in July in San Marcos, California. It features our annual 2016 Mower and Accessories Preview, showcasing the latest in mowing technology. Also featured is Des Moines, Iowa's Clive Power Equipment and their diversified business. Other articles include dealer opinion columns, industry insider columns, business tips, the latest industry news and new products.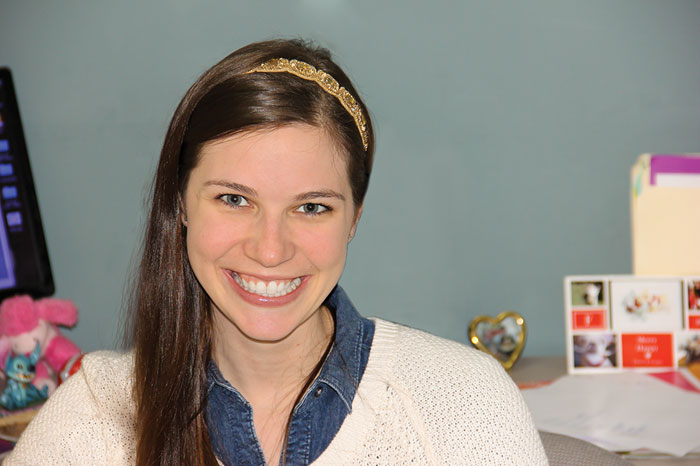 In the September 2015 edition of PowerLines, Power Equipment Trade magazine Managing Editor Jessica Johnson talks about the promise of the future. Johnson writes, "This copy of Power Equipment Trade has a very good mix of information, if I do say so myself. When I first started working on the magazine, this issue was the kind of issue I envisioned. We've got a little something for everyone. We hit service department tips, how to better yourself as a business owner, industry news, product news and a whole lot of opinions from dealers. Basically, it's everything you've come to expect from PET— I'm just a little excited about this issue more than most. Why? Because overall, I feel like this issue really shows a theme of promise. Promise for the future of this industry and promise that even though technology is changing, and the reality of ethanol blended fuels in more markets is happening, dealers and outdoor power equipment have a place in American homes."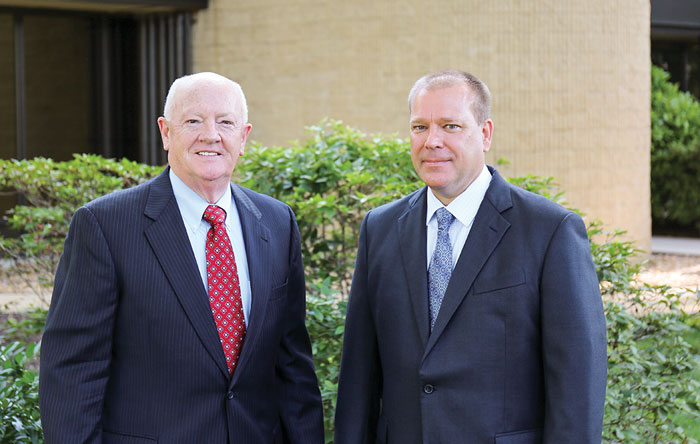 Fred Whyte Retires After 23 Years As Stihl, Inc. President; Kawasaki Field Service Advisor Program; USLMRA Championships Set For Charlotte, NC; Cushman Introduces New Product Names; Ribbon Cutting At Pacific Stihl; OPEI Announces 2015-16 Officers, Board Of Directors; Ariens Plans $9M Expansion; Power Distributors Acquires Magneto; EETC Offers New Training Sets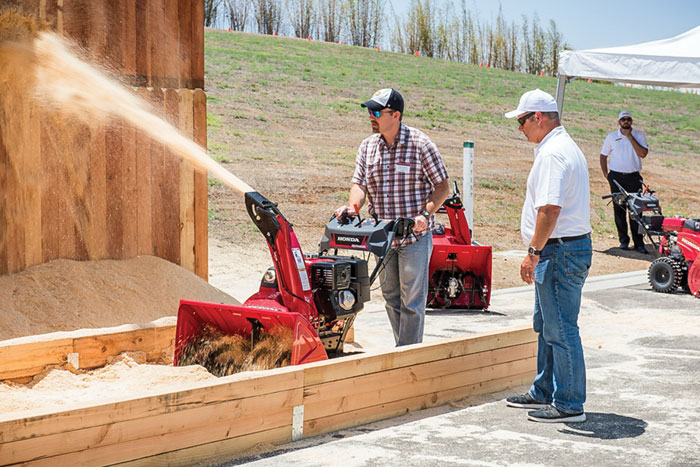 Power Equipment Trade magazine Managing Editor Jessica Johnson travels to San Marcos, California to attend the Honda Dream Garage event. When most people think about American Honda products they automatically think of cars. But when you ask Robyn Eagles, manager of Honda public relations, she's quick to remind everyone that Honda is much more that just a car company. "Really, it's an engine company," she said with a big smile to a group of media at the recent Honda Dream Garage Event, held in late July in San Marcos, Calif. To help showcase the breadth of product offerings, during this special "Year of Honda", Dream Garage paid homage to the impressive all-new Accord and Pilot vehicles, while giving some stage time to the new HSS series snow blowers, new Pioneer off-road vehicles and a robotic mower called Miimo.

Sta-Bil Protects The Things You Love From The Inside, Out; Husqvarna's Lawn Mower Offerings; Prepare For Winter Sales, Become An (Star Tron) Enzo Level Dealer; Rotary Introduces New Mower Blades, Foam Air Filters, Trimmer Line; Q&A With Altoz Owner Dennis Brazier; Avoiding Bad Fuel Problems During Winter Mower Storage (B3C Fuel Solutions); Masport Mowers A 'Dealer Only' North American Product Line; Honda HRX Series Lawn Mowers Feature Innovative Versamow System; Billy Goat Outback Brushcutter; Jungle Jim's Stand-On Sulky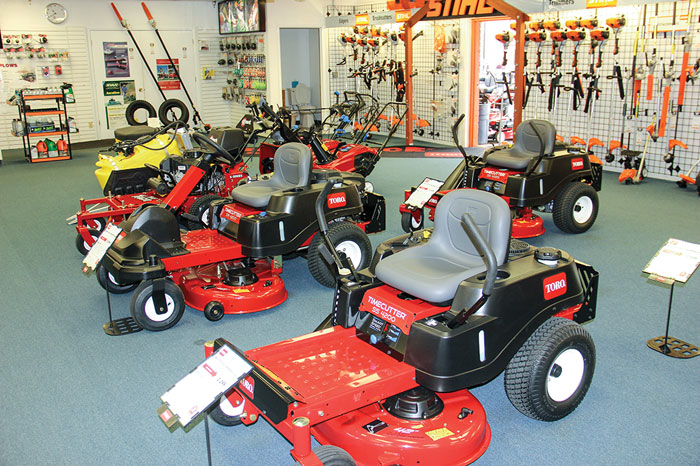 Power Equipment Trade magazine Associate Editor Jay Donnell has the opportunity to visit Clive Power Equipment in Des Moines, Iowa. Clive Power Equipment has been a force in Iowa for nearly 20 years. The company has built a strong reputation in Des Moines and continues to grow and build on those strengths. Clive Power is Iowa's leader for Toro, Exmark and Stihl sales. The business focuses on selling and servicing products that will help its customers operate efficiently and profitably. John Agans and his brother Chuck bought the business in April of 1996 and doubled it in a short amount of time. When they bought Clive, the three major brands they have today were already in place, but the previous owner had grown the business as much as he could. "We were able to take the business to the next level and make it the largest in the state for all three of those major brands," John says. "Our philosophy is to keep it real simple."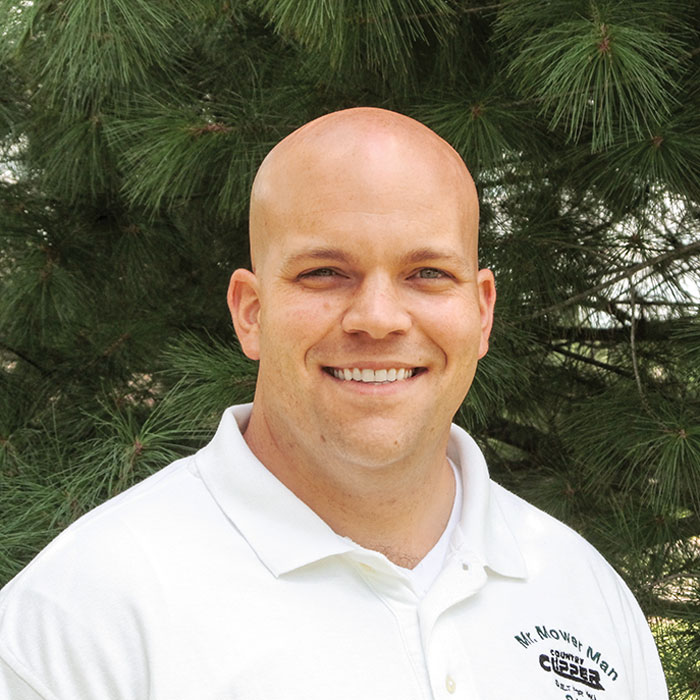 Power Equipment Trade magazine's September 2015 Dealer Voices column is provided by Sam Stearns, who owns and operates Mr. Mowerman in Scottsburg, Indiana. Stearns writes, "I'm new here. I have no credentials that would make you want to listen to what I have to say. I probably have less experience in this industry than the vast majority of this magazine's readers. So when I say that I'm bothered by Dale Stott's June article and want to offer a response, it's certainly not because I think I know more than he does. He's operated in this industry over 50 years! I only started trying to turn a wrench in 2006, on my own with no previous experience, and I've been a wholegoods dealer less than two years, and that's with just one manufacturer. I'm sure Stotts has forgotten way more than I even know!"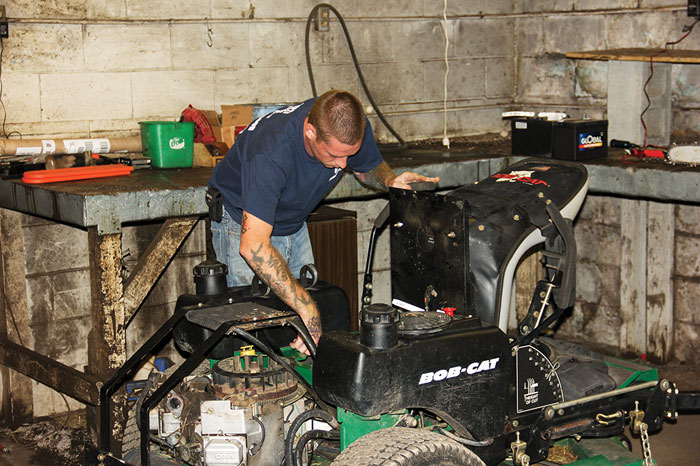 A Power Equipment Trade magazine September 2015 Industry Voices column is provided by Matt Banach, who joined the Gold Eagle team in 2011. Banach writes, "Fall is a critical time of year for the power equipment consumer. Most consumers do not understand that some proper maintenance in the fall can relieve many of their power equipment headaches in the spring. As an expert in the outdoor power equipment world you want to not only service your customer's equipment, but provide sound professional advice to them on how to care for it properly. This is not limited to just using the right motor oil, sharpening blades, and checking belts, this also includes treating your fuel properly every day and for long term storage. Most of the consumers walking through your door do not understand that today's ethanol fuels, while fine for small engines, need a little more care than the fuels of yesterday."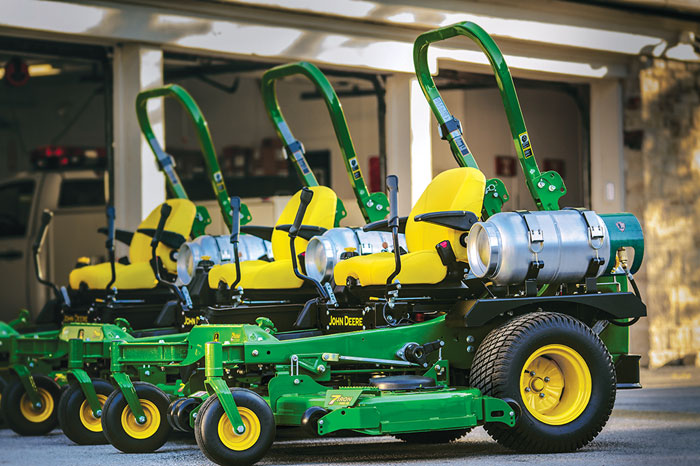 A Power Equipment Trade magazine September 2015 Industry Voices column is provided by Jeremy Wishart, the Deputy Director of Business Development for the Propane Education & Research Council (PERC). Wishart writes, "It's estimated that more than 20,000 commercial propane mowers were cutting grass throughout the U.S. in 2015. With at least 15 OEMs offering more than 130 models of commercial propane mowers, that 20,000 figure is expected to increase as more contractors learn about the advantages of propane-powered mowers. For turf equipment dealers, capitalizing on the increasing interest in alternative-fuel mowers is a way to differentiate themselves from the competition and boost their bottom lines with additional equipment sales. But to do that, a dealership needs to put itself in position to turn a contractor interested in purchasing a propane mower into a satisfied, loyal customer."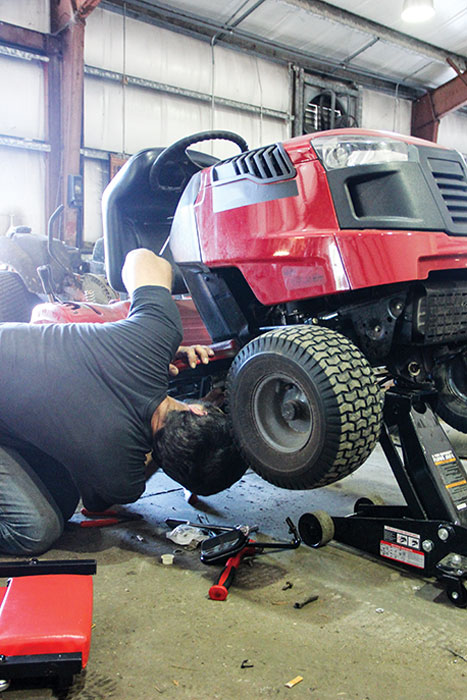 John Walker, President of Aftermarket Services Consulting Co., Inc., discusses creating and maintaining a superb shop appearance. Walker writes, "Many manufacturers and dealers recognize that a well laid out, clean and well maintained service shop increases shop efficiency, stimulates customers service sales and assists the dealership in maintaining and recruiting technicians. Maintaining a proper shop appearance is often a matter of regularly attending to small things. There is more to a suitable appearance than just sweeping the floors—there are a number of items that need to be maintained. Once they are in good shape it does not take much time or effort to keep them that way, and the responsibility can be spread to several shop personnel. Some tasks require only periodic checks, but other areas need more frequent attention. A major point to consider when viewing your shop is to view it through the eyes of your customers!"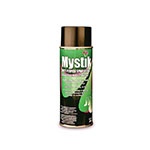 Ecolawn Top Dresser; Exmark Lazer Z Upgrade; Gravely ZT-X; Boss VBX 3000; Stihl KM 94 R KombiMotor; Honda HSS Series; Mystik JT-6 Grease

10 Ways Polite People Are Successful