Summer time is service time for lawn and garden dealerships, as new green growth requires tending with mowers and trimmers. And service remains the dealer's ace in the hole when it comes to differentiating independent dealers in the marketplace and providing the value big box competitors simply can't. Technical knowledge is the independent dealer's calling card in the marketplace, and handling service successfully is the hallmark of a well-run dealership. PET called dealers around the country to see how their service departments are going this season, and here is what they had to say.
In Panama City, Fla., Sea Breeze Small Engine is a major commercial landscaper dealer and the biggest small engine repair shop in town. Owner and operator Rich Chaillou says it's been a really good year. "Weather has been hot and wet. We're averaging 95 to 100 degrees every day with showers every afternoon so grass is growing like crazy."
The new Scag and Echo dealership has been in business only 13 months, and Chaillou says the selling season has been above average. The dealership carries brands such as Scag, Echo, Shindaiwa, Husqvarna and Bear Cat. Engine lines and parts include Kawasaki, Briggs & Stratton and Honda. Chaillou didn't expect to be this busy. "It's great; don't get me wrong," he says. "It's crazy because we were looking at repairs two days out; now we're at five to six days out." At $70 an hour for labor, Sea Breeze Small Engine stays steady in the service department, Chaillou says. A recent switch in software to RepairShopr, an all-in-one service department software package designed for repair shops that consolidates marketing, point of sale, invoicing and estimating, and ticketing systems into a simple comprehensive platform, has helped keep the company's invoicing and equipment inventory better organized.
Due north of Panama City in Dothan, Ala., the folks at Bryan's Outdoor Equipment say they're also having quite the year. At one point they had to quit working on every brand except the ones they sold. "We were that booked up," store manager Toni Hanners says. After a dry spell they began working on anything that came in the door. At two weeks out, their labor rate has sat at $70 an hour for the past two years. Hanners says they're the largest dealer of Hustler Turf and BigDog mowers in Alabama, also selling Husqvarna, Shindaiwa and Little Wonder.
"The demand for service leaves a little doubt in the back of your mind as far as your technicians are concerned," Hanners says. "We have three decent ones and they know if they want to stay they have to work."
This family-owned business, conceived 15 years ago, is stocked with everything from zero-turn riding lawnmowers, push mowers, lawn trimmers and blowers. In addition, they also sell go-karts, UTVs and ATVs. Hanners says Bryan's Outdoor Equipment is staying ahead of the mark, constantly improving the quality of their tools. He's also noticing an upcoming shift toward battery-powered tools although they haven't began pushing them yet.
It's been a successful season for Roger Wyatt, partner of Reed's Sales & Service, located in St. Paul, Minn. With an average 24.33 inches of rainfall in the Twin Cities area since January 2019, Wyatt says they've sold almost all their inventory of mowers. Holding brands such as Greenworks, Homelite, Honda, Husqvarna, Kawasaki, Lawn-Boy MTD, Poulan and Ryobi, Reed's has been "very busy this year." Typically two to four weeks out on service with a labor rate of $80 an hour, Wyatt says sales don't seem to be slowing down because of a wet summer. The demand for additional technicians with experience is a result of tall orders being continuously placed.
On the East Coast in Winston-Salem, NC, Forysth Mower Works has seen the mowing season extended as of late because of an extremely rainy season. The amount of work coming in has forced the dealership to scale back on some of the service work on off-brands that they don't offer sales on. As of late July, Forsyth stays seven to 10 days out. The only break the dealership caught was a week-long dry spell. "It was a bit of relief and gave our technicians a chance to catch up," co-owner Corey Ingle says. "We've had two record months this year in our company's history." For the past two years, their labor rate has rested at $75 an hour but is expected to rise to $85 an hour because of surrounding costs rising. Ingle notes that a problem with the industry is there isn't enough technicians getting into this field.
"You're always needing more; it's tough because there's just not enough out there," and he says manufacturers need to take a look down the road and address this issue. "They need to take a serious look at it soon or we're in big trouble." Consumers have shown interest in the battery mower market this year and could be one of the newest trends seen, he believes.
On the opposite coast, Columbia Grain & Feed of Pasco, Wash., has had a successful spring unveiling the new Cub Cadet zero-turn mower, that store manager Karren Tebay says was "very successful." New Scag V-Ride walk behind mowers have also been a hit for this family-owned and operated business. Their catalog of parts, accessories and services offered includes Stihl, Scag, Honda, Cub Cadet, Troy-Bilt and Billy Goat.
Production in the service shop is up this year, Tebay says. Power equipment is on average 10-14 days out. After a dry spring and minimal growth, selling is down but labor has since gone up. For the past three years their labor rate has been $80 an hour but is changing in 2020. Columbia Grain & Feed has also placed their focus on updating software.
"We went into a little more computer diagnosing with EFI units and Scag Tigereye," Tebay says. The Scag Tigereye is made up of an "eye" constantly monitoring important system functions on the Scag mower. Tebay agrees an increase in qualified technicians is a must. Fortunate to have two Stihl Gold level MasterWrench Service Technicians, a Briggs & Stratton Master Service Technician and a Kohler Expert Technician, Tebay still thinks, "We need more technicians who know what they're doing."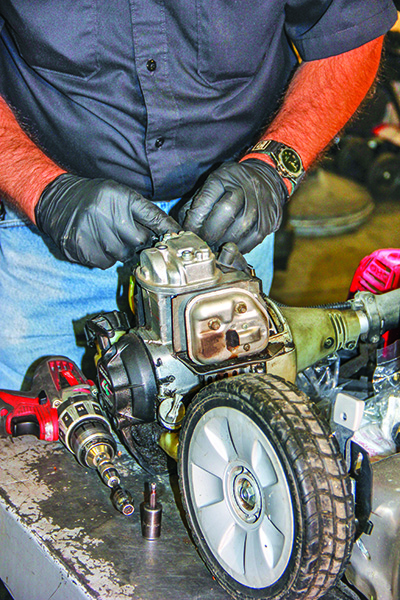 South central Texas is home to Leslie's Outdoor Power Equipment in Longview. A product of Gilmer, Tex., launching in March 1993, the dealership relocated to Longview in 2005 due to growth. Leslie's sells a spread of Hammerhead Off-Road, Briggs & Stratton, DR Power, Ferris, Husqvarna, Maruyama, RedMax, Snapper, Tanaka and Toro. Business is thriving this year, store manager Heather Lawrence says. The dealership's two technicians achieving status of Briggs Master and Kohler Expert certifications has kept them at seven to 10 days out on a regular basis. "They do an excellent job getting equipment out," Lawrence says. "It's very rare something comes back, hardly anything ever gets sent back." Labor rates have rested at $75 an hour for a long time, according to Lawrence.
A surplus of rain in the Lone Star State this year resulted in a great selling season. In the service department, Leslie's has plenty of mowers to work on, according to Lawrence. In the sales aspect of things, this is the first year they've done flat-rates on mowers. "With the Husqvarna mowers, we've sold 14 so far, and Ferris has a new 800 series mower that's selling very well," Lawrence adds. The past two years have been arid, with minimal rainfall but the flood gates opened this summer, allowing for a good selling season for Leslie's Outdoor Power Equipment.
Bliss Power Lawn Equipment has been a prominent business in Sacramento, Calif., since 1956. The fourth-generation family-owned store currently deals Honda Power Equipment, Honda engines, Stihl, Exmark, Husqvarna, Echo, Snapper, RedMax, BearCat, Briggs & Stratton and Billy Goat. Dependent on the type of equipment, Bliss is typically three weeks out with a labor rate of $95 an hour. Owner Marshall Bliss says it's hard to be in a good place in respect to the status of his technicians. Vendors aren't helping allocate qualified people, Bliss says. "Overall, service is good," he adds. One thing Bliss says they're doing differently is refraining from working on mass merchant equipment and instead only servicing brands they sell. "That's the best thing I think we've ever done and we've been in business for 69 years." Bliss says battery-powered equipment is a noticeable trend coming on in the marketplace.