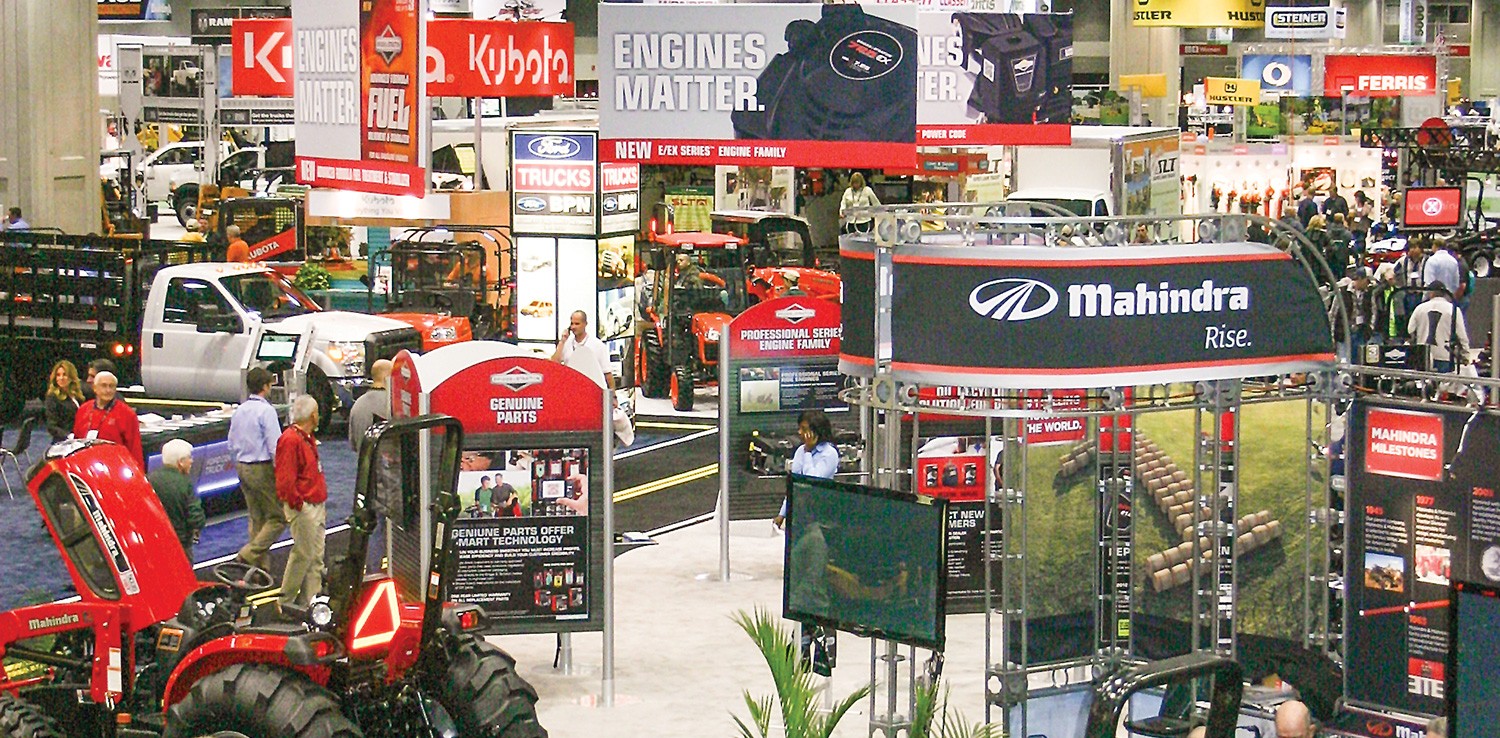 New products and services are one of the top reasons dealers and others attend GIE+EXPO ever year. The 2012 show promises plenty of both, offered 750 exhibiting companies covering a half-million square feet of indoor space, plus 19 acres of demo area just outside the main show floor. Here are in-depth previews of key OEMs and other suppliers, their products and show promotions, as reprinted from the October 2012 issue of Power Equipment Trade:
B3C Fuel Solutions

B3C is introducing a radical new way to stabilize gasoline and ethanol blended fuel while removing bound and un-bound water naturally attracted by ethanol blended fuels. The Gasoline Tank Snake is designed with antioxidants to preserve the fuel and a proprietary blend of space age polymers and microporous material that absorb and break the water ethanol bond at the molecular level, virtually eliminating phase separation from occurring while reducing the corrosive effects of ethanol blended fuels.
The Non-Toxic Gasoline Tank Snake has a built-in indicator that lets you know when it is time to be replaced. The entire Snake starts turning light blue as it absorbs water. When saturated with water, the Snake turns dark blue, indicating it is time to replace the Snake with a new one. The Gasoline Tank Snake may also be placed in the gas tank of your power equipment during storage via a braided multiline high molecular weight polyethylene tether. This prevents moisture from condensation due to temperature fluctuations and water that the ethanol blended fuel attracts through normal fuel system venting.
The Gasoline Tank Sake is tested to 1 million cycles, assuring that it will not deteriorate when installed. Use it year round in your power equipment, boats, motorcycles, ATV's, UTV's and recreational equipment. Virtually any fuel tank that has direct access to the fuel tank can have a Gasoline Tank Snake installed (not intended for automotive or any other application that has a filler neck that it could get caught in).
When it is used in conjunction with Ethanol Shield Multi-Purpose Fuel Stabilizer, it merits the Gold Standard in Fuel Hygiene. It protects your fuel system and engine from the negative side effects of ethanol blended fuels. Contact us at Booth #4018, call 843-347-0482; visit b3cfuel.com.
---
Billy Goat

Billy Goat welcomes you to GIE+EXPO! Stop by booths #10170 and #7400-D and check out our line-up of fall cleanup and renovation solutions. Get the run down on financing—easy as 1-2-3, the Go Pro truck loader promotion and the new pre-loaded video display monitor take your merchandising to the next level with fresh solutions to support you through the heart of the fall season. See the productivity of the all new DL3500V 35HP electric start truck-loader with 5,050 CFM and massive 14″ intake. Participate in Pumpkin Chunkin' (with a political spin!) and enter a drawing for an "I Blew Chunks at GIE" t-shirt! Be the first to check out the advanced technology of the all new Quietvac, the world's quietest low dust vac. Also, do not miss the new Z Force Blower that quickly attaches to any Z mower. We look forward to seeing you! Contact us at Booth #10170 or #7400-D, call 816-524-9666; visit billygoat.com.
---
Powerhouse Generators

The PH6500Ri puts the house in Powerhouse by supplying grid-like performance in a portable package. With 6,000 watts of continuous power and 6,500 watts of maximum power, the 6500Ri is ideal for running high demand tools and equipment like compressors and welders. It can also function as a central power supply for multiple users of hand power tools. It is inverter equipped, making it safe for use with sensitive electronic equipment like lap tops and cell phones.
Folding and locking wheelbarrow style handles and pneumatic tires make the 6500Ri easily maneuverable around the jobsite. Standard features include remote electric start, a 120/240V switch, four power outlets and a 12V utility connection. It has a powerful 11.6 HP engine and can run up to 12.8 hours on a single tank of gas. Additional features include an internal circuit breaker, an electronic fuel gauge, automatic low oil shutdown and emergency stop control. It is very quiet for a generator of this size and output. The 6500Ri is also EPA, CARB, CETL and ISO 9001 compliant. The box includes: an oil jug, a12V charge cable, a spare spark plug, a spark plug wrench & handle, a spare fuse, a user's manual, 2 keys and 2 remote controls and a 2-year consumer/1-year commercial warranty. Contact us at Booth 5013, call 877-544-4449; visit powerhouse-products.com.
---
Core Outdoor Power

Core, manufacturer of GasLess outdoor power equipment for commercial markets and the discerning homeowner, announced the expansion of its suite of GasLess products to include a state-of-the-art handheld blower and hedge trimmer. The products come equipped with Core GasLess motor technology, are powerful and lightweight, and they run just as long as a tank of gas. They have the unique ability to exceed noise, efficiency and emission standards.
Following the successful Spring 2012 debut of the CGT400 Line Trimmer, Core Outdoor Power is introducing the CB420 handheld blower that weighs only 11 lbs., runs up to 400 cu. ft. per minute and produces winds up to 110 MPH. The CB420 is not only the most efficient blower on the market, but also the quietest, making hearing protection unnecessary. Also hitting store shelves will be a 12 lb. CHT410 hedge trimmer with run-times of up to 90 mins. with the same powerful, noise-free operation.
Understanding the need for versatility and longevity for the commercial market, Core Outdoor Power is also introducing the Quad Power Pak. The Quad Power Pak is compatible with all Core products, and it functions as both a back pack, offering users four times the run time, and a mobile charging system. When being used as a mobile charging system, it has the capability to charge 4 Power Cells simultaneously using a 12V power supply (such as a vehicle power outlet) or a typical AC wall outlet.
These products are expected to have a serious impact on the market and to provide consumers and commercial users with a lightweight and cost-effective alternative to gas engines. The technology features the highest energy factor per weight of any existing motor or engine, and it is specifically designed to replace existing conventional motion devices, motors and engines by coupling the innovative motor design with a high energy Power Cell. The unique motor technology eliminates the copper windings found in traditional motors, instead utilizing a multi-layered circuit board stator that works in conjunction with permanent magnets and a power cell to efficiently produce high torque and significant power. Core Outdoor Power's engineering team is continually working to add innovative products. It is planning to introduce a self-propelled push mower in 2013. Contact us at Booth #11048 or #6030-D, call 518-465-8829; visit coreoutdoorpower.com.
---
Dolmar

Dolmar has long been recognized as one of the world's leading names in power products. Professionals worldwide acknowledge the tradition of success and innovation by Dolmar—a reputation that only 85 years of progress can exemplify. Reliability and performance are the requisites all Dolmar products demonstrate. The successful history of Dolmar began in 1927 by its founder, the German engineer Emil Lerp. The company remains based in Hamburg, Germany. Access to a global resource network has been possible ever since Dolmar joined the Makita Group in 1991. Dolmar supports servicing dealers in North America through its partnership with the Integrated Distributors Network (IDN).
From the beginning, Dolmar has been setting standards for quality, functionality, design, ergonomics, reliability and innovation. Technological innovations are considered labor saving improvements, thereby increasing production for professionals and occasional users alike. Dolmar also takes environmental responsibilities very seriously. The company focuses on low-emission engine technologies, and it boasts a growing assortment of clean 2- and 4-stroke and electric products.
New products featured at this year's show include: chain saws, power cutters and string trimmers. Dolmar Power Products include a comprehensive assortment of power products for grounds, forestry, rental and construction applications. Every product is manufactured to exacting standards of quality and operational dependability—all intended for professional performance and durability.
Contact us at Booth #11136 or #7714-D, call 770-569-4945; visit dolmarpowerproducts.com.
---
Star Tron

Star Tron Enzyme Fuel Treatment is an effective way of solving a wide range of ethanol fuel-related problems. Gum formation is a major issue with ethanol-blended fuels—ethanol and gasoline do not chemically bond, but are instead held together in a loose, colloidal suspension. As a result, E10 fuel can begin to break down and form gums very quickly. The enzymes in Star Tron allow more oxygen to bond to the fuel hydrocarbons for a more complete burn of the fuel charge, even in ethanol fuels, translating into easier starting, better throttle response, decreased emissions and smoke, the prevention of new gum and varnish and an overall improvement in engine performance and fuel economy. Star Tron addresses gum issues by breaking it down into sub-micron-sized particles that can be eliminated while the engine is running. Star Tron will also slow the fuel aging process to keep it fresh and at peak combustibility even after long periods of storage. It also helps prevent phase separation that can occur in stored fuel when water and ethanol bond together and then fall out of the gasoline, resulting in degraded fuel and an engine that can't perform at its best. Star Tron works in all 2- and 4-stroke gas-powered engines. Contact us at Booth #9208; visit startron.com.
---
Honda Power Equipment

Honda Power Equipment will have a dynamic presence at GIE + EXPO 2012. Honda Power Equipment manufactures and markets a complete range of outdoor power equipment products including general purpose engines, outboard marine engines, generators, lawnmowers, pumps, snowblowers, tillers and trimmers for commercial, rental and residential applications. American Honda Motor Co., Inc. is the world's largest producer of engines across a diverse array of automotive, motorcycle and power equipment products. A world-class reputation makes Honda Engines the recognized choice for the construction and rental industries.
At this year's venue Honda Engines representatives will be available at the company's indoor booth and outdoor display area to discuss the company's continued technological advancements and environmental commitment. The Honda Engines team will showcase its complete range of engines models, including the latest advancements for its GC Series models, specifically designed for home-use power equipment applications such as pressure washers. Honda Engines also will highlight the all-new V-Twin general purpose engine spline shaft models as part of the company's GX Series. These new spline shaft models bring an increased ease of assembly and a connection with a more compact design for V-Twin engine users working with hydraulic power pump industrial products.
In addition, Honda Power Equipment will have its company trailer on display in the outdoor exhibit area, equipped with an array of power equipment products. At GIE + EXPO 2012, the Honda Power Equipment team looks forward to discussing new design enhancements to selected product lines, along with the company's recently introduced environmental program with dealers. Contact us at Booth #3116 or #7626-D, call 770-497-6400; visit honda.com.
---
Husqvarna

Visit Husqvarna, the world's largest producer of outdoor power products this year at GIE+EXPO. Talk to Husqvarna representatives, learn about our new products and try them at the outdoor pavilion. Featured this year is the highly anticipated AWD Mower. Husqvarna introduces a sleek All Wheel Drive mower designed for uneven mowing terrain and tough conditions. The HU800AWD features All Wheel Drive, which allows the user to mow in wet, hilly or uneven conditions by allowing all four wheels of the mower to receive power from the engine—simultaneously providing extreme maneuverability for the operator. Premium wheels with new rugged tread tires provide excellent traction without tearing the grass. Contact us at Booth #9094 or #7800-D & #7801-D, call 704-921-6844; visit husqvarna.com.
---
Masport

Established in New Zealand for over 100 years, Masport has gained a sound reputation for manufacturing New Zealand designed and engineered quality outdoor power equipment. Producing an extensive range of rotary and cylinder gas mowers, as well as gas shredders, edgers and cultivators, Masport exports to over 40 countries throughout the world. New products this year are the gas edger and walk behind steel and aluminum mowers that have been specifically designed for the U.S marketplace.
Masport will talk to dealers and support our distributors who operate in various States across the U.S.—Central Power Systems and Seago International. Masport is also looking for additional Distributors to complete our U.S. network throughout the country. Masport mowers mulch, catch and side discharge, and they feature aluminum and steel decks, single lever height adjustment and a unique handle lift system. Various cutting widths with engine options are available, such as Briggs & Stratton, Honda and Kawasaki.
Masport's most recent introduction into the U.S. market is its patent pending Genius lawnmower, which has a chipper tube and an extra chipper blade that can shred branches up to 13⁄8″ in diameter and turn them into mulch. As the branches are chipped, they are fed back into the catcher for spreading. For over 50 years Masport have also been selling a wide range of homeowner cylinder mowers which produce a professional lawn stripe finish. Contact us at Booth #10182 or #7630-D, call 649-526-9706; visit masport.com.
---
nizeX Inc.

nizeX Incorporated did not just produce another Business Management System for the lawn and garden power equipment industry; rather, they focused on creating the best BMS system on the market today. By incorporating dealer input throughout Lizzy, nizeX has raised dealers' expectations of how a business management system should support and help manage their dealerships.
When nizeX introduced Lizzy to the lawn and garden power equipment industry in 2009, the competition only had DOS, UNIX and Windows-based systems to offer. The dealers needed more software functionality to compete in today's competitive markets. They needed tools that would help them become more efficient, more productive and at the end of the day, more profitable. Lizzy can email or send text messages to your customers when work orders are completed or when special orders are received. Lizzy offers a customer portal for allowing your customers to check on purchase and service history.
Lizzy is a web-based BMS solution that includes integrated accounting, credit card processing, financing, payroll, advanced CRM, rental, consignment and much more—all for a low (per user) monthly investment. Lizzy is a S-a-a-S (Software-as-a-Service) Solution, allowing dealers to pay month to month based on the specific number of users requiring access to the software. The dealers are not required to sign a contract, and they can expect to receive professional, experienced customer support as needed.
The goal at nizeX is to provide a single solution with all the necessary components for you to manage your business without the need to build a system by purchasing separate programs from multiple software companies. Contact us at Booth #268, call 678-359-4184; visit nizex.com.
---
Oregon
Whether you are a commercial landscaper or a hardworking homeowner who simply demands the best, the Oregon 40V Max Cordless Tools, based on the premium Oregon Lithium Ion battery system, are always ready with the power you need to get the job done. No matter which tool you are using, just pull the trigger. Instant start with constant no-fade power and long runtime, along with freedom from the hassles of gasoline or corded power, are features of Oregon Cordless Tools.
The product line has expanded with three products: the CS250 Chain Saw, the ST250 Trimmer/Edger and the HT250 Hedge Trimmer. The CS250 is a light-weight and powerful chain saw without the hassles of gasoline or pull cords. With the built-in PowerSharp chain sharpening system dull chains are unnecessary. PowerSharp sharpens in seconds. New to the tool system is the ST250 Trimmer/Edger. A 2-in-1 tool that converts quickly and easily from Trimmer to Edger, it features Swift Load trimmer head technology for fast and simple string loading and a variable speed throttle for increased control and runtime. Rounding out the product line is the HT250 Hedge Trimmer, featuring a 24″ blade for heavy duty jobs, a dual action design for low vibration and laser-cut, precision cutting blades for cleaner cuts and healthier plants. Oregon Cordless Tool System 40V Max battery packs are compatible with all three tools. Contact us at Booth #11054 or #6018-D, call 888-313-8665; visit oregoncordless.com.
---
Subaru Industrial Power Products

Subaru's EX Series engines are the first to utilize high performance chain-driven overhead cam (OHC) technology in the industrial air-cooled market. Additionally, the EX Series is covered under Subaru's new 5-year limited warranty, the first of its kind in the industry. The EX Series features seven models with power ranges from 4.5 to 14 HP.
OHC technology allows the intake and exhaust valves to be positioned for optimum engine performance. This offers lower resistance for the air/fuel mixture flow. Designed with a highly efficient pent-roof-type combustion chamber, the EX engines are able to utilize a high compression ratio, producing higher power and torque while limiting exhaust emissions and fuel consumption.
The EX engines also feature easier starting. An automatic decompression system reduces the required recoil pulling force by 30-40% when compared with overhead valve (OHV) engine designs.
With fewer moving parts, OHC engines produce less mechanical noise than competitive technologies. Subaru's EX engines are a full 2dBA (decibel level) quieter and softer in exhaust tone than other same-class engines.
Subaru engineered patent-pending cooling technology on the EX Series to combat excessive heat—the number one cause of engine failure. To utilize every possible cooling area, special heat dissipation fins have been built into the mounting base, cylinder and both the inner and outer crankcase surfaces.
Engine durability is further enhanced by a patent-pending oil delivery system. A unique oil scraper attached to the connecting rod supplies oil to the cam chain. The cam chain then carries the oil to the overhead cam and valve train. A special rocker cover design and breather system keep the camshaft and rocker arm bathed in oil while preventing spouting. All EX engines comply with both EPA and CARB emission regulations. Contact us at Booth #11162, call 847-540-7300; visit subarupower.com.
---
Stihl

Stihl offers another industry first with the Stihl Cutquik. With the handheld outdoor power equipment industry's first electronically controlled fuel-injection system, the TS 500i increases power by 17% while only increasing weight by 6%, as compared to the Stihl TS 420.
Stihl Executive Board Chairman Dr. Bertram Kandziora is a firm believer in the new technology: "It ensures really easy starts and optimum engine power at all times with excellent running behavior and throttle response as well as greater fuel economy and lower emissions. With the Stihl TS 500i even the toughest of cutting operations will be performed more easily and efficiently than ever before. As it has no carburetor, this highly innovative power pack is characterized by much more power in the same space, and thus has an exceptional power to weight ratio."
Powerful, lightweight and well-balanced, the TS 500i is designed for superior handling during the toughest jobs. It is complete with a low-emission engine that provides optimal torque throughout the RPM range and eliminates the need for a choke, simplifying the starting procedure. The X2 air filtration system is virtually maintenance-free and maintains an incredible 99.96% cleaning efficiency. The Stihl computer-mapped fuel injection system continuously and precisely determines fuel mixture, injected quantity, injection and ignition timing.
The standard electronic water control feature allows for easy and efficient water flow adjustment while cutting. The water control feature remembers the last setting that was used and water flow automatically stops at idle speed and starts again when the throttle is engaged. A diagnostic application is available to help dealers troubleshoot issues and streamline service. Also, Stihl is proud to be a major sponsor of Independent We Stand, an organization that promotes independently owned business and touts the benefits of "buying local." To help expand the movement, Independent We Stand is now offering Premium Memberships for $99 per year. Premium Memberships provide you with a more comprehensive and engaging listing for your business. For less than $10 per month, you can put your business in front of consumers and other businesses hungry to "buy local" and help promote the movement. Register your business and join the movement at IndependentWeStand.org or by visiting Stihl's booth. Contact us at Booth #5080, call 800-467-8445; visit stihlusa.com.
---
Walker Mfg.

Walker Manufacturing has chosen a sales model that has been proven year after year to give opportunities to distributors and dealers to succeed in the industry even at its lowest points. Dealers are backed by a strong, independent manufacturer and distributor network. Walker's distribution is built up of independent, highly focused companies. "Walker is not sold by mass merchandisers or multiple channels, so we work hard to help our independent dealers and keep them happy as our partners," explains Walker President Bob Walker. "We teach them to be experts in the product they sell and to take pride in their work." Distributors work closely with Walker to prevent dealers from having to compete with the dealer down the street. Walker distributors are also encouraged not to overstock dealers and thereby create economic pressure to move the inventory by dropping the price and profit margin. "While we refer to them as dealers, to be in the Walker program really means they are a valued and essential co-worker in getting and keeping customers for Walker products," says Bob. "The sale of Walkers is not a one-way street, but is better viewed as a circulatory system where we each depend on each other to complete the job." Contact us at Booth #11140 or #7756-D, call 800-279-8537; visit walkermowers.com.
---
Worldlawn Outdoor Power Equipment

Worldlawn's expertise in the power equipment industry has developed from years of manufacturing and distributing lawnmowers in Asia, Australia, Europe and the U.S. Worldlawn Outdoor Power Equipment offers a mower line that starts with the Cobra series 48″, 52″, and 60″ commercial riding mowers with zero turning radius. Compare Worldlawn's Cobra to the competition and you will realize Worldlawn has engineered a mower with all the features you want with a better value! Features of the Cobra include a 7 ga. heavy steel deck, hydro-gear pumps and motors, strategically placed anti-scalp rollers, a 12 gal. fuel tank and ground speed of 10+ MPH. ROPS are standard, and the Cobra has 23 x 10.5-12 rear turf tires. The Viper, a 50″ riding mower with zero turning radius, is designed for the residential market. Also, five walk-behind mowers easy enough for do-it-yourself homeowners and tough enough for commercial hours have 28″ to 48″ cutting decks. Contact us at Booth #9178, call 800-228-4255; visit worldlawnpowerequipment.com.
---