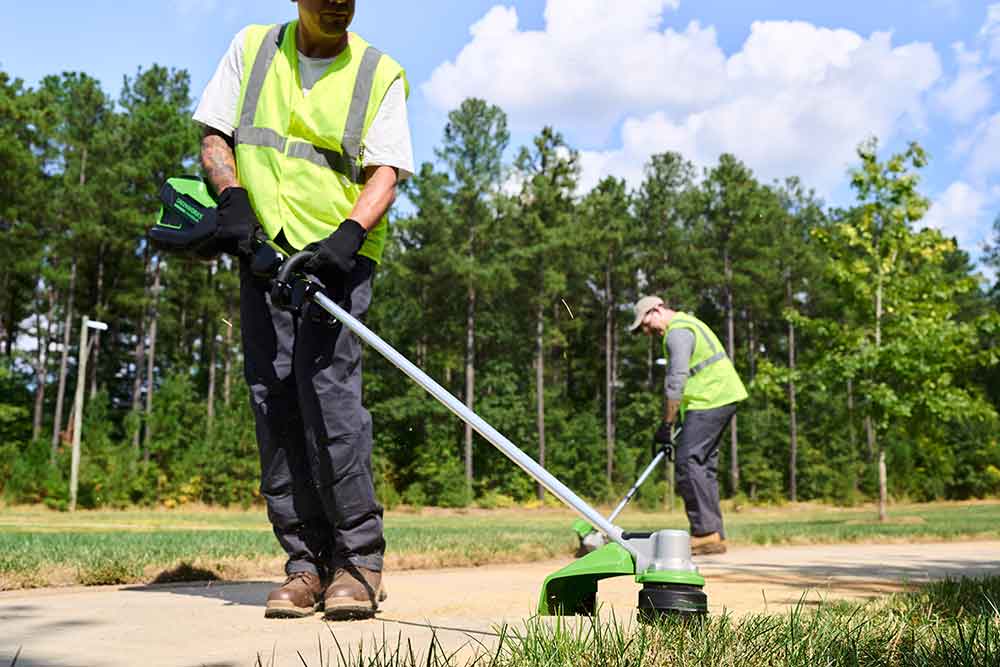 New From Greenworks Commercial: 82 V 16-in. String Trimmer
Greenworks Commercial, a provider of battery-operated power equipment, announced a new 82 V 16-in. front-mount string trimmer at the 2022 Equip Expo.
Built to perform, the new model 82ST12 trimmer is the best power-to-weight ratio commercial-grade string trimmer in the industry, allowing operators 45 minutes of runtime on a single charge with the outstanding benefit of being 13% lighter than competitor models. The trimmer provides a 16-in. cutting swath and a comfort overmolded ergonomic front handle and rear throttle as well as lightweight rear housing, improving balance and reducing operator fatigue.
The new 82 V string trimmer utilizes a front mounted, direct drive commercial-grade brushless motor that produces 1.2 kW of maximum power to deliver continuous power through the toughest terrain without bogging down. With an included 8 amp dual port charger that recharges a 4.0 Ah battery in 30 minutes, runtime is unlimited.
Greenworks has the broadest line of commercial-grade lithium-ion outdoor professional equipment in the industry, and the new trimmer showcases Greenworks' signature cutting-edge technology that delivers the best-in-class user experience for landscape professionals.
Visit greenworkscommerical.com.
Echo Inc. has announced the appointment of Harold Redman as its new president and CEO effective April 3. Harold brings more than 30 years of power equipment experience and a proven track…
I was recently in a sales meeting for a company that I just started working with. One of the subjects that came up was how to handle the first interaction with the prospect. By first interaction, I'm referring to the first conversation…
The first Stihl battery-powered backpack blower, the BGA 300, is also the most powerful battery blower in the Stihl line-up, delivering 25 newtons of blowing force and max air speed of 194…