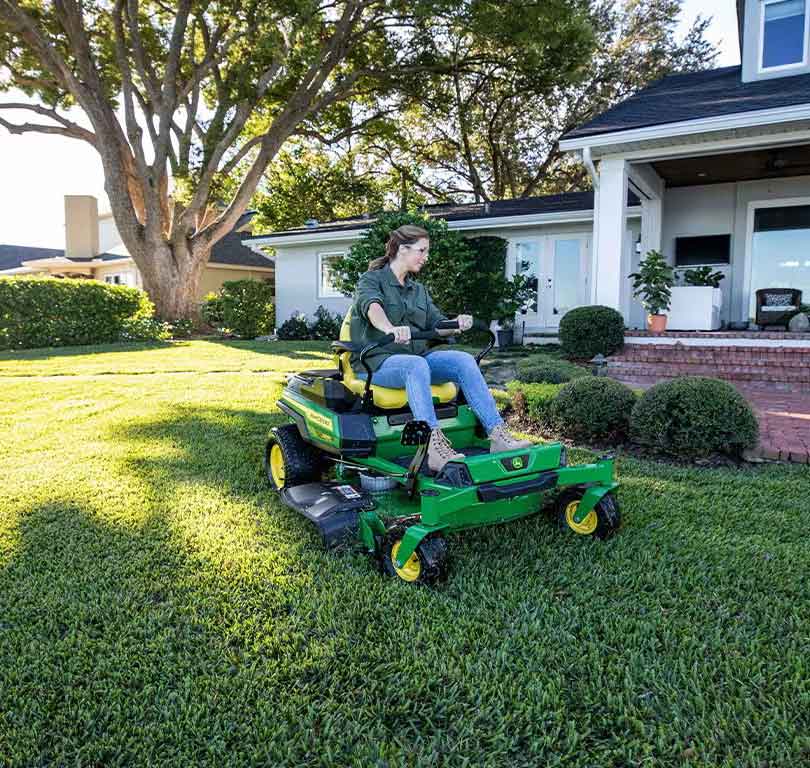 New From John Deere: All-Electric Residential Zero-Turn
John Deere has introduced the all-new Z370R Electric ZTrak residential zero-turn mower targeted toward property owners who want to maintain their yard appearance easily with reduced maintenance, simplified use and increased operator comfort due to less noise and vibration while mowing.
The Z370R Electric ZTrak has strategically designed features and technologies, making for simplified, cleaner mowing without sacrificing the mowing experience when compared to a traditional gas mower. Promoting an easy adoption of electric solutions, the Z370R can be charged without removing the batteries by using a standard outdoor extension cord and a 110V grounded outlet. This helps eliminate the need for external chargers and extra storage space. Additional design features include large front and side frame rails, increasing machine durability, performance and appearance, as well as a 42-in. Accel Deep mower deck that delivers superior cut quality at faster ground speeds. The Accel Deep mower deck also provides owners with industry-exclusive John Deere MulchControl technology, resulting in reduced grass clippings and a healthier lawn.
Further enhancing the zero-emission mowing experience, the Z370R Electric ZTrak features a large LCD screen used for monitoring battery levels with three modes, allowing operators to adjust settings based on preference and yard conditions. Making for an easier mow, the integrated park brake is activated when the control levers are pushed outward, and a push-button start quickly turns on the machine, getting it mowing ready in seconds. In addition, the integrated Bluetooth system enables owners to remotely monitor the mower's charge status and battery level through the MowerPlus app.
Extending the John Deere Z300 platform and standing out from competitive models, the Z370R Electric ZTrak features an integrated, sealed battery and onboard charging to supply power to the unit. The fully sealed battery allows for mowing in wet and rainy conditions. The 3.56 kWh maximum capacity battery is backed by a 5-year manufacturer's warranty and enables customers to mow up to two acres.
Visit Deere.com
Echo Inc. has announced the appointment of Harold Redman as its new president and CEO effective April 3. Harold brings more than 30 years of power equipment experience and a proven track…