Article by
Dan Shell, Senior Editor, Power Equipment Trade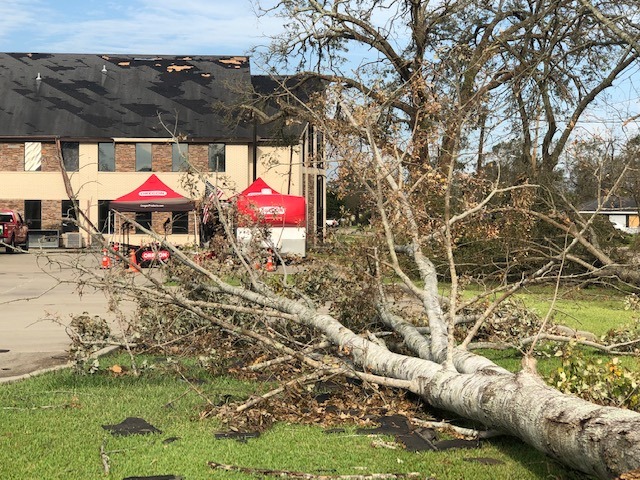 Smiths South Central, Oregon Assist Louisiana Cleanup Effort
Personnel from key Southeast U.S. distributor Smiths South Central Sales Co. and Oregon Cutting Systems spent the better part of two weeks in Lake Charles, La. assisting homeowners with saw chain sharpening and minor power equipment repairs in the aftermath of Hurricane Laura in late August.
Early on August 27, Laura made landfall near peak intensity at Cameron, La. The storm was the tenth-strongest U.S. hurricane to make landfall by windspeed on record. The storm caused the deaths of at least 36 people in the U.S. (71 overall) and inflicted an estimated $10 billion in damages along the Louisiana-Texas border near the Gulf of Mexico and northward.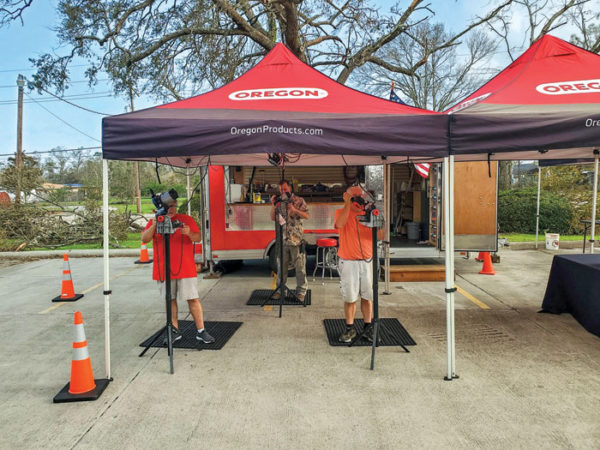 The Oregon Disaster Relief Team and Smiths South Central group were in Lake Charles three days after the storm hit and worked there till mid-September. According to Smiths South Central Sales Co. President Robert Smith, the high winds at the company office in far north Louisiana were nothing compared to what hit the communities in the southwest part of the state. "The storm was pretty intense, and the damage in the Lake Charles area is some the worst I've ever seen, and we've worked around these storms for years."
The disaster assistance group in Lake Charles included John Dilworth and Millard Kidder, two Oregon Cutting Systems technical training specialists, plus two or three people from Smiths South Central Sales Co. as well. The Oregon team also had significant help from major regional and Southeast distributors Medart and Power Distributors, who also provided personnel to help in the cleanup and chain-sharpening effort.
Smith notes that such an effort makes for "hard work and long days" and his company is fortunate to work with such proactive suppliers. The group sharpened 200+ saws a day—more than 2,000 easily—during their time in Lake Charles. Team members made minor repairs as well. "They also made sure to spend time to tell people to use their saws safely and to be cautious," Smith says.
And now barely three weeks later with a new hurricane—Sally—threatening the Mississippi-Alabama Gulf Coast region, Smith says strong storms are part of life in the fall along the Gulf Coast. "This year has been interesting to say the least," he says. "Now is the time to do your best and step up and help people in need."
Sales is a transfer of emotion. If we are nervous, our customer will be nervous. If we are aggressive, which means we don't really care, we are just there for the order, our customers will be defensive. When we are calm and prepared, our customers will have a…