Article by
Patrick Dunning, Associate Editor, Power Equipment Trade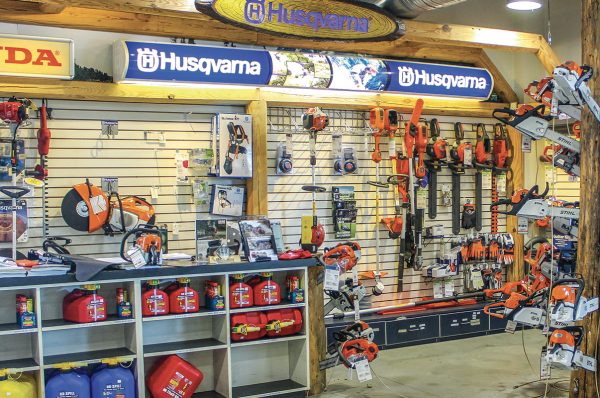 Dealer Speak: Dealers Adapt, Overcome Virus
While the U.S. business landscape radically changed in the past few months due to COVID-19, owners have been forced to become creative and acclimate. It's no secret small businesses have been affected, some more than others, by the repercussions of the pandemic. Yet many power equipment dealers are flourishing this year and posting sales margins higher than previous years as their customers make the most out of an otherwise bleak situation by tackling home projects themselves and purchasing power equipment.
In Oregon:
All Seasons Power in Eugene, is on par to exceed last year's gross sales that drew profitable numbers largely due to wet weather. Owner Jon Cowley says March 2020 proved to be the dealership's worst month in 15 years, as initial lockdowns greatly diminished foot traffic. But All Seasons is now shaping up for their best year or close to it. Cowley says Exmark has seen a 114% increase in sales this year, making it a customer favorite. Two separate shops offer services on handhelds and wheeled goods. Under normal conditions they try to be a next-day service but Cowley says they've been swamped with orders since early summer. Handheld equipment sits two to three days out and wheeled goods are two weeks out.
Regarding inventory supply chains, Cowley attests that vendors have been reliable and timely. "I was worried we may have bought too much inventory in March but it worked out well because we've had enough supply to where we didn't have to do a lot of reorders."
Cowley also suggests his customers have more expendable income to put into their homes and property.
"A lot of people are staying at home and want to do projects they've been holding off," he says. "People have more money at their disposal because they're not going out to eat, spending money on entertainment or vacations."
In Pennsylvania:
On the East coast in the greater Philadelphia area, Mike Conway, owner of Conway Power Equipment, says with people staying at home more and looking for projects to do he's noticing an increase in subcompact and compact tractor purchases on the consumer side versus commercial sales. The folks at Conway Power have become more accustomed with sales over the phone and work with anybody that has concerns.
"We made arrangements to keep everybody spaced out and away from the counters," Conway says. "We offer to all our customers the option of paying over the phone and curbside pickups for products." On bigger ticket items they offer local deliveries.
Conway says they've been experiencing challenges with distributors concerning whole goods. "Back orders have been a hurdle but that's because people are running skeleton crews and working from home but we're working through it."
In the Midwest:
The city of White Bear Lake, sitting on one of the largest lakes in the Minneapolis–Saint Paul metropolitan area, is home to LTG Power Equipment. Commercial sales manager Eric Fedje is noticing a boom in retail sales this year compared to 2019, specifically zero-turn lawnmowers.
"Sales are up across the board this year, retail sales big time," he says. "And that's coming from people being at the house more and working on projects themselves." When the state first announced stay-at-home orders, Fedje says business slowed down for two weeks before bouncing back.
The Deep South:
In Raleigh, NC, Wilson's Outdoor Equipment is keeping landscapers stocked with everything they need to tackle a busy summer. "We're doing better than anticipated," a sales rep says.
"Commercial landscapers never stopped working, they tell me there's more work than they can do right now."   
Wilson's currently sits about two weeks out in the service department and is a full line dealer for Stihl, Echo, Exmark, Billy Goat and Honda. Their sales rep notes this past March in comparison to the last several years is one of their best. Well into the dog days of summer, business has finally begun to slow. "Right now, is the only time this season we've been able to keep things in stock," she says. "It's a little bit slower because it's so hot outside and most of the landscapers are done by 2pm."   
Personnel at Wilson's say their corporate landscapers are complaining about a shrinking workforce due to the H-1 visas being denied for 2020. "People from other countries will come in and do these jobs all summer," she says. "There aren't enough people to work these landscaping jobs because they say it's too hot."                        
You have all experienced it before. You are working away in your office, simply minding your own business when there is a knock at the door. In walks one of your dependable and proven staff and they ask the question, "Can we talk?"…