Article by
Patrick Dunning, Associate Editor, Power Equipment Trade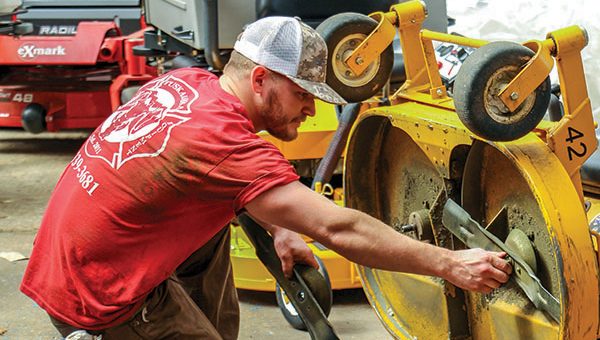 Dealer Speak: Spring Service Challenges
EDITOR'S NOTE: Many years ago Power Equipment Trade featured a regular column called 'Dealer Speak' where an editor would solicit responses on a given topic from dealers around the U.S. If any dealer would like to participate in a future column, please be on the lookout for questions periodically posted on the PET Facebook page. If you'd like to speak on a particular topic, reach Associate Editor Patrick Dunning at [email protected].
As is always a constant in life, grass continues to grow. Dealers around the country are focusing on having stocked inventories and parts on hand for spring's jolt in mowing, blowing and landscaping activity. With our nation seemingly hanging in the balance—political upheaval, health precautions and economic impacts—rest assured a lot of practices remain intact.
Dealers are still looking for qualified technicians, checking the weather forecast to predict sales, and evolving with the industry's ongoing switch to more modernized equipment.
PET reached out to dealers throughout the country to get a pulse of each service department's situation as the season surges ahead and homeowners and commercial consumers alike prepare for seasonal responsibilities.
Mid-Central
● In the small town of Fort Scott, Kansas, the folks at Heidrick's True Value are running wide-open, seven days a week. Sebastian Thomas, technician apprentice, says they're on top of the market. "We're pushing machines out from open to close," he says. "As it continues to get hotter, we'll have machines filled to the brim in the shop." The Stihl dealership has a $60 per hour labor rate. As for current procedures, Thomas believes their operation shows no sign of changing unless cordless, electric lawn equipment becomes the norm. In addition to servicing whole goods, they've found a niche in sharpening mower blades, saw chains and household knives for consumers. "We just try to help people keep their machines going."
● Edmund Kuhn, service manager at Kuhn Sales and Service, LLC in Fostoria, Ohio, says their service department is swamped and it hasn't even greened yet. Coming off a wet 2019 season, Kuhn's confident this year will show improvements. "Last year was strange. The weather had us behind and retail suffered because of it," he says. Their labor rate currently sits at $66 per hour. While Kuhn admits their rates are fairly low for the area, he's satisfied with current profit margins and staying five to six days out. Moving forward, the Husqvarna, Toro and Stihl dealer is satisfied with his set of technicians and intends to keep them full-time while keeping an eye on local markets. "We're thinking about where the economy will lead us," Kuhn says. "We have solid products across the board but it comes down to what people are willing to spend. Still too early in the season to see."
East Coast
● Wertz Farm & Power Equipment in Glen Rock, Pennsylvania, offers lawn and garden products along with agricultural machines. They service Massey Ferguson and Hardee farm equipment brands on the ag side and Scag, Husqvarna, Simplicity and Ferris on the lawn and garden side. Sales and finance manager Cindy Garmin says they're about one and a half weeks out depending on parts needed. Wertz's policy is to implement a cut off date to revert back to items sold strictly in-house for the service department. But with a boom in service activity, Garmin says they're keeping the doors open for other brands. "Our cut off to no longer accept MTD and Cub Cadet was April 1 but demand is so high right now we're allowing them," she says. Labor rates currently sit at $75 per hour with plans of increasing to $80 to keep pace with markets in southwest Pennsylvania. Finding reliable technicians is always a catch-22 situation. Garmin confesses though it's nice to have an extra set of hands accessible, when the season slows there isn't enough work to keep everyone busy. As far as outlook, it's business as usual at Wertz. "We're always making room for improvement, but we don't see anything too different about this year."
● Jason Dutrow, president of Dutrow's Sales & Service in Fredrick, Maryland, says business has been on cruise control the last two years. A previously mild winter led to an early spring for the Honda dealership, whose service department is currently packed with mowers and motorcycles at a labor rate of $95 per hour. Sitting one week out, Dutrow trusts he's set with his current technicians. "It's hard to find good techs but I've got two of the best so we're moving," he says. One reoccurring hiccup at the beginning of each spring is the low shelf-life of ethanol gas. After sitting unused all winter, some engines become congested so Dutrow's service department is tackling issues concerning old fuel.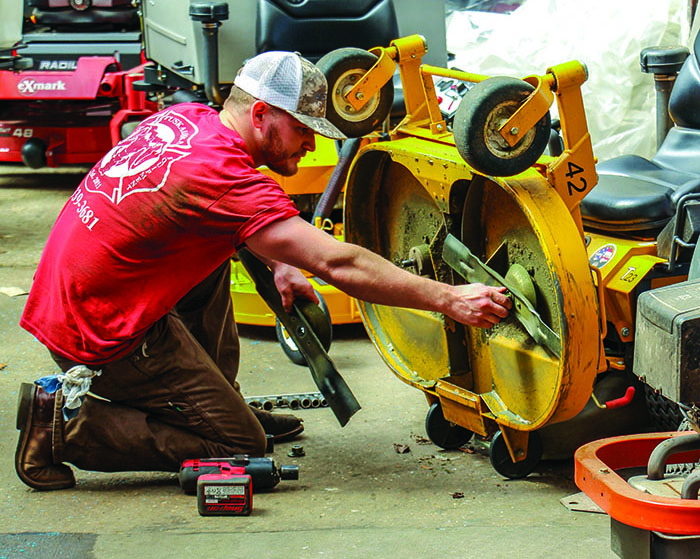 West Coast
● On the West Coast in Santa Cruz, California, William Bruce, president of B&B Small Engine Repair, is taking things day by day. "I always tell people we're like farmers," he says. "Our business is weather related, especially to service." Experiencing a low amount of rainfall as of late has resulted in less service activity. As the spring surge intensifies, Bruce is looking to the clouds to predict the type of year B&B will have. "Depends on if it's a dry year and people don't have to mow. You'll see less customers, sell less equipment, and less servicing on the back end," he says. "So, we'll wait and see." Admittingly a little behind on orders in the service department, Bruce considers the glass half-full and expects it to increase. They service Honda, Stihl, Husqvarna and Bearcat chippers at a labor rate of $75 per hour and sit approximately one to two weeks out. As far as having qualified technicians, Bruce stresses that finding good help is always a struggle. "It's harder than finding an automotive mechanic who works strictly on one thing," he says. "We work on different types of manufacturers and a lot of this is old school. You have to sometimes listen to the machine to determine what needs repairing or replacing."
● Jim Clements, service manager at Siskun Power Equipment in Everett, Washington, says they're right on par with other dealers' labor rates in proximity at $90 per hour. They recently sent out a Honda service mailer featuring $20 off all labor that kickstarted their spring season after it dwindled through January and February. Their biggest equipment lines include Honda, Stihl, BE pressure washers and Billy Goat. A solid back-of-house has Siskun sitting one week out; allowing Clements to manage his time better. "With a couple of good technicians working full time, it's easier to focus on other things," he says. "We know as soon as the sun hits in March everything picks up."
Southeast
● Down in rural Alabama, Kenneth McGough, owner of Ken's Service Center, Honoraville, Alabama, says service requests are beginning to pick up steam. A one-man operation out in the country, McGough is a "Jack-Of-All-Trades" handling the load. "There's been plenty of rain this year," he says. "It's been waterlogged so I expect a good summer." Though he sells Gravely and Bobcat mowers, McGough will work on anything that comes through the door. Nearly five days out, the labor rate is set at $75 per hour and fits him well. McGough has a man who often assists him in servicing equipment when orders get stacked, but he's adamant about his self-sufficiency. Opening the shop in 1990, McGough has successfully advertised his business through word-of-mouth. "I've used this small town to my advantage," he says. "There's several mowers in here being serviced right now."
● Across the state line in Baldwin, Georgia, Swineharts Power Equipment had its "March Madness Sale" under way to help keep busy. Homeowners and commercial landscapers can have their equipment tuned annually at a discounted price with priority servicing if purchased at Swineharts. The dealership's equipment lines include Scag zero-turns, Stihl handheld and Honda mowers and generators. Currently four to five days out, sales manager Candice Swinehart says they could drift to seven days as the season progresses. "In March we start the beginning of our busiest season. We call March through July 4 'the Hundred Day War,'" she says. Labor rates fluctuate between $75-80 per hour throughout seasons to parallel their technicians' workload. Although It's been a slow start to their year with persistent rain, the folks at Swinharts are expecting another banner year. "Last year was wonderful so we anticipate the same," she says. "Our biggest concern is people will stop buying lawnmowers. But, I don't see that happening as long as grass is growing."
Dealers are confident for what the future holds and across the board attitudes are consistent: It's business as usual.
The Outdoor Power Equipment Institute (OPEI) has released its December forecast, showing record growth across the industry despite an ongoing pandemic and downward market pressures, and predicting continued positive activity into 2021…