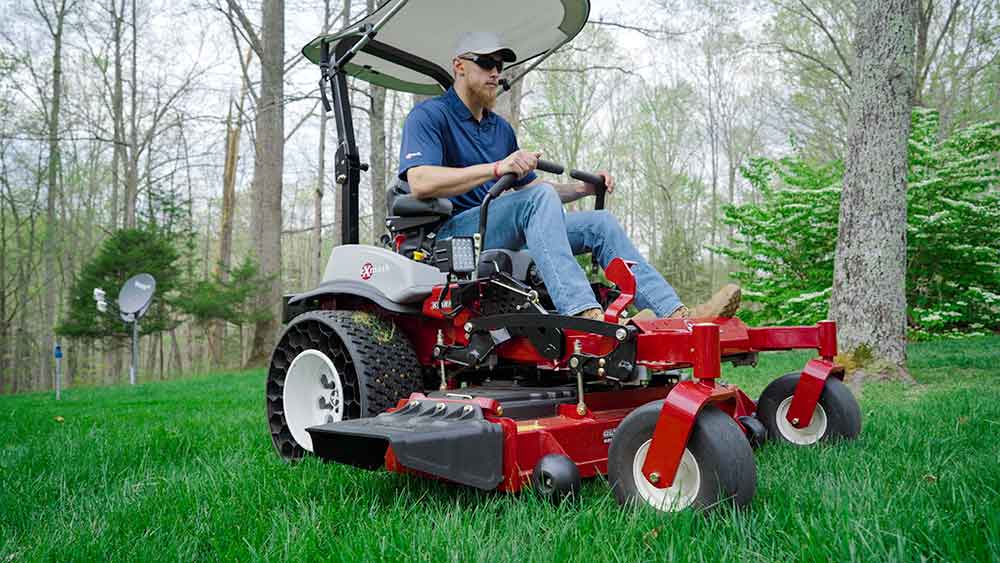 Exmark, George Kittle Partner On Backyard Life Blog
Both on the field and off, there's no denying all-pro tight end George Kittle is a hard charger. And while he's never shied away from hard work, the challenge of maintaining his rural acreage was cutting into his free time. Not any more thanks to a new partnership with Exmark.
"I'm now part of team Exmark," Kittle remarks. "We get the job done. We go hard, but we also like to have a good time."
Exmark Director of Marketing, Jamie Briggs, explains the collaboration with Kittle is a natural fit, particularly for the company's blog, Backyard Life (https://backyard.exmark.com/).
"We're creating some fun video content showcasing how I enjoy more outdoor living thanks to Exmark," Kittle adds. "We have a lot of land to cover and a lot of grass to cut with my Lazer Zs."
Kittle uses three Exmark mowers to maintain his property, including 60- and 96-in. Lazer Z X-Series zero-turn riding mowers, both customized with Exmark original accessories including a sunshade and LED lighting. He also has a Commercial 30 X-Series walk-behind mower, which he says is ideal for trim work and mowing in tight spaces.
Kenect, a texting platform, used by dealerships to communicate with their customers, generate reviews, produce leads, collect payments and increase revenue, has announced that it has…
Altoz is pleased to announce that Rod Larson has joined the Altoz team as the Service Parts and Accessories Manager. With over 35 years of experience in the outdoor equipment industry, Larson…
All Balls Racing Group and Stens are revving up powersports enthusiasts with the launch of "Win this Beast" sweepstakes. The companies have partnered with Power Sports Nation and UTV Sports…