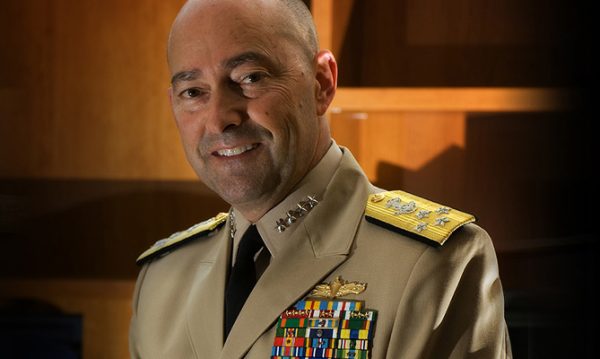 Four-Star Navy Admiral To Deliver GIE+EXPO Keynote
Retired U.S. Navy Four-Star Admiral James Stavridis will present the 2020 keynote address on Wednesday, October 21, at GIE+EXPO. During the session, Stavridis will give attendees insights on "Leadership and a New World Order: The Need for Resilience." Admission to the keynote, which is sponsored by John Deere and the Outdoor Power Equipment Institute (OPEI), is included with trade show registration.
GIE+EXPO partners, OPEI, the National Association of Landscape Professionals (NALP), and Professional Grounds Management Society (PGMS) have joined together to co-host the keynote.
A distinguished leader and the longest-serving global combatant commander in recent American military history, Admiral Stavridis will provide answers and strategies to address the most pressing global affairs challenges.
Stavridis led the NATO Alliance in global operations from 2009 to 2013 as Supreme Allied Commander with responsibility for Afghanistan, Libya, the Balkans, Syria, counter piracy and cyber security. Subsequently, he served for five years as the 12th dean of The Fletcher School of Law and Diplomacy at Tufts University. Earlier in his naval career, he served as Commander of U.S. Southern Command, with responsibility for all military operations in Latin America. He holds more than 50 medals, including 28 from foreign nations. He is currently an Operating Executive at Carlyle Group.
Stavridis has published nine books on leadership, the oceans, maritime affairs and Latin America. He is a monthly columnist for TIME Magazine and Chief International Security Analyst for NBC News.
According to Kris Kiser, president of OPEI the managing partner of GIE+EXPO, show organizers are working closely with the Kentucky Exposition Center to implement plans for running GIE+EXPO responsibly and are preparing an education lineup that includes sessions to help businesses transition into a post-COVID world.
The Toro Co. and Lowe's Co., Inc. have announced a strategic retail partnership where Lowe's will carry Toro zero-turn riding mowers, walk-behind mowers, portable power equipment and snow…
HBS Systems, a provider of web-based equipment dealership management solutions, is partnering with Record360, a digital inspection software that leverages photos and videos to record the…
Diamond Mowers has launched a new online portal designed to provide dealers with everything they need to know about and sell Diamond Mowers' products and services—all in one location….