Article by
Patrick Dunning, Associate Editor, Power Equipment Trade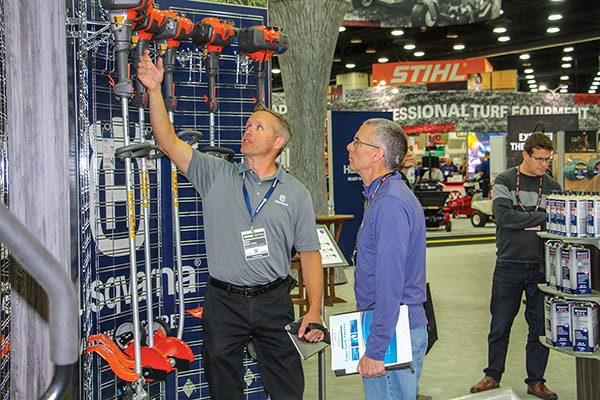 GIE+EXPO - The Industry's Largest Showcase
Held inside the Kentucky Exposition Center in Louisville, Ky., October 16-18, the industry's largest event features networking opportunities, service department seminars and outdoor equipment demonstrations from manufacturers showcasing their newest product lines. Over the course of three days, the latest technology in landscape maintenance and design, light construction, lawn care, irrigation and power equipment will be on display to further develop every aspect of dealerships; more than 20,000 industry members all inside a 500,000 sq. ft. space.
Indoor exhibits will open Wednesday at 11 a.m. for dealers only and then at 3 p.m. for all attendees. Adjacent to indoor exhibits, 20 plus acres of turf for outdoor demonstrations and test-driving the latest equipment will be open to all attendees Thursday at 9 a.m. and Friday at 8 a.m.
On Wednesday, Equipment & Engine Training Council (EETC) will be offering technician training and certification. Two-hour sessions ($35 each) begin at 7:30 a.m. Wednesday covering the basics of EFI systems and Cub Cadet EFI and e-governor engines. Three-hour sessions ($45 each) begin at 8 a.m. Wednesday and cover electrical troubleshooting, hydrostatic transmissions, two-stroke failure analysis, EFI systems and hydraulic troubleshooting. Other workshops will offer panels on customer satisfaction and adapting to future changes in the industry.
UTV University will host three consecutive one-hour sessions featuring powersports dealer training specialists.
The kick-off keynote, sponsored by John Deere, features Lt. Col. Rob "Waldo" Waldman, on Wednesday at 2 p.m. for those interested in improving profitability. The highly decorated fighter pilot, completing over 65 combat missions, correlates his life experiences with placing trust in your wingmen and building high-performance teams.
Bob Clements International's (BCI) first session "Maximizing Your Profitability," begins its first session of the expo at 8 a.m. on Wednesday. Other BCI sessions will be held at 8 a.m. and 10 a.m. on Thursday focusing on the keys to being a successful service manager and fine-tuning service processes. All of BCI's workshops are free to attending dealers.
An emphasis on winning in the service shop is highlighted by Sara Hey, vice president of business development at BCI, Thursday at 9 a.m. as she discusses the vitality of finding, hiring and keeping technicians.
Other Thursday sessions include increasing sales through demonstrations (12 p.m.) and "All You Have to do is Ask and Follow Up," (1:00 p.m.) both hosted by agricultural sales professional, Greg Martinelli.
Industry economist Brian Beaulieu hosts the Dealer Keynote: More Growth—More People—More Business at 9:30 a.m. on Friday stressing the state of the economy and how it relates to the industry in the future.
Free concerts will take place each night at Fourth Street Live! on the Mercedes-Benz Vans Stage, sponsored by Stihl. The lineup includes The Crashers on Tuesday, Easton Corbin with opener Layla Spring on Wednesday and Cassadee Pope with opener JD Shelburne on Thursday.
Back by popular demand, the Mutt Madness dog adoption event, featuring the dogs of the Kentucky Humane Society, will be held in Freedom Hall from 11 a.m. to 2 p.m. Thursday.
Two different opportunities to enter sweepstakes, the Stihl $5,000 giveaway will take place Wednesday at 2:45 and the $15,000 UTV Giveaway toward a new UTV will Friday at 12 p.m.
The free GIE+EXPO mobile application allows features searchable exhibitor and products databases. Available on iTunes and Google Play, build a personal itinerary and select exhibitors to visit with the interactive floor plan. The app also features the show's schedule along with ongoing sessions, updates and more.
GIE+EXPO 2019 dates are Wednesday Oct. 16 through Friday Oct. 8. The annual event is sponsored by the Outdoor Power Equipment Institute, Inc. (OPEI), Professional Grounds Management Society (PGMS) and National Assn. of Landscape Professionals (NALP).
Learn more at https://www.gie-expo.com/
The Outdoor Power Equipment Institute (OPEI) has released its December forecast, showing record growth across the industry despite an ongoing pandemic and downward market pressures, and predicting continued positive activity into 2021…