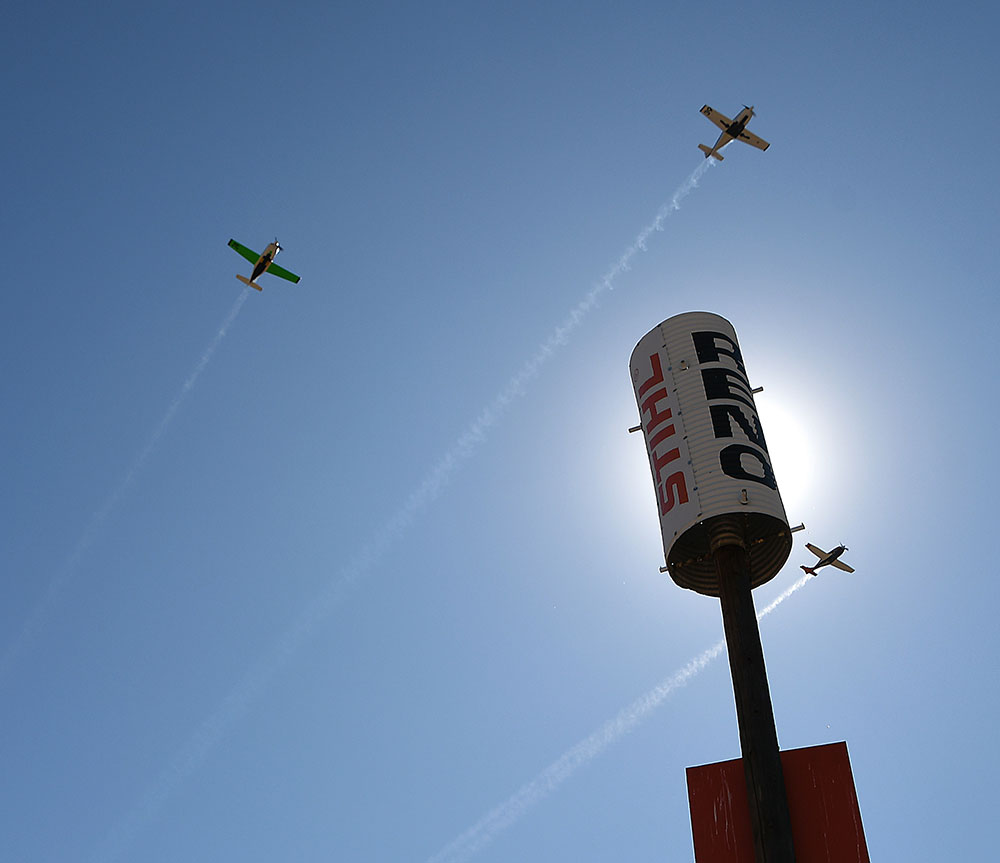 Stihl Air Races Announce New Military Performer, Discounts
The Stihl National Championship Air Races will feature a demonstration by one of the world's most unique aircraft—the U.S. Marine Corps MV-22 Osprey. Part plane part helicopter, the Osprey has vertical takeoff and landing as well as short takeoff and landing capabilities. With an impressive show planned the Reno Air Racing Assn. also announced online ticket discounts for locals.
Tony Logoteta, COO of the Reno Air Racing Assn. says, "The last year and a half has been tough on everyone. We are looking forward to getting our September family together again and hope to introduce new fans to this thrilling one-of-a-kind event."
Active duty and veteran military members will receive free admission on Friday, Sept. 17, 2021 for Military Appreciation Day. Discounted tickets are available through race week for all military members, seniors and children under 12 years of age. Additionally, Reno residents who purchase tickets online throughout the month of August will receive 10% off reserved and general admission tickets, as well as box seats and pit passes. Use code "LOCAL10" at checkout to apply the discount.
Attendees are in for an impressive airshow lineup with the addition of the Osprey. The demonstration will be given by the VMM-362 "Ugly Angels," an operational active-duty squadron that recently returned from deployment in the Middle East. The Ugly Angels were formed in 1952 and reactivated in 2018 as the most recent MV-22 Osprey squadron. The team, based out of MCAS Miramar in San Diego, Calif., will feature the capabilities of the MV-22 Osprey and showcase flight routines both in conversion and airplane modes.
The 2021 Stihl National Championship Air Races return Sept. 15–19, 2021, just 20 minutes north of downtown Reno, Nev. Attendees can witness the fastest motorsport in the world as seven racing classes go head-to-head plus demonstrations by the U.S. Air Force Thunderbirds, U.S. Marine Corps MV-22 Osprey, F-35A Demonstration, Tucker's Air Patrol, Jim Peitz Aerosports, Tony Higa Airshows, the National Aviation Heritage Invitation and more.
Tickets are now on sale. For more information, visit AirRace.org.
Platinum Equity announced the acquisition of Oregon Tool, a leading manufacturer of saw chain and guide bars for chain saws, as well as lawnmower blades, agricultural tractor attachments and…
With more than 494,000 total votes cast for 216 entrants during the nomination phase of the 2021 America's Main Streets "Road to Recovery" contest, Independent We Stand is pleased to announce…
Honda and Black & Veatch have successfully tested the prototype Honda Autonomous Work Vehicle (AWV) at a Black & Veatch construction site in New Mexico. During the month-long field…