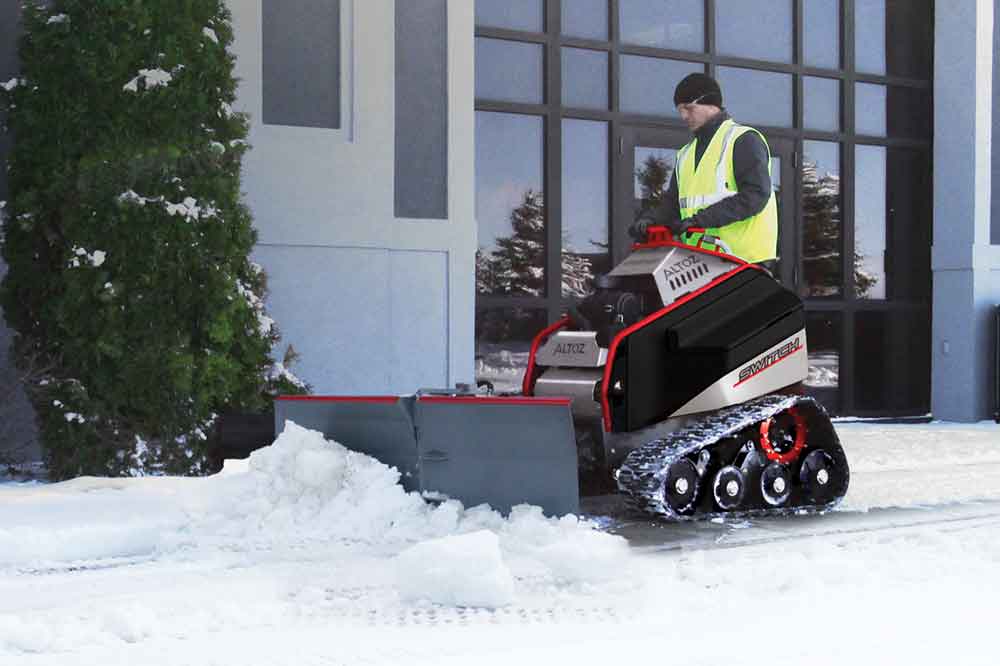 New From Altoz: Switch Tracked Compact Tool Carrier
With Altoz's commitment to designing and developing innovative and differentiated products, the manufacturer is excited to announce the release of the Altoz Switch stand-on tracked compact tool carrier. The all-new Altoz Switch provides the benefits of tracks along with the versatility of multiple attachments for multi-season use. Multiple tasks can be performed using the currently available attachment options: three mower decks (all-terrain, brush and finish), angle broom, v-blade, straight blade, snow blower and brine de-icing system.
The operator station of an Altoz Switch features an adjustable coil spring-over gas shock suspension rider platform. The perforated platform and low center of gravity provide secure footing and increased control for the operator.
The Switch torsion axle width adjusts from 41.5 in. to 51.5 in. for added stability. The 9-in. wide all-terrain track is the key to traction and bridging the gaps found in rough terrain for improved ride quality.
The 29.5 HP Kawasaki FX 852 cc engine has an integrated electronic throttle and governor control helping power through tough conditions. A high-performance commercial hydrostatic drive system delivers quick response to the Altoz track system. Standard features on the Switch include electric dial throttle control, a large 9-gal. fuel tank, solid-state PTO switch, keyless push-to-start ignition and SmarTrac Pro control. The patented SoftStart clutch control decreases mechanical wear and significantly increases belt life.
Altoz is continuing to develop and will release more accessories to add to the versatility and capabilities of the Switch.
Visit altoz.com
The performance and reliability of power equipment parts is essential to the success of servicing dealers and landscape professionals. From service jobs and minor repairs to complete engine…
Husqvarna Group has introduced two new Xcite zero-turn mowers, models Z350 and Z380, to its riding mower portfolio for consumers. These two new mowers feature industry-first on-stick…
A complete line of small-engine fuel stabilizers and treatment additives are featured in Rotary's 2023 master parts catalog including Sta-Bil, Ethanol Shield, PRI-G, Sea Foam, B3C, Helix and pre-mixed VP…