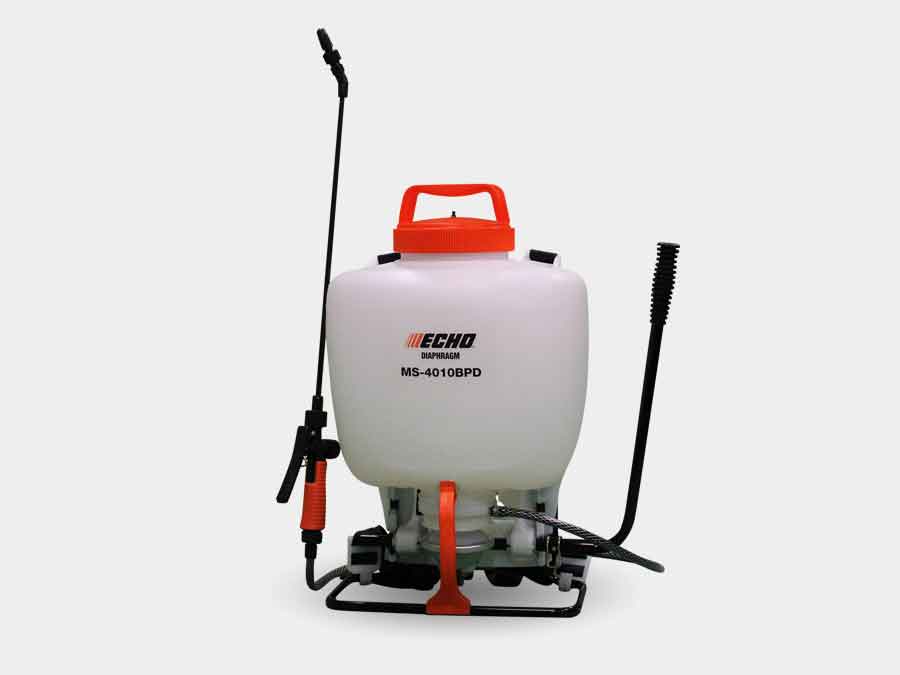 New From Echo: MS-4010BPD Manual Backpack Sprayer
Just in time for spring, Echo Inc. has launched a new lineup of four commercial-grade manual sprayers that allow users to distribute cleaning and agricultural solutions quickly and accurately, such as disinfectants, fungicides, insecticides, herbicides, and fertilizers. From grocery stores to orchards and everything in between, Echo offers solutions for the everyday task for both professionals and homeowners.
According to Jason Wilk, Senior Product Manager, Echo Inc. Incorporated, there's been a huge increase in demand for sprayers and disinfecting. "Killing viruses has become top of mind for everyone. In addition to common agricultural applications, Echo sprayers provide compatibility with bleach solutions great for disinfecting, mold remediation, and general clean up."
The new ECHO Sprayers are available in handheld and backpack styles, featuring either a piston or diaphragm pump, and a professional shut-off valve with comfortable grip with an easy-to-clean in-line filter.
The MS-4010BPD backpack manual sprayer with a diaphragm pump offers a 4-gal. tank that can be used with liquids and many wettable powders. The powder coated pump handle attaches for left- or right-hand use without tools. The pump handle can also be moved to a storage position, making the sprayer more convenient to store or transport. The rugged powder coated frame also resists abrasion and corrosion for long life, while providing a wide stance for stability.
All Echo manual sprayers come with a five-year consumer warranty and a two-year commercial warranty.
Visit echo-usa.com.
You don't want to miss the 2022 edition of Equip Exposition, and you certainly don't want to miss the chance to see all that the Louisville show has to offer for the affordable investment of…
All Kohler diesel-fueled engines are approved to use HVO in the U.S., in line with ASTM D975 standard. In February, Kohler had announced approval to use HVO for all its diesel engines in…
In 2021 alone, natural disasters caused $145 billion worth of damage across the U.S.—and experts are forecasting above-normal hurricane and wildfire seasons this year. Since 2012, Oregon…