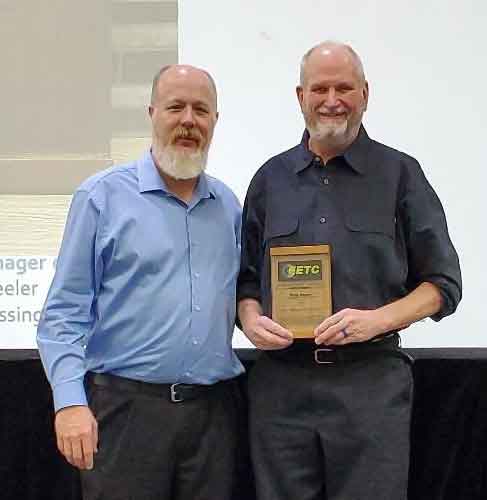 EETC Awards Power Distributors "Distributor of the Year"
Power Distributors was named "Distributor of the Year" at the 26th annual Equipment and Engine Training Council (EETC) Annual Conference, held in Fort Collins, Colo. April 12-15. Additionally, Doug Peeler, a warranty technical agent with Power Distributors won "Service Manager of the Year."
EETC's Annual conference provides a forum for members to connect, network, and receive continuing education and training directly from manufacturers and industry representatives. A primary focus of this year's conference was the emergence of electrification and automation throughout the power equipment industry. This allowed educators and technicians to receive the most up-to-date training to help them achieve their organization's goals, as well as collaborate on the creation of future curriculum and certifications to benefit industry professionals.
As a member of the EETC since 2019, Power Distributors was among approximately 80 manufacturers, distributors, and industry representatives in attendance at this year's conference. Power Distributors received the "Distributor of the Year" award from Erik Sides, the Executive Director of the EETC.
"Power Distributors' contributions to EETC over the past five years has been instrumental in helping continue EETC's mission to address the shortage of qualified technicians and professionals in the power equipment industry," comments Sides. "Their donations of training kits, engines, and workspaces allowed EETC to build out a training classroom and workshop to benefit our members for years to come."
In recognition of his service and as a token of gratitude, the North American Equipment Dealers Assn. (NAEDA) Board presented the NAEDA CEO, Kim Rominger, with a…
Kohler Co. will outsource the majority of its energy division to an investment firm. Platinum Equity, which manages about $47 billion in assets, will become the majority investment partner of…