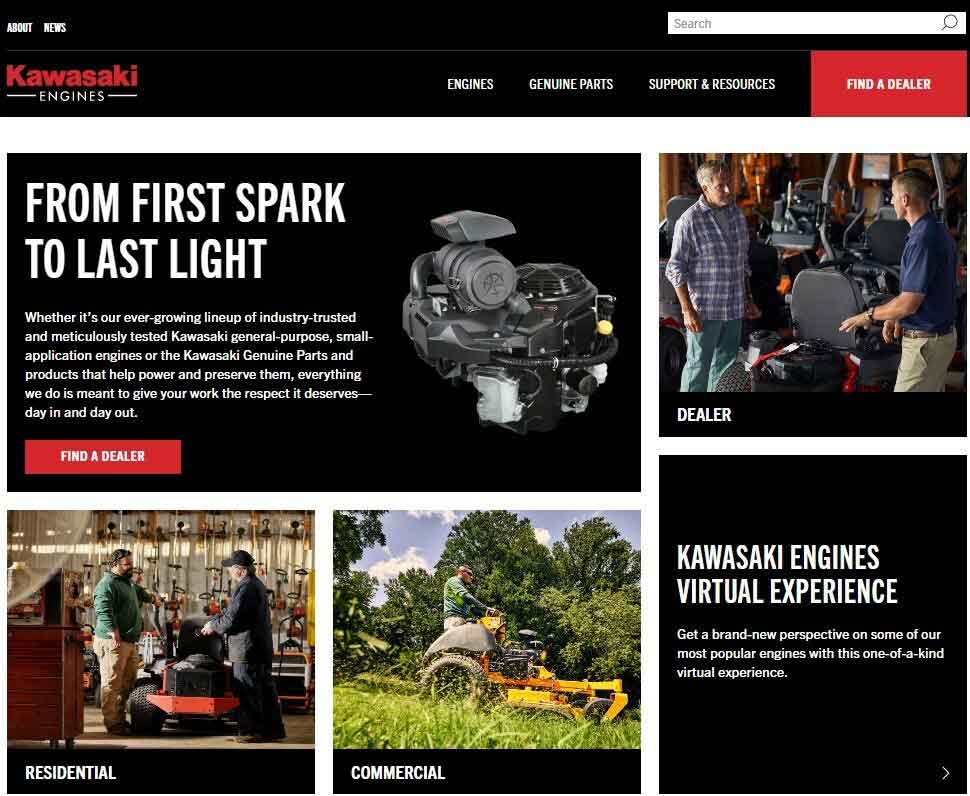 Kawasaki Engines Launches Updated Consumer Website
Kawasaki Engines today announced the relaunch of KawasakiEnginesUSA, the company's consumer website. The updated site provides commercial and residential customers with easy-to-find and complete information about Kawasaki's line up of engines, parts and products, and a dealer locator.
The site is divided into three sections: Engines, Genuine Parts and Support & Resources:
The Engines section includes the full range of Kawasaki Engines' current line up, including the new EVO line of engines, as well as information about Kawasaki's electronic fuel injection technology and SAE-certified power ratings. Drop-down menus allow users to input their intended duty cycle and end use to find the right engine for the job.
Genuine Parts showcases the company's KTECH fuel and oil products, tune-up kits, and other maintenance parts and accessories. There is also a convenient parts-lookup function that accesses the full range of Kawasaki genuine parts and provides detailed illustrations and specifications.
In Support & Resources users can search for an owner's manual by engine series, view educational videos, and consult engine brochures to help keep an engine running strong season after season.
Visitors are also able to link to KawasakiEnginesPower.com, launched in 2022 to complement the consumer website. The site offers customers a 3D, sound-enhanced way to experience Kawasaki Engines and learn more about the features, benefits and specifications of the company's product line up.
Yanmar Compact Equipment North America (Yanmar CE North America), encompassing the Yanmar Compact Equipment and ASV brands, has entered into a partnership with the City of Grand Rapids…
Morbark has unveiled the all NEW "BVR" line of hand-fed brush chippers at this year's TCI Expo, in St. Louis, Mo. Alongside the BVR lineup, visitors found 6- and 8-in. brush chippers from…