Article by
Dan Shell, Senior Editor, Power Equipment Trade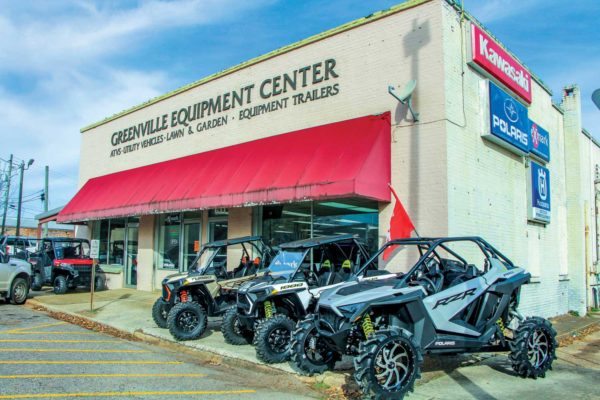 Dealer Spotlight: Lawn, Powersports Dealer Finds Balance in 'Bama
GREENVILLE, Ala. – Operating Butler County's longest continuously operated small engine sales and service center, partners Thomas Phelps and Ricky Whiddon are currently working through the winter as Greenville Equipment Center (GEC) gears up for its 25th year in business. The longtime successful dealership keeps it simple, offering three product lines— Husqvarna, Exmark and Polaris—and backing each with expertise, parts availability and top notch service.
Some new Exmark units recently arrived, and the service crew continues to work on winter tune-ups and service, but spring is just around the corner. Like many dealerships, the business is coming off a good year in 2020 and looking forward to what this year brings.
Ever since the pandemic hit last spring, "Keeping inventory has been a challenge, and we've been selling out quick," says Whiddon, adding that Polaris sales doubled in 2020, "and 2019 was a pretty good year before that."
The dealership is also working through several relatively recent operating changes: a three-tier service labor rate depending on product that debuted in 2020; the second year running with the new Lizzy BMS from Nizex; and the second year of selling more parts after a local competitor closed and GEC gained inventory and new customers.
BACKGROUND
The business dates to 1996, when it was founded by Phelps' father, Alan, and Whiddon, who has been at the store since it opened. Alan Phelps passed away two years ago, and son Thomas, who grew up in the business and had been working as a service tech, is taking on more of a sales and management role in filling his father's shoes.
Originally a Husqvarna and Exmark dealership that also had a strong rental side, the business picked up Kawasaki motors and ATVs in 1997, then dropped them, and has been a Polaris dealer since 2008.
The rental business was discontinued in 2010. "The rental business took too much time and effort and came with too many headaches," Whiddon says.
Operating in a building that dates to the 1930s, right across a roundabout street from the Butler County courthouse, GEC is in a great location for the market. As a county seat, Greenville is a town of 7,500 with several smaller communities within easy trading distance. It's a largely rural area, part of the south central Alabama piney woods.
In fact, pine trees and a thriving whitetail deer population are two of the county's top resources. "Hunting is big business in Butler County," Phelps says, noting that he does business with lots of local hunters and those from out of state with ATV and UV sales and service, and also stocks a line of accessories such as gun racks and chain saw scabbards.
Phelps notes that two off-road riding parks recently opened up in the area, and that's also driving more general interest in fun riding than traditional farmer-hunter power sports customers as well.
The dealership tricks out custom UTVs with a wide variety of accessories such as sound and light kits, lift kits, tires, performance components and more. Some packages can push the $25,000 mark, and Phelps builds many of them himself at a home shop.
In addition to traditional town lot homeowner customers and the services that cater to that segment, there are also plenty of large lot homeowners in the area who prefer the cutting capacity of a larger Exmark or Husqvarna z-mower.
All in all it's a good balance of lawn and garden and power sports customers who use the dealership's products in a variety of ways and for different reasons, Phelps says. Adding to the opportunity in Greenville are two Tier I supplier plants to the Hyundai factory located just south of Montgomery, and Coastal Forest Products, a plywood plant 10 miles south of Greenville that's been in expansion mode.
SERVICE
Whiddon says last year might have been a bit unique with all the staying at home and of course the stimulus checks that he believes not only added to equipment sales but also led more customers to find and attempt to refurbish older equipment.
The dealership will take a look at most any service job but likes to stick to major brands. "We'll try to work on it if we can get the parts," he adds.
This is the second year of a three-tier service labor rate system that charges $65/hr. for handheld, $75/hr. for lawn and garden wheeled equipment and $85/ hr. for power sports service work.
According to Whiddon, the tiered labor rate was implemented to be fair to handheld customers with less expensive products while still charging proper value for working on the higher end power sports equipment.
The dealership added two employees last year and now operates with three fulltime technicians and a shop manager.
Boosting the service effort is GEC's Lizzy BMS from Nizex, now running in its second year, with laptops up front and in the service department networked via wi-fi. Phelps says the new system has led the dealership to become more efficient, especially keeping better track of parts inventories.
"We've been needing to become more efficient in that area," Phelps says. Adding to the parts emphasis has been the demise of a longtime competitor in town, a hardware-general merchandise store that sold lots of aftermarket parts and blades into the local market.
Vendors who sold through that store have turned to GEC, as well as those customers now looking for a new parts source. Rotary, NH1 Distributors and Oregon provide much of the dealership's aftermarket parts supply.
Both Phelps and Whiddon are looking forward to the 25th year, and they'd like to have some sort of celebration later this year, though virus issues currently make event planning difficult.
As business owners, most of you are familiar with the typical top to bottom governance structure for a business: Owner, Board of Directors and CEO/Management. I would guess that most of you follow this structure in your business, just like the publicly traded companies. But the difference between your dealership and a publicly traded…
Kenect, a texting platform, used by dealerships to communicate with their customers, generate reviews, produce leads, collect payments and increase revenue, has announced that it has…
Altoz is pleased to announce that Rod Larson has joined the Altoz team as the Service Parts and Accessories Manager. With over 35 years of experience in the outdoor equipment industry, Larson…
All Balls Racing Group and Stens are revving up powersports enthusiasts with the launch of "Win this Beast" sweepstakes. The companies have partnered with Power Sports Nation and UTV Sports…
The Kohler Co. Board of Directors has elected President and CEO David Kohler to the additional role of Chair of the Board, following the passing of Executive Chairman Herbert V. Kohler, Jr….
The Outdoor Power Equipment Institute (OPEI)'s TurfMutt Foundation has announced a renewed partnership with Mission Unstoppable and Lucky Dog on CBS. Both shows are produced by Hearst Media…
Melody Doleman has been named Vice President Human Resources of Stihl Inc. and assumes her position on Sept. 6, 2022, responsible for overall strategic management of human resources for the…