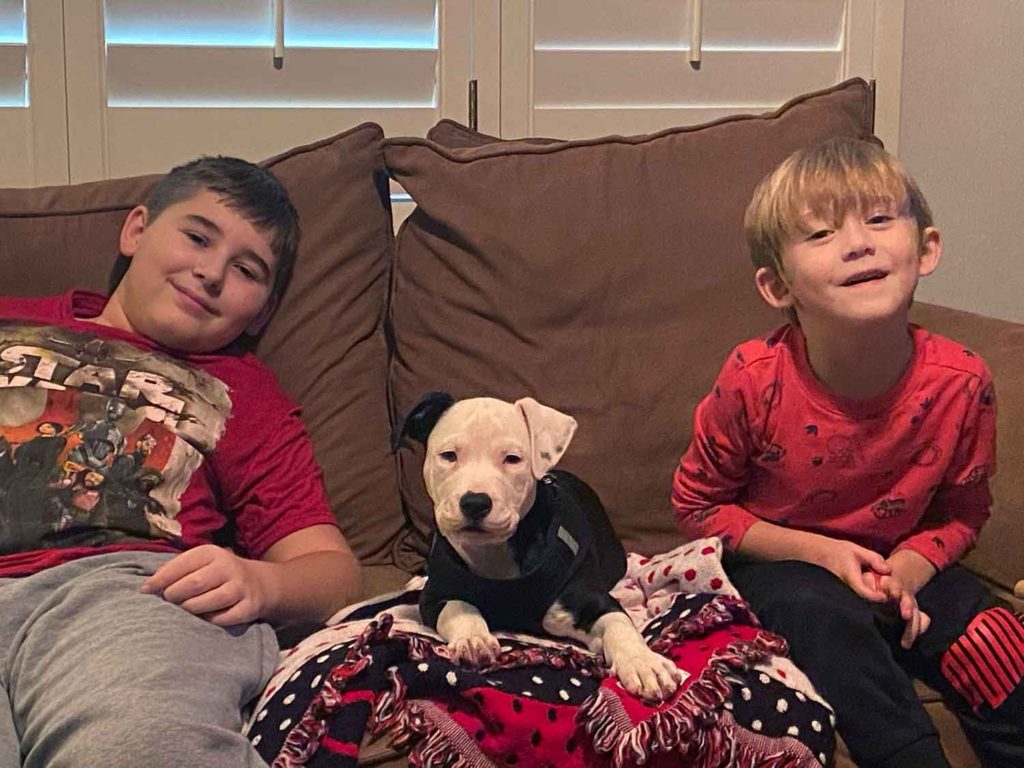 Lucky's Mutt Madness Places 15 Rescue Dogs Into Homes
The TurfMutt Foundation, the environmental stewardship and education arm of the Outdoor Power Equipment Institute (OPEI), is pleased to announce that 15 rescue dogs from the Kentucky Humane Society (KHS) found permanent homes during Lucky's Mutt Madness. This annual national dog adoption event is held in conjunction with trade show, Equip Exposition, formerly called GIE+EXPO, and gives rescued dogs a chance to meet hundreds of trade show attendees.
"For the dogs, the event was all about finding a permanent home," says Kris Kiser, President of the TurfMutt Foundation, OPEI and Equip Exposition, "…and for the show's attendees who create the green spaces America loves. Bringing home a new pet underscores the importance of what they do every day—get outside, work in it, and enjoy it."
Ace, an American bulldog mix, caught the eye of Jacqui Hubacek, who wanted to adopt a dog that could play with her two boys, Greyson and Ayden. She was able to meet a number of puppies at the event and chose Ace to take home to Illinois because he was so gentle. She reports Ace has already mastered sitting and her youngest son tells her every day, "You picked the perfect one!"
"We lovingly call the dogs up for adoption during Mutt Madness as 'show dogs.' It isn't Westminster but we have helped place many dogs in need in their forever homes," says Kiser.
"it's so gratifying to see our incredible rescue dogs find new homes. Some of them have been through a lot of hardship," says Alisa Gray, Vice President of Outreach at the KHS. "We're thrilled to once again partner with the TurfMutt Foundation, and really looking forward to the 2022 event as well as the new 5K run through Louisville benefiting animal rescue rehabilitation and adoption."
At the 2019 Lucky's Mutt Madness the current TurfMutt spokesdog, Mulligan, found her home with Kiser. She resides in Virginia and now continues to "paw it forward" by inspiring kids and their families to care for and spend time in backyards, parks and other green spaces.
During the event, the TurfMutt Foundation donated a $10,000 check to the KHS to support their good work in animal rehabilitation, rescue and adoption. "The work the Kentucky Humane Society does is incredible and we should all appreciate what animal rescue organizations do every day," says Kiser.
With the announcement of the GIE+EXPO trade show's rebranding as Equip Exposition and a new office in Louisville, plans are also underway to expand the TurfMutt Foundation's activities. The October 19-21, 2022 trade show will include a fundraising 5K race to benefit the KHS, Mulligan's Fun Run, to be held in downtown Louisville. The Ariens Co will sponsor the run.
Briggs & Stratton has announced that Kristina Cerniglia has joined the company as Senior Vice President & Chief Financial Officer. She joins Briggs & Stratton after serving eight…
Stihl has announced it has a new manufacturing relationship with Briggs & Stratton that will expand the offerings of Stihl products in the U.S. Through this relationship, Stihl will…
Equip Exposition, the international landscape, outdoor living, and equipment exposition previously named GIE+EXPO, has opened registration for the 2022 tradeshow, held Oct. 18-21 in…