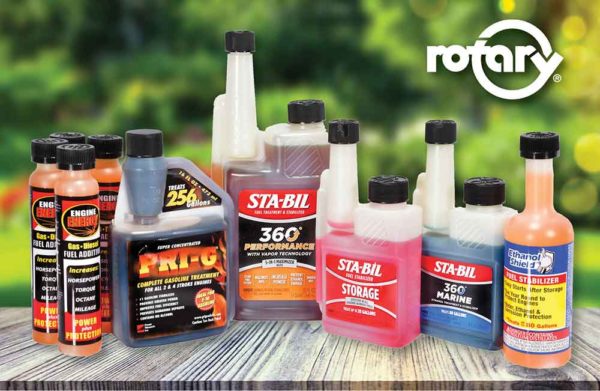 New From Rotary: Fuel Stabilizers, Additives
A complete line of small-engine fuel stabilizers and treatment additives are featured in Rotary's 2021 master parts catalog including Sta-Bil, Ethanol Shield, PRI-G, Sea Foam, B3C and pre-mixed VP Fuels. 
Among several new items is HELIX 5 in 1, a fuel treatment consisting of organic compounds designed to eliminate moisture contamination and additives that help boost octane and stabilize fuel for up to two years.
Fuel stabilizers from Rotary are ideal for lawnmowers, chain saws, trimmers, snow blowers, generators and other types of 2- or 4-cycle engines. Gasoline can decay in as little as 90 days. Additives help preserve gasoline and prevent corrosion and gum or varnish buildup from ethanol blended fuels.
Use for prolonged storage or at every fill up to remove moisture and clean carburetors, fuel injectors and intake valves for improved engine performance and fuel economy. Rotary's stabilizers and additives are available in a variety of sizes, from 4 oz. bottles to one-gal. bulk containers.
Visit rotarycorp.com. 
Just in time for fall overseeding programs and winter snow and ice applications, Echo Inc. has launched a new lineup of three commercial-grade broadcast spreaders that allow users to…
Yanmar has introduced a new generation of its ViO17 and ViO25 mini excavators. The ViO17-1E and ViO25-6B are upgraded for improved operator comfort, convenience and ease of use while…
A new line of professional-grade arborist products including climbing ropes, hardware and safety equipment is now available from Rotary. Over 230 new items are featured including the latest…