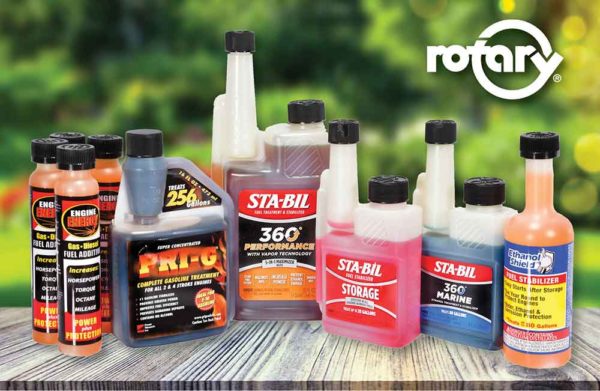 Update From Rotary: Fuel Stabilizers & Additives
A complete line of small-engine fuel stabilizers and treatment additives are featured in Rotary's 2023 master parts catalog including Sta-Bil, Ethanol Shield, PRI-G, Sea Foam, B3C, Helix and pre-mixed VP Racing Fuels. Among several new items is Techron, a fuel treatment for power sports and small engine fuel systems that stabilizes fuel for up to two years with best in class corrosion protection. The alcohol-free formulation cleans carbon deposits, dissolves gum and varnish buildup while preventing new deposits from forming.
Fuel stabilizers from Rotary are ideal for mowers, saws, trimmers, snow blowers, generators and other types of 2- or 4-cycle engines. Gasoline can decay in as little as 90 days. Additives help preserve gasoline and prevent corrosion and gum or varnish buildup from ethanol blended fuels. Rotary's stabilizers and additives are available in a variety of sizes, from 4 oz. bottles to one-gallon bulk containers.
Rotary's parts catalog is free for servicing dealers and distributors, and available to download at rotarycorp.com. Backed by an exclusive warranty that ensures quality and performance, Rotary offers a wide range of power equipment parts and accessories.
Next day delivery is available to nearly 85% of Rotary's customers in the continental U.S. with same day shipping for most orders received by 4 p.m. Eastern Standard Time.
Visit rotarycorp.com.
The first Stihl battery-powered backpack blower, the BGA 300, is also the most powerful battery blower in the Stihl line-up, delivering 25 newtons of blowing force and max air speed of 194…
AriensCo is adding to its equipment offerings with a new line of walk-behind mowers under the Ariens brand. "We're back in the walk business and in a big way," says Andy Massignan, Director…
John Deere has introducing the all-new Z370R Electric ZTrak residential zero-turn mower targeted toward property owners who want to maintain their yard appearance easily with reduced…