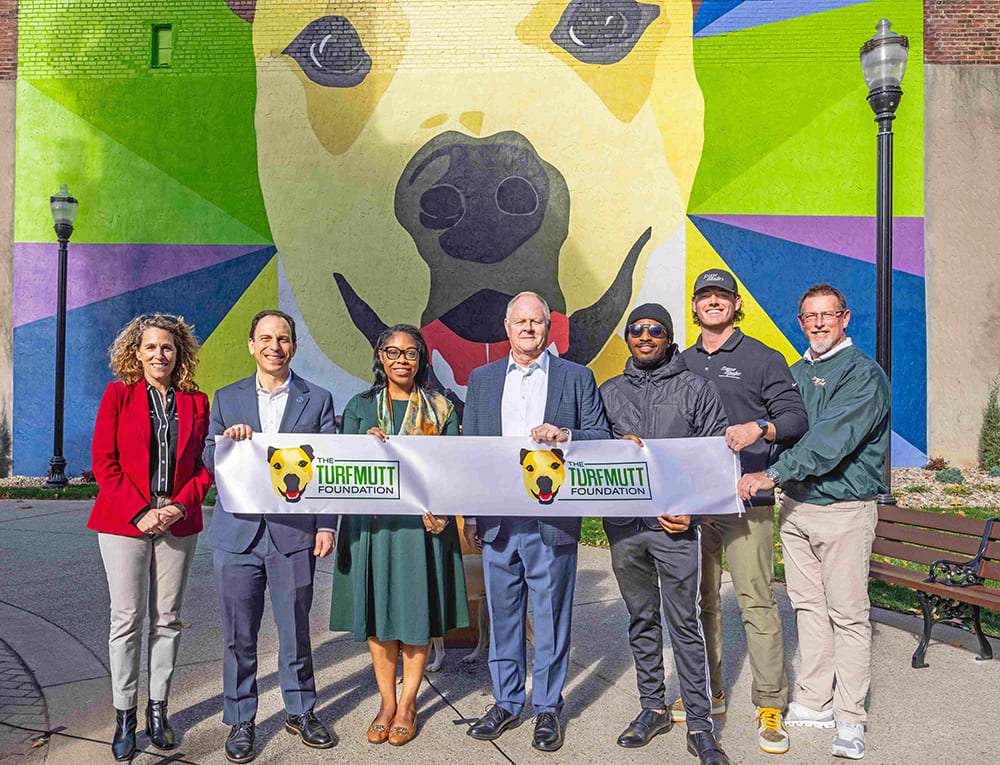 TurfMutt Foundation Funds Mulligan's Bark Park
A new dog park, "Mulligan's Bark Park," has opened in downtown Louisville on Fourth Street: Built on a lot belonging to the City of Louisville, the park will provide a place for dogs to socialize off-leash, have some fun and get exercise.
The project renovated an unused city lot near the corner of Fourth Street and Broadway in downtown Louisville, including adding new sod, fencing and benches, as well as a large, colorful mural of Mulligan the TurfMutt.
"We are thrilled to partner with the City of Louisville to bring Mulligan's Bark Park to downtown Louisville," says Kris Kiser, President & CEO of the TurfMutt Foundation, the education and outreach arm of the Outdoor Power Equipment Institute (OPEI), which owns and operates Equip Expo. "Louisville is home for me and my rescue dog, Mulligan, and our trade show offices are on Main Street. We have a long history in Louisville. We wanted to be good corporate citizens and invest in our home city."
As part of its Equip Expo programming, the TurfMutt Foundation also gets show attendees out into the city. The annual Mulligan's Fun Run & 5K stepped off from Louisville Slugger Field and took participants across the Big 4 pedestrian bridge and through Louisville's Waterfront Park. The Foundation also works with the Kentucky Humane Society to host Mulligan's Mutt Madness, a national dog adoption event held during the trade show. At this year's event, nine dogs found forever homes with show attendees.
"Nature starts at your back door, and no one gets you outside faster than your dog. We are so pleased to have the TurfMutt Foundation support this project that will give residents and their pets a place in the City of Louisville to have some fun outside," Kiser continued.
TurfMutt spokesdog, Mulligan, also appears on the Lucky Dog TV show Saturday mornings on CBS, produced by Hearst Media Production Group (HMPG). In addition to TurfMutt providing some yard make-overs for families adopting dogs on past Lucky Dog shows, the new, Season 11 episodes featuring TurfMutt began filming this fall at Equip Expo this October. Cameras captured both Mulligan's 5K Fun Run & Walk, which raises money for the Kentucky Humane Society, and Mulligan's Mutt Madness.
Yanmar Compact Equipment North America (Yanmar CE North America), encompassing the Yanmar Compact Equipment and ASV brands, has entered into a partnership with the City of Grand Rapids…
Morbark has unveiled the all NEW "BVR" line of hand-fed brush chippers at this year's TCI Expo, in St. Louis, Mo. Alongside the BVR lineup, visitors found 6- and 8-in. brush chippers from…