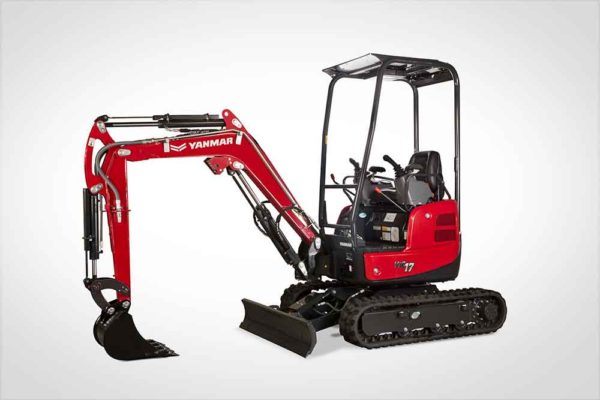 New From Yanmar: ViO17-1E & ViO25-6B Mini Excavators
Yanmar has introduced a new generation of its ViO17 and ViO25 mini excavators. The ViO17-1E and ViO25-6B are upgraded for improved operator comfort, convenience and ease of use while retaining Yanmar equipment's reputation for high performance and reliability in tight spaces. The ViO17-1E is best suited for residential work, landscaping and small general construction projects. The ViO25-6B also excels in those applications but brings additional power and size for benefits in building maintenance projects, irrigation, plumbing pipeline and more.
The ViO17-1E offers a 4,023 lb. operating weight and 14.5 HP engine, while the ViO25-6B features a 5,908 lb. operating weight and 20.4 HP engine. Both models feature a light footprint for minimized damage to soft, delicate surfaces in landscaping, residential and sculpting applications. Despite their small size, the models feature impressive dig depths of 7 ft., 7 in. for the ViO17-1E and 10 ft. for the ViO25-6B.
Yanmar builds the ViO17-1E and ViO25-6B with true zero tail swing technology for maximum workplace performance. Zero tail swing models are designed so that no part of the cab or canopy extends beyond the track width. This helps protect both the structure the machine is working next to and the machine itself in tight spaces.
As an added benefit, the ViO17-1E has a unique, retractable undercarriage that allows operators to hydraulically extend and retract the track width.
The ViO25-6B includes SmartAssist Remote, Yanmar's telematics system, free for five years on new machines. Using the integrated theft protection, the mini excavator's owner can set a range from a specific location or a starting time, triggering SmartAssist Remote to send a notification if that range is exceeded.
SmartAssist Remote can also detect errors with electronic components and send notifications to service personnel and directly to Yanmar to streamline the diagnostic process. Additionally, the machine's owner can view the operational status of the equipment in real time and view daily work reports that track use of the excavator, useful data that can improve jobsite productivity over time. Finally, SmartAssist Remote can track maintenance intervals and inspection items as well as notify the owner via email about upcoming maintenance requirements.
Yanmar is known for its reliable engines, and this reputation extends to their equipment line. Yanmar backs up this claim with an industry-leading 4-year/4,000-hour warranty on its mini excavators for peace of mind and full coverage confidence.
Visit yanmarce.com.
Just in time for fall overseeding programs and winter snow and ice applications, Echo Inc. has launched a new lineup of three commercial-grade broadcast spreaders that allow users to…
A new line of professional-grade arborist products including climbing ropes, hardware and safety equipment is now available from Rotary. Over 230 new items are featured including the latest…
Harnessing the portable productivity, performance, and run-time of M12 Fuel technology, Milwaukee has introduced the most compact hedge trimmer for detail applications. The M12 Fuel 8 in….