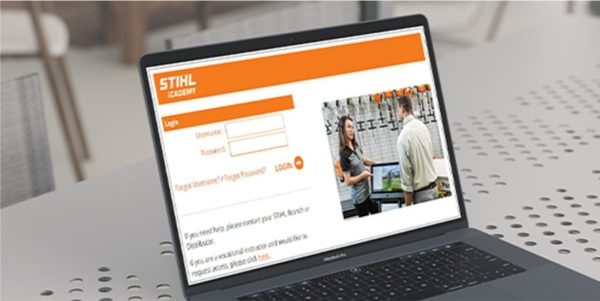 Stihl Launches New Learning Management System
The new and improved Stihl iCademy free web-based training platform is primarily designed for independent Stihl dealers and their employees, and is also accessible for vocational training. The enhanced platform boasts over 350 courses, covering a range of topics from safety and maintenance training to new product features and benefits.
The new training platform makes it easier than ever for users to enroll in courses, monitor progress and unlock different levels of the Stihl MasterWrench Service program. Specific curriculums are assigned based on the user's job title. Since its launch last year, more than 690,000 training courses were completed, a 40% increase over the previous year.
In an effort to help foster the next generation of skilled trade workers, Stihl also offers vocational schools curated content within the Stihl iCademy training catalog for instructional purposes. More than 720 vocational schools across the country have access to these free tools and resources to support their instructional programs. Vocational school instructors and students alike can include their Stihl iCademy course and curriculum completions on a resume for future employment opportunities—whether at a Stihl dealership or elsewhere.
The new Stihl iCademy site offers innovative features and increased functionality designed with dealers, as well as vocational instructors and students in mind. New features make it easier than ever for users to find and complete the training they need. The new online platform features an intuitive and responsive design—whether users complete training from a desktop, tablet or mobile device, the new site detects the screen size and changes the layout accordingly, improving user experience. A "Top Picks" carousel displays the most relevant course recommendations based on the user's course history powered by algorithms and interaction over time; a personalized transcript helps users manage their training. Depending on the training status, users can register, launch and perform a variety of training functions directly from their transcript.
Vocational instructors interested in the platform can request access here: STIHLiCADEMY.com.
You don't want to miss the 2022 edition of Equip Exposition, and you certainly don't want to miss the chance to see all that the Louisville show has to offer for the affordable investment of…