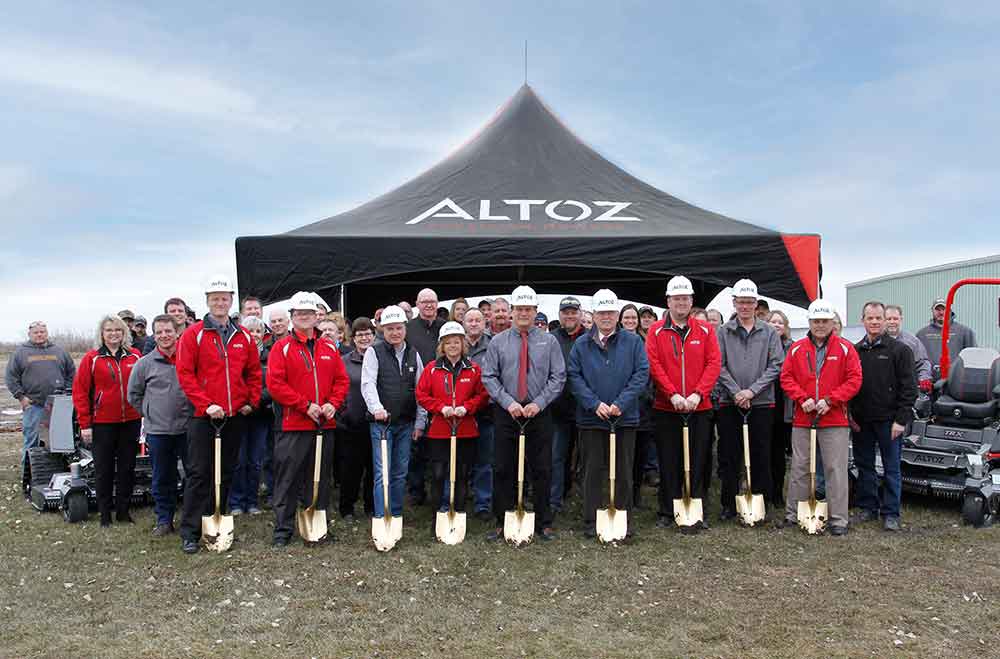 Altoz Holds Groundbreaking Ceremony
Altoz, Inc. recently celebrated breaking ground on its new 75,000 sq. ft. facility, which is expected to be completed by the end of 2022. This is the first phase of a multi-phase expansion project in Red Lake Falls, Minn. that brings the combined building space to over 412,500 sq. ft. between the Red Lake Falls and Greenbush, Minn. locations.
Owners Dennis and Terri Brazier opened the ceremony by welcoming and thanking everyone who attended, including special guests Minnesota Representative John Burkel and Red Lake Falls Mayor Allen Bertilrud. "In the past year we have grown the manufacturing workforce here by four times, and we are looking forward to adding many additional careers in all areas, including manufacturing, management, and marketing," said Dennis Brazier.
The over $12 million expansion project will increase capacity and improve operational efficiency. The new manufacturing facility will accommodate state-of-the-art metal fabrication equipment, including an automated fiber laser cutting system, turret punch presses, press brakes, robotic welders, a powder coat automated paint system, assembly and a distribution center. "This new equipment, capacity and space will allow us to grow our production team to keep up with the demand for Altoz products," Matt Schaumburg, Productions Manager, said. In addition to the manufacturing facility, the site features a multi-story office building that will accommodate a growing workforce.
"Altoz retail sales have increased every year since our inception; we continue to add new dealers across the U.S. and are expanding distribution internationally. In June we will be revealing a new multi-purpose, multi-seasonal line of equipment that will be a first for the power equipment industry," adds Karl Bjorkman, Director of Sales and Marketing.
Equip Exposition, the international landscape, outdoor living, and equipment exposition, has announced the event's first ever arena concert, being held at the KFC YUM! Center, Thursday…
Solectrac electric tractors, first released in 2022, produced in Northern California and a soon-to-be-opened North Carolina assembly center, a leading supplier of electric equipment for the…
Coming in at number 10 in the robotics category of Fast Company's 2023 list of the World's Most Innovative Companies. Fast Company, a business magazine focusing on technology, business and…