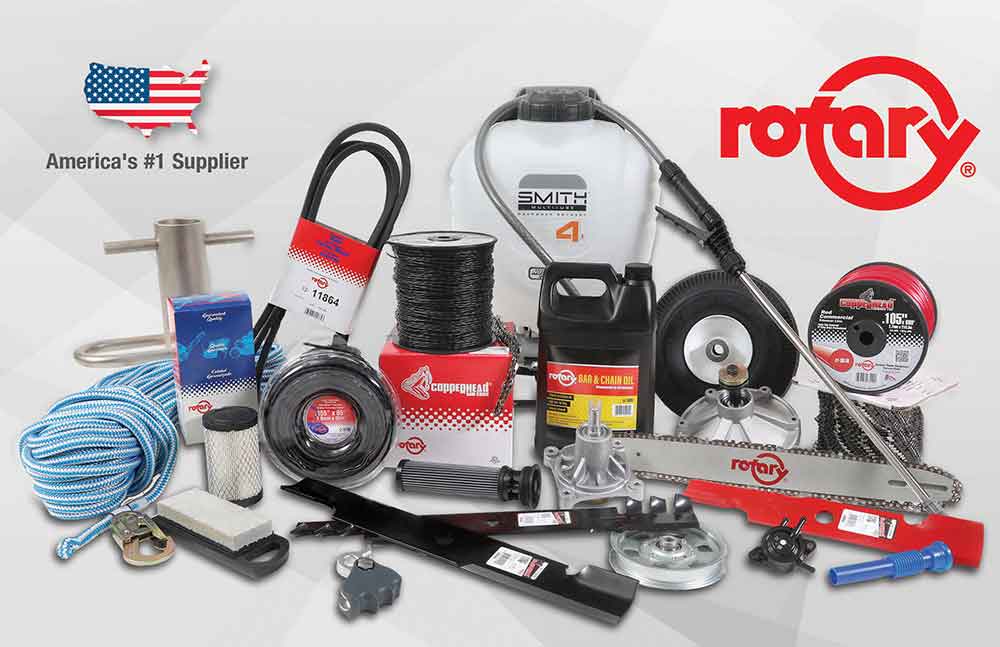 New For 2023: Rotary Adds 350 Items To Catalog
The performance and reliability of power equipment parts is essential to the success of servicing dealers and landscape professionals. From service jobs and minor repairs to complete engine overhauls, Rotary has the replacement parts it takes to get the job done.
Among the 350 new items are a variety of Copperhead professional-grade mower blades plus heavy-duty belts, air and oil filters, fuel pumps, pulleys and chain saw accessories. Rotary now offers a full line of arborist equipment, gear and supplies from the industry's leading manufacturers. Popular items include rope, flip lines, lanyards and hardware. Available for dealers and distributors, Rotary's master catalog of over 9,500 guaranteed quality parts, tools and accessories has photos, illustrations, descriptions, cross referencing and part numbers for every major brand. Backed by an exclusive warranty, Rotary parts are available for mowers, trimmers, chain saws, brush cutters, pressure washers, snow blowers, garden tillers and much more.
Founded in 1957, Rotary is recognized as the world's leading supplier of power equipment parts, serving customers in all 50 states and 75 countries around the globe. The company operates seven U.S. distribution centers plus a manufacturing division that produces mower and edger blades, air filters and trimmer line at world class facilities in Georgia and Arizona.
Next day delivery is available to nearly 85% of Rotary's customers in the continental U.S. with same day shipping for most orders received by 4 p.m. EST. Approximately 80% of Rotary's complete line of parts are manufactured in the U.S.
Visit rotarycorp.com
Morbark has unveiled the all NEW "BVR" line of hand-fed brush chippers at this year's TCI Expo, in St. Louis, Mo. Alongside the BVR lineup, visitors found 6- and 8-in. brush chippers from…