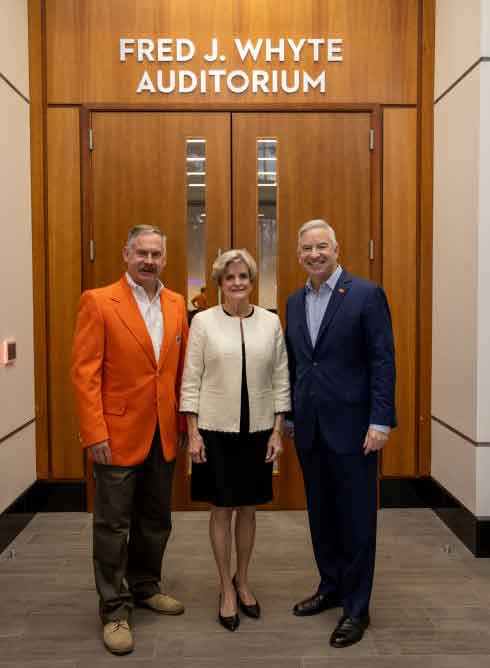 Stihl Inc. Names Auditorium After Former President Fred Whyte
Stihl Inc. kicked off the new year paying homage to and dedicating its U.S. headquarters' auditorium to former President Fred J. Whyte. On Jan. 10, 2023, Whyte's wife, Karen Whyte, and Stihl Inc. President and CEO Terry Horan unveiled the newly named Fred J. Whyte auditorium during an afternoon ceremony.
Whyte began his career in 1971 as a regional manager for Stihl American, the same company where his father had worked for nearly two decades. In 1982, the Stihl family asked him to establish Canadian operations. After 10 years with Stihl Ltd. in Canada, he was named president in 1992. Whyte served in this role for 23 years and managed the Stihl U.S. operations headquartered in Virginia Beach, Va. Under Whyte's presidential tenure, the company experienced 22 years of annual increases in sales and revenue and became the number-one-selling brand of gasoline-powered handheld power equipment in America. He retired from this position in December 2015.
During retirement, he served as sole director and chairman of the board of directors. In this advisory role, Whyte provided strategic counsel to the company's executive council and reported to Stihl International, where he worked closely with the Stihl family in Germany. Whyte passed away in July 2017 at age 70.
"Fred truly enjoyed connecting with people, but when it came to interactions with people at Stihl, it went another level," Karen Whyte shared at the ceremony. "Fred realized that the success depended on the success of the employees, the distributors and dealers. It was important to him to build relationships with them, to understand their businesses and what they needed to be successful."
The Fred J. Whyte Auditorium is located in the 80,000 sq. ft. Stihl Inc. administration building in Virginia Beach, which opened in October 2019.
Yanmar Compact Equipment North America (Yanmar CE North America), encompassing the Yanmar Compact Equipment and ASV brands, has entered into a partnership with the City of Grand Rapids…
Morbark has unveiled the all NEW "BVR" line of hand-fed brush chippers at this year's TCI Expo, in St. Louis, Mo. Alongside the BVR lineup, visitors found 6- and 8-in. brush chippers from…
In recognition of his service and as a token of gratitude, the North American Equipment Dealers Assn. (NAEDA) Board presented the NAEDA CEO, Kim Rominger, with a…